Nessus Compliance Checks for FortiGate Devices
A new compliance plugin for auditing Fortinet's FortiGate FortiOS-based devices is now available for Nessus customers. The plugin allows users to assess the configuration of FortiGate devices running on the FortiOS operating system.
FortiOS is a security-hardened, purpose-built operating system that is the foundation of all FortiGate network security platforms.
Scanning Requirements
Nessus users must configure the following in order to begin auditing FortiGate products.
Enter the Administrative credentials for the FortiGate device into Nessus.<
Enable SSH access on the FortiGate device.
Enable plugin ID #70272 (FortiGate FortiOS Compliance Checks)
Upload the .audit file for FortiGate products (TNS_Fortigate_Best_Practices.audit) which can be downloaded from the Tenable Support Portal
What Does Nessus Audit on FortiGate Devices?
The FortiGate audit looks for best practice recommendations such as enabled services, SSH configuration, password complexity, and more. In addition, it also reports information on expired licenses, unused interfaces, patch update method used, anti-virus/malware configuration, and users with admin privileges. Systems administrators can use this information to maintain a hardened and unified platform.
Sample results can be found below. In the first screenshot, the Nessus user interface nicely displays both a listing of failed and passed audits, plus scan details and a pie chart of the findings.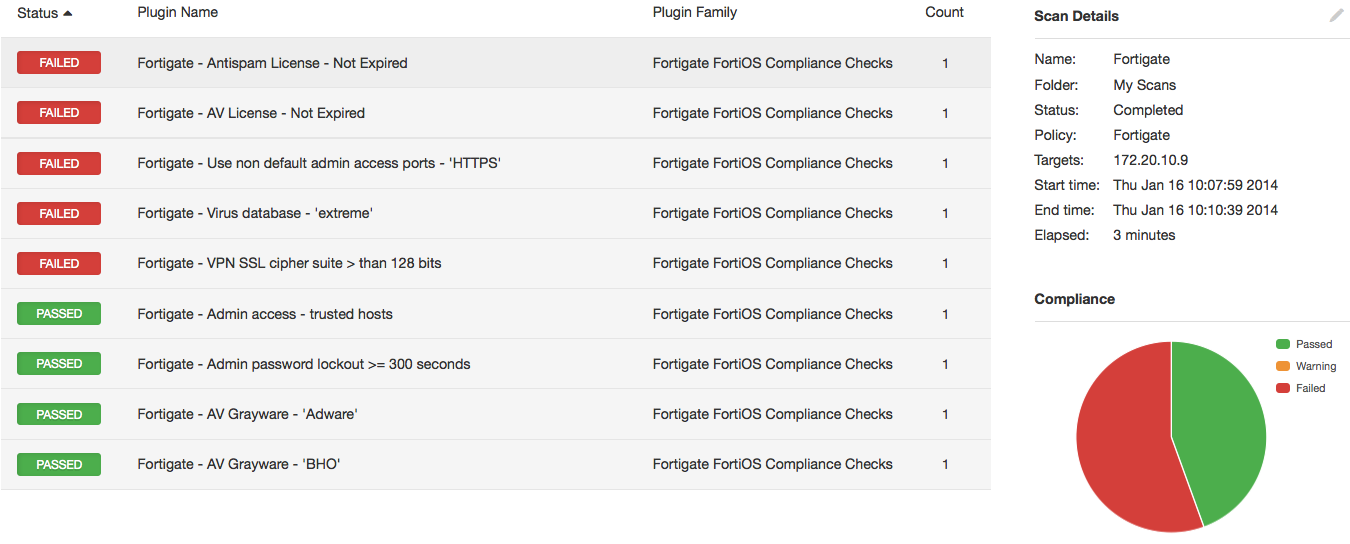 Nessus checks that the log warning is correctly configured, and it will report a warning if 95% of the log capacity is full. Note that Nessus also reports all cross-references that this check uses, for example, PCI, NIST 800-53, and CSC controls.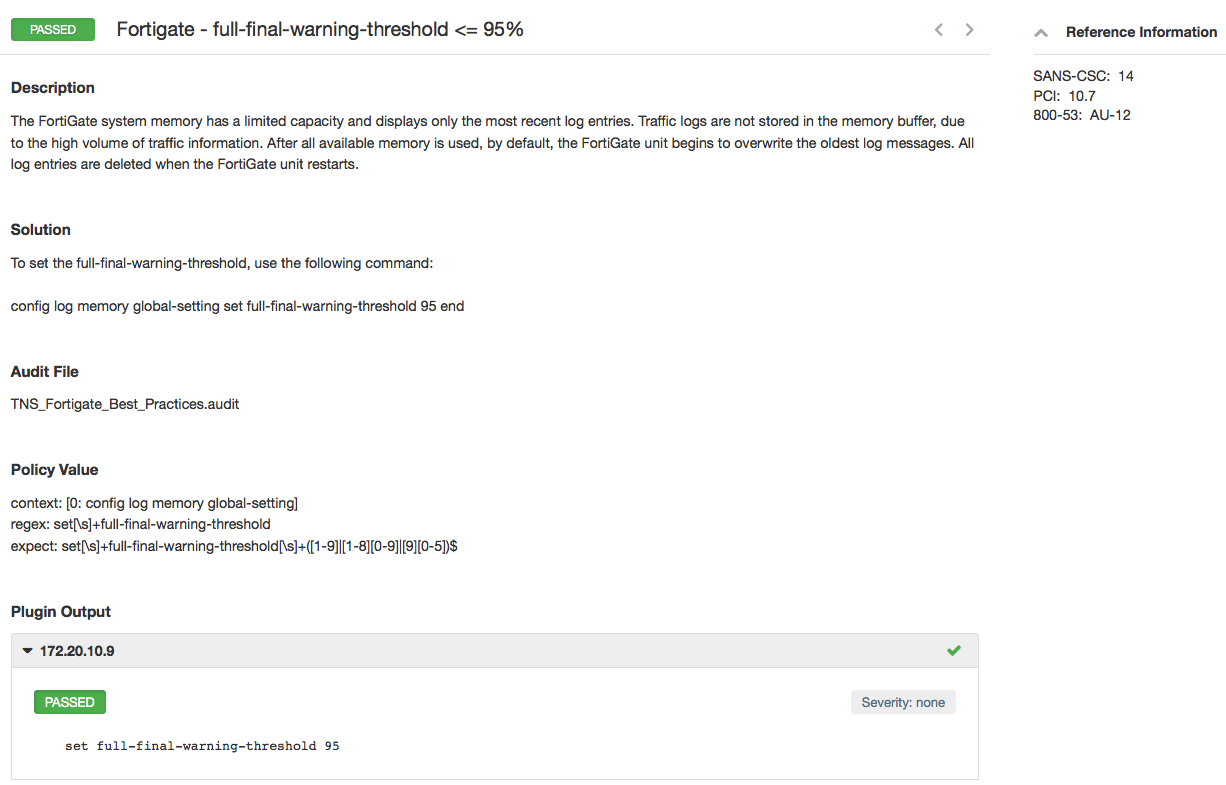 In the following screenshot, Nessus reports the webfilter license is expired.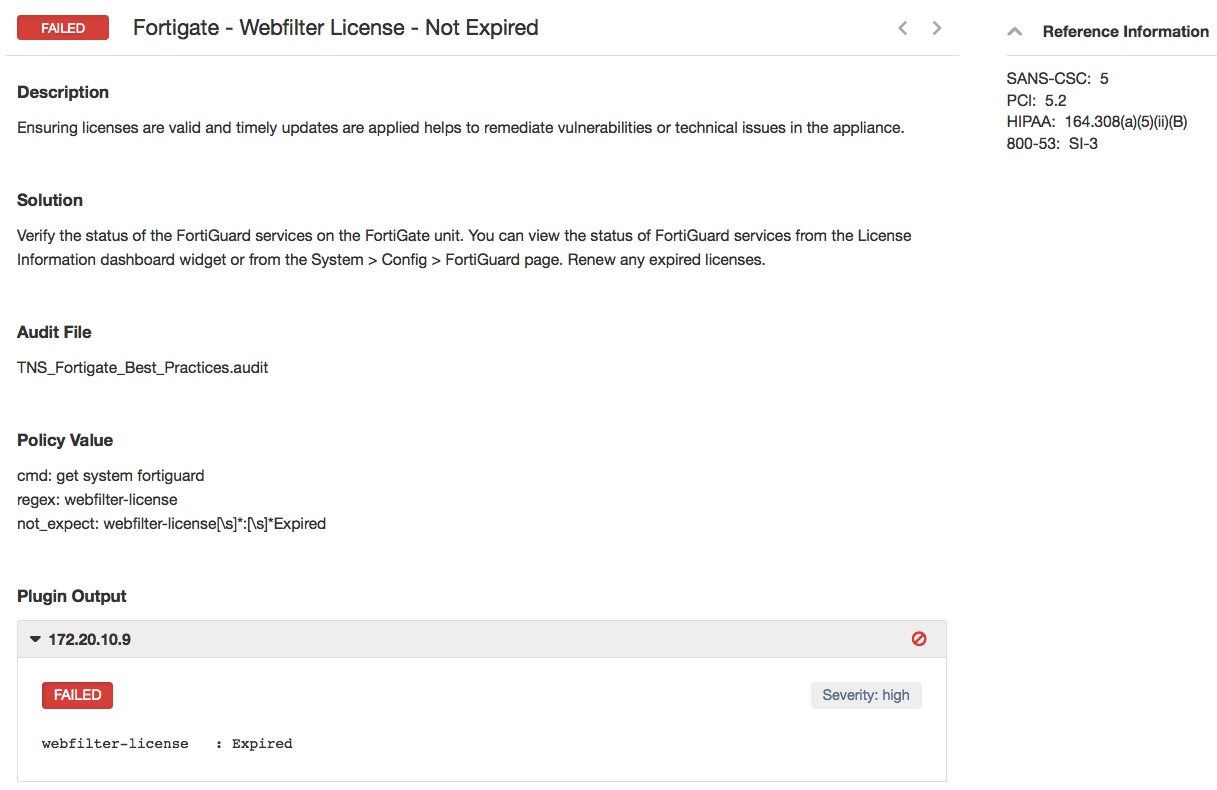 Conclusion
Nessus customers can download all the latest compliance checks from the Tenable Support Portal. Additional information can also be found in the following posts on the Tenable Discussions Forum: Tenable FortiGate Best Practices Audit and Auditing FortiGate FortiOS Devices with Nessus.
Auditing the configuration of FortiGate devices further extends Nessus' capabilities to help secure your company's infrastructure. For further information about using Nessus to audit your network, security, or virtual infrastructure, view the following posts:
Related Articles
Nessus
Plugins
Vulnerability Management
Are You Vulnerable to the Latest Exploits?
Enter your email to receive the latest cyber exposure alerts in your inbox.