U.S. Government Solutions

Continuous visibility, critical contextual analysis and actionable insights to protect federal networks, information, and infrastructure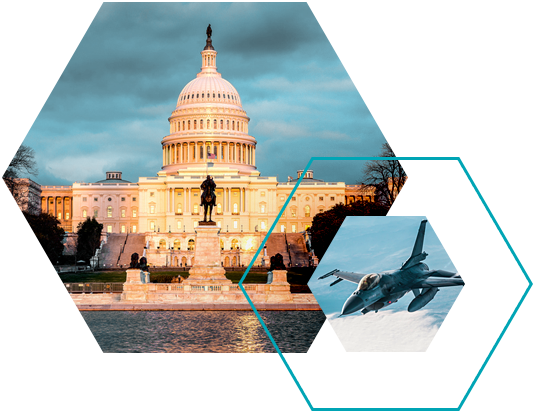 Government agencies face escalating pressure to maintain constant vigilance against persistent cyber threats and attacks. Federal system integrators and other commercial partners that do business with U.S. government defense, intelligence and civilian agencies must establish robust information security defenses and continuously demonstrate compliance with evolving regulations and standards.
With a deep history of working with government agencies at every level, Tenable has become a primary technology in major federal cyber programs such as ACAS and CDM. Tenable serves government agencies' specialized cybersecurity needs to protect their complex networks against ongoing threats, ensuring systems and technologies are in place to:
Continuously monitor on-prem, cloud, mobile and virtual data assets for real-time visibility
Proactively protect sensitive data and critical infrastructure from cyber threats
Extract actionable data and intelligence for expedited incident response and mitigation
Consistently demonstrate real-time compliance with regulatory standards and operational frameworks including NIST, RMF, SAP (Special Access Programs), DFARS, SCAP, CIS and SCADA
Integrate with other leading security solutions
Agile Lifecycle Security Management
What You Don't Know Will Hurt You
Tenable has a transformational and unified approach to cybersecurity that embeds risk management into public sector daily operations. Agencies and system integrators gain full visibility into computing assets across the infrastructure, enabling real-time identification of vulnerabilities, elimination of blind spots, automated assessment of the security health of systems and devices, and effective mitigation of risk exposure. Defenses are optimized and security posture is enhanced.
Streamlined Compliance
Navigating the Changing Requirements Landscape
Tenable helps government agencies, federal system integrators, and other commercial service providers implement and assess the security controls required to do business with federal agencies. Find out how to leverage best-practice security frameworks and guidance to effectively protect critical systems and data.
Is your company a private sector entity working in the government ecosystem? Learn more about NIST SP 800-171. Is continuous monitoring your primary focus? Get the lowdown on SP 800-137. Need ATO? Find out how to operationalize the Risk Management Framework.
National Institute of Standards and Technology (NIST)
A fundamental approach for meeting multiple compliance requirements
Disciplined and structured process that integrates information security and risk management activities into the development life cycle
Risk-based approach to cybersecurity to enable ongoing assessment of security status and continuous response to threats
Federal system integrators must demonstrate operationalization of the RMF process in order to obtain Authorization to Operate within the federal government environment.
| Six Steps | NIST 800 Alignment |
| --- | --- |
| 1. Categorize Information Systems | (800-60) |
| 2. Select Security Controls | (800-53) |
| 3. Implement Security Controls | (800-160) |
| 4. Assess Security Controls | (800-53A) |
| 5. Authorize Information Systems | (800-37) |
| 6. Monitor Security Controls | (800-137) |
SP 800 Series
SP 800-37

Guide for Applying the Risk Management Framework to Federal Information Systems: a Security Life Cycle Approach

Describes transformation of federal government Certification and Accreditation process into Risk Management Framework

Rev 1: June 2014

SP 800-53
Security and Privacy Controls for Federal Information Systems and Organizations

Foundational computer security guide for government comprised of 18 control families that can be used to comply with public and private sector policies and regulations

Rev 4: January 2015

SP 53-A
Assessing Security and Privacy Controls in Federal Information Systems and Organizations: Building Effective Assessment Plans

How and when to build assurance cases, and how to make standards repeatable

Rev 4: December 2014

SP 800-137

Information Security Continuous Monitoring (ISCM) for Federal Information Systems and Organizations

Ongoing awareness of information security, vulnerabilities, and threats to support organizational risk management decisions

September 2011

SP 800-144

Guidelines on Security and Privacy in Public Cloud Computing

Overview of security and privacy challenges in cloud computing and recommendations for outsourcing data, apps, and infrastructure to a public cloud

December 2011

SP 800-145

NIST Definition of Cloud Computing

Five essential characteristics, three service models, and four deployment models intended for broad comparisons of services and strategies

September 2011

SP 800-171

Protecting Controlled Unclassified Information (CUI) in Nonfederal Information Systems and Organizations

Recommended requirements for federal agencies to protect the confidentiality of Controlled Unclassified Information (CUI) and DoD Covered Defense Information when it is processed, stored, or transmitted by nonfederal organizations (contractors, subcontractors, and service providers)

Encompasses 14 CUI security requirements

Department of Defense Contractors holding sensitive government information in IT systems must comply with 800-171 by the end of 2017.

Rev. 1: December 2016

SP 800-180

Definition of Microservices, Application Containers, and System Virtual Machines

Standard definitions and explanation of similarities and differences between these and related terms

February 2016 (Draft)

SP 800-190 

Application Container Security Guide

Security benefits and concerns associated with container technologies, plus practical recommendations for addressing concerns when planning, implementing, and maintaining containers

April 2017 (Draft)
An open security standards-based methodology encompassing 46 requirements that federal agencies can use to compare and evaluate the effectiveness and compliance conformance of competitive vulnerability management and configuration auditing solutions
Center for Internet Security Critical Security Controls (CIS CSC)
Five components for effective cyber defense designed to help the federal sector prioritize resources and consolidate efforts:
Offense Informs Defense: Use controls proven to stop real-world attacks.
Prioritization: Invest in controls for greatest risk reduction and protection against the most dangerous threats.
Metrics: Establish shared language for stakeholders to measure effectiveness of security measures.
Continuous Monitoring: Test and validate effectiveness of current security measures.
Automation: Automate defenses for reliable, scalable, and continuous measurement of adherence to controls.
Joint Special Access Program Implementation Guide (JSIG)
Special Access Programs (SAP) represent some of the DoD's most sensitive information and therefore must be protected accordingly. JSIG provides standardized cybersecurity policy, procedures, and implementation guidance for network and system management. JSIG serves as a technical supplement to SP 800-53.
Defense Federal Acquisition Regulations Supplement (DFARS)
Aligned with SP 800-171, DFARS is designed to govern all aspects of data protection in unclassified environments, including safeguarding contractor information systems. Companies currently engaged in government contracts or interested in bidding on new contracts must adhere to these requirements by the end of 2017. Solution requirements include self-reporting capabilities, organizational process framework for secure operations, single-pane-of-glass vulnerability management, role-based access control, ubiquitous data source interface, situational awareness, scalability, and customization.
Supervisory Control and Data Acquisition (SCADA)
Family of protocols used to monitor and manage critical infrastructure. Accessibility and system integrity supersede data security in the relatively static SCADA environment. Few security tools are designed to work with SCADA systems, creating a gap that can leave these networks vulnerable to compromise and regulatory action. Protect Operational Technology (OT) and Industrial Control Systems (ICS) that are connected to SCADA.
Tenable Solutions for Automated Compliance
Visualize, measure, and communicate security status and adherence to multiple compliance regulations (SP 800 Series, CIS CSC, SCAP, JSIG, DFARS, SCADA) via single pane of glass
Automates data gathering and analysis, asset configuration auditing, and continuous assessment of security controls to simultaneously comply with multiple regulations, eliminating redundancies and increasing efficiency
Collects data from multiple sensors for ongoing detection and analysis of network vulnerabilities
Compares current security status to desired state and identifies gaps, providing actionable intelligence to build a roadmap for demonstrating compliance
Delivers out-of-the-box customizable dashboards and Assurance Report Cards (ARCs) that help demonstrate precise alignment with security frameworks and technical control regulations
Employs active (periodic) scanning, agent scanning, and passive, non-disruptive monitoring for comprehensive and continuous visibility of compliance conformance across IT and OT (operational technology) systems, including SCADA and industrial control systems (ICS) – in on-prem, virtual, cloud, and mobile environments
Relies on intelligent connectors to existing security infrastructure to analyze traffic, devices, applications/services, and communications across all environments to identify weaknesses and prioritize exposure
Leverages Nessus Network Monitor to passively analyze network traffic and provide continuous visibility into managed and unmanaged assets, including IT and OT systems. Nessus Network Monitor features:

A high-performance SCADA analysis module that enables broad visibility of assets and network traffic based on Department of Energy recommendations, while avoiding potential disruption associated with traditional active scanning of safety-critical SCADA networks
Operation without disruption while protecting data and complying with regulations that apply to OT, SCADA, and ICS networks

Provides situational awareness to SAP information systems to facilitate consistent adherence with JSIG
DDirectly maps to CIS CSC via automated scanning and continuous monitoring of vulnerabilities and configurations
Performs SCAP 1.2 certified assessments
Technology Alliances
Partnering to Develop and Deliver Expanded Security Technology
Integration Briefs
Leverage your existing investments via the Tenable Technology Integration Partner Program:
Government Programs
Tenable is the vulnerability management provider of choice for the US Department of Defense, powering the Defense Information System Agency's (DISA) Assured Compliance Assessment Solution (ACAS). Tenable and DXC Technology established an exclusive partnership to deliver an integrated software solution to meet the vulnerability, configuration, and real-time risk management requirements of one of the largest, most demanding government organizations in the world. Tenable technology also supports the Department of Homeland Security's Continuous Diagnostics and Mitigation (CDM) program.
Assured Compliance Assessment Solution (ACAS)
With ACAS and Tenable, you're deploying a strategic IT security platform that enables you to anticipate, prioritize, and neutralize threats, nonstop. Learn more.
Tenable Solutions for ACAS
Enterprise-Class, On-Prem Vulnerability Management
Comprehensive view of deployed assets and potential weaknesses in the IT environment
Innovative vulnerability management and configuration compliance solution with flexible cost structure that can be quickly deployed across DoD infrastructure
Fast and accurate network security assessment to increase accuracy of risk assessment and verify compliance with regulatory requirements
Continuous monitoring that provides essential situational awareness and enables risk-based management decisions consistent with federal guidelines
Scalable flexible architecture featuring both local and centralized control, analysis, and reporting based on mission requirements
Continuous Diagnostics and Mitigation (CDM)
The DHS CDM program helps agencies and system integrators ensure that proper cybersecurity controls are in place, and identify and address cybersecurity risks in networks before they lead to breaches. The federal government has shifted from periodic assessment of security controls to continuous monitoring of all assets to ensure regulatory compliance and a strong defense against an increasingly hostile threat landscape. NIST requires all federal agencies to implement CDM programs.
Tenable Solutions for CDM
Real-Time Visibility and Critical Context
Detects vulnerabilities, misconfigurations, and malware, and performs advanced analytics
Provides comprehensive visibility across the network with passive monitoring
Supports compliance with frameworks such as NIST (RMF, SP 800 Series, and SCAP), CIS Critical Security Controls (CSC), JSIG, and DFARS
Provides Assurance Report Cards (ARCs) that help you measure, analyze, visualize, and communicate your security posture to colleagues
Interested in solutions that can help you deliver ACAS and CDM? Contact Tenable at +1.410.872.0555.