Amit Yoran
Chairman and Chief Executive Officer
Amit Yoran, chairman and chief executive officer (CEO), leads Tenable in its vision to empower organizations to understand and reduce their cybersecurity risk. Amit brings a unique blend of leadership in the private and public sectors to Tenable. He previously served as RSA's president, spearheading its transformation into one of the most successful global security companies. Amit joined RSA through its acquisition of NetWitness, the network forensics company he founded and led as CEO. Prior to NetWitness, Amit served as founding director of the United States Computer Emergency Readiness Team (US-CERT) program in the U.S. Department of Homeland Security. He was also founder and CEO of Riptech, one of the first managed security service providers (MSSP), which Symantec acquired in 2002. Amit serves on the board of directors for BlackLine, Inc. (Nasdaq: BL) and the Center for Internet Security (CIS). He is recognized as a security industry thought-leader and influencer, and is often sought out for industry events and in the media to provide expert commentary on his vision for cybersecurity's future.
Jack Huffard
Director and Co-founder of Tenable
Jack Huffard, Tenable co-founder, is an accomplished start-up and growth software executive with more than 20 years of global go-to-market, operational and strategic planning experience. Jack has the rare perspective of taking a company from founding through IPO and beyond as a public company. Jack co-founded Tenable in 2002 and has served on the company's board of directors from the beginning. From founding until 2018, Jack served as president and chief operating officer (COO), where he was responsible for driving Tenable's global corporate strategy and business operations. From 2018 to 2019, Jack focused exclusively on business operations. He was also instrumental in Tenable's venture funding process. In 2012, Jack led Tenable's Series A raise of $50 million from Accel Partners. In 2015, he led Tenable's Series B raise of $230 million from Accel and Insight Partners, which was the largest private cyber-funding round in the country at the time.
Jack was a major contributor to the IPO process and IPO of 2018, one of the largest raises for a U.S.-listed security company since 2013. Before co-founding Tenable in 2002, Jack was a director of corporate development for Enterasys Networks. Prior to Enterasys, Jack served in various management and sales positions at John Hancock and Marriott Corporation. He received the 2013 Ernst and Young Entrepreneur of the Year Award for defense and security. Jack has a bachelor's degree from Washington and Lee University and a master's degree from Babson College. He serves on a variety of corporate and nonprofit advisory boards.
Brooke Seawell
Audit Chair
Brooke Seawell is the chairman of the audit committee on Tenable's board of directors. Brooke brings more than 35 years of industry experience in finance, accounting, governance and business operations to Tenable, including previous executive roles as chief financial officer at leading technology companies such as Synopsys and Weitek. Brooke serves on the board of directors of a number of category-leading public technology companies, including Tableau Software and NVIDIA. During his career, he has been involved in 10 IPOs and numerous acquisitions. Brooke is a venture partner at NEA, where he focuses on software, systems and internet investments. He was previously a partner with Technology Crossover Ventures (TCV) from 2000-2004. Brooke has a master's degree and bachelor's degree from Stanford University. He previously served on Stanford Business School's management board and athletic board.
Arthur W. Coviello, Jr.
Director
Since his retirement as RSA's chief executive officer, Art Coviello has remained active in the security industry, investing in and advising a number of security startups as a private investor, and in his roles as a venture partner at Rally Ventures (an early-stage investor in business technologies) and as an advisor to ClearSky Security Fund. A senior advisor to McKinsey's Cybersecurity Practice, Art also works with companies, industries and governments to inform and shape the evolution of security strategy to meet challenges organizations face today and tomorrow. His decades of expertise and influence make him a recognized leader in the field and he is a regular speaker at conferences and forums around the world. Prior to RSA, Art developed extensive operating and financial management expertise in several technology companies. He started his career as a certified public accountant at Deloitte, Haskins & Sells (Deloitte). Art serves on the boards of directors at Synchrony Financial, Cylance, Bugcrowd, Tenable and Capsule8. He graduated magna cum laude from the University of Massachusetts in 1975 with a Bachelor of Business Administration degree with a concentration in accounting.
Margaret Keane
Director
Margaret Keane is the former Executive Chair of the Board of Directors of Synchrony, one of the nation's premier consumer financial services companies. Previously, she was chief executive officer and a member of Synchrony's board of directors, leading the company in its initial public offering (IPO) in 2014 and separation from GE Capital in 2015. Under Margaret's leadership, Synchrony grew to 170 on the Fortune 500 list and was consistently named among Fortune's Top 100 Best Companies to Work For. Margaret spent nearly two decades in leadership roles at GE Capital, where she led the retail card platform as president and CEO before assuming the role of president and CEO of the GE Capital North American Retail Finance business. She has been consistently recognized as one of Fortune's "Most Powerful Women" and American Banker's "Most Powerful Women in Finance." Fortune has also named Margaret to their "Businessperson of the Year" list and she's been included as one of the "Most Influential Women in Finance" by Barron's. She serves on the board of directors for the Allstate Corporation and Cisive, a global provider of compliance-driven human capital management and risk management solutions. She also serves on Memorial Sloan Kettering Cancer Center's Board of Trustees. Margaret earned a bachelor's degree and an MBA from St. John's University and is a member of the St. John's University Board of Trustees.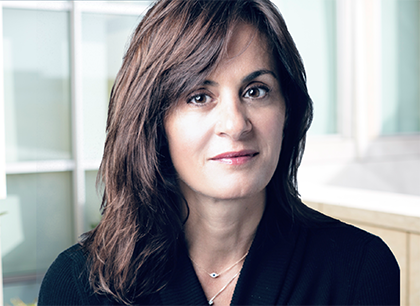 Niloofar Razi Howe
Director
Niloofar Razi Howe has been an investor, executive and entrepreneur in the technology industry for the past 25 years, with a focus on cybersecurity for the past 15. Niloofar is a senior operating partner at Energy Impact Partners, a venture capital fund investing in companies shaping the energy landscape of the future. She also serves on the boards of directors of Morgan Stanley Private Bank, NA and Morgan Stanley Bank, NA, Pondurance (as executive chair), Recorded Future, Swimlane, and Tamr. She is a life member at the Council on Foreign Relations and a Fellow, International Security Initiative, at New America, a nonprofit, nonpartisan think tank. Previously, Niloofar served as chief strategy officer and senior vice president of Strategy and Operations at RSA, a global cybersecurity company, where she led corporate strategy, corporate development and planning, business development, global program management, business operations, security operations and federal business development. Prior to RSA, Niloofar served as the chief strategy officer of Endgame (acquired by Elastic), a leading enterprise software security company, where she was responsible for driving market and product strategy, as well as leading marketing, product management, corporate development and planning. Prior to her operating roles, she spent 12 years leading deal teams in private equity and venture capital; first as a principal at Zone Ventures, an early-stage venture capital firm in Los Angeles, and then as managing director at Paladin Capital Group, a Washington, D.C.-based private equity fund focused on investing in next-generation security companies. She started her professional career as a lawyer with O'Melveny & Myers and as a consultant with McKinsey & Co.
Alex Tosheff
Director
Alex Tosheff has more than 25 years of business and technical leadership experience, currently serving as senior vice president and chief security officer (CSO) at VMware, leading all aspects of VMware's cybersecurity, physical security and enterprise resiliency across the global enterprise. Alex is an ardent proponent of cybersecurity as a business value driver and is a recognized expert in the areas of security and technology innovation. He was a member of the Tenable customer advisory board from 2017 until his appointment to the company's board of directors in September 2022. In addition, he serves as an executive advisory board member for several leading technology organizations, including Zoom, Inc. Alex joined VMware in July 2014 as vice president and CSO, after previously serving as chief information security officer and senior director of information security at PayPal and BillMeLater (acquired by PayPal). He also previously served as venture partner for St. Paul Venture Capital and chief technology officer at Science Applications International Corporation (SAIC). Alex holds a bachelor of science in physics from California State University.
Ray Vicks
Director
Ray Vicks is a financial expert and CPA with more than 40 years' experience in public accounting and senior corporate positions. Ray possesses in-depth expertise in corporate governance and audit, public and private finance, SEC compliance, equity and debt structuring, strategic planning, business process internal control and enterprise risk management. He served as senior vice president and chief financial officer for the HSC Healthcare System, a Washington, D.C.-based integrated healthcare organization. Ray spent 33 years in public accounting, including 16 years as a partner at PricewaterhouseCoopers (PwC), where he focused on the external audit and advisory risk management practice areas. He currently serves on the boards of directors of GoHealth Urgent Care, Inc. and Service Corps of Retired Executives (SCORE) National Association. In December 2021, Ray was appointed to serve a five-year term as a member of the Federal Accounting Standards Advisory Board beginning July 1, 2022. Prior to these appointments, he served on the boards of directors of multiple organizations, including CareFirst Blue Cross Blue Shield, where he was chairman of the audit and compliance committee and member of the finance and executive committees; National Association of Corporate Directors (NACD) Capital Area Chapter, where he served as treasurer; Take Stock in Children Manatee, where he served as treasurer. Ray earned a bachelor's in accounting from Virginia Tech.
Linda Zecher Higgins
Director
Linda Zecher Higgins has served as a member of Tenable's Board of Directors since 2019. She is the chair of the Compensation Committee and a member of the Nominating and Corporate Governance Committee. Linda is currently the CEO of IronNet, a Cybersecurity company. She is also the founder of the Barkley Group. She is the retired President, CEO, and director of Houghton Mifflin Harcourt (HMH), a global education and learning company. Previously, she was Corporate Vice President of Microsoft's Worldwide Public Sector organization. Linda is currently a member of the Hasbro Corporation Board where she serves on the Audit Committee and chairs the Cyber Security Committee. She holds a Bachelor of Science degree from Ohio State University and an Honorary Doctorate from Bentley University.