HIPAA Compliance
Maintain Compliance With Continuous Monitoring
The Health Insurance Accountability and Portability Act, commonly known as HIPAA, is a complex set of regulations concerning medical information privacy and security, as well as the standardization of transaction code sets. Healthcare providers and other covered entities that transmit protected health information (PHI) or electronic protected health information (ePHI) must comply with comprehensive HIPAA security rules to ensure patient privacy and data confidentiality.
As cyberattacks increase in frequency and sophistication, the need to protect sensitive and personal data is becoming more critical than ever. Medical organizations and healthcare providers must remain vigilant, continuously monitoring their networks to ensure no malware is lurking behind the scenes. Many are turning to Tenable, both to reduce exposure and loss by detecting cyberattackers, as well as to help ensure HIPAA compliance by automating compliance audits and reporting.
Manage HIPAA Compliance With Tenable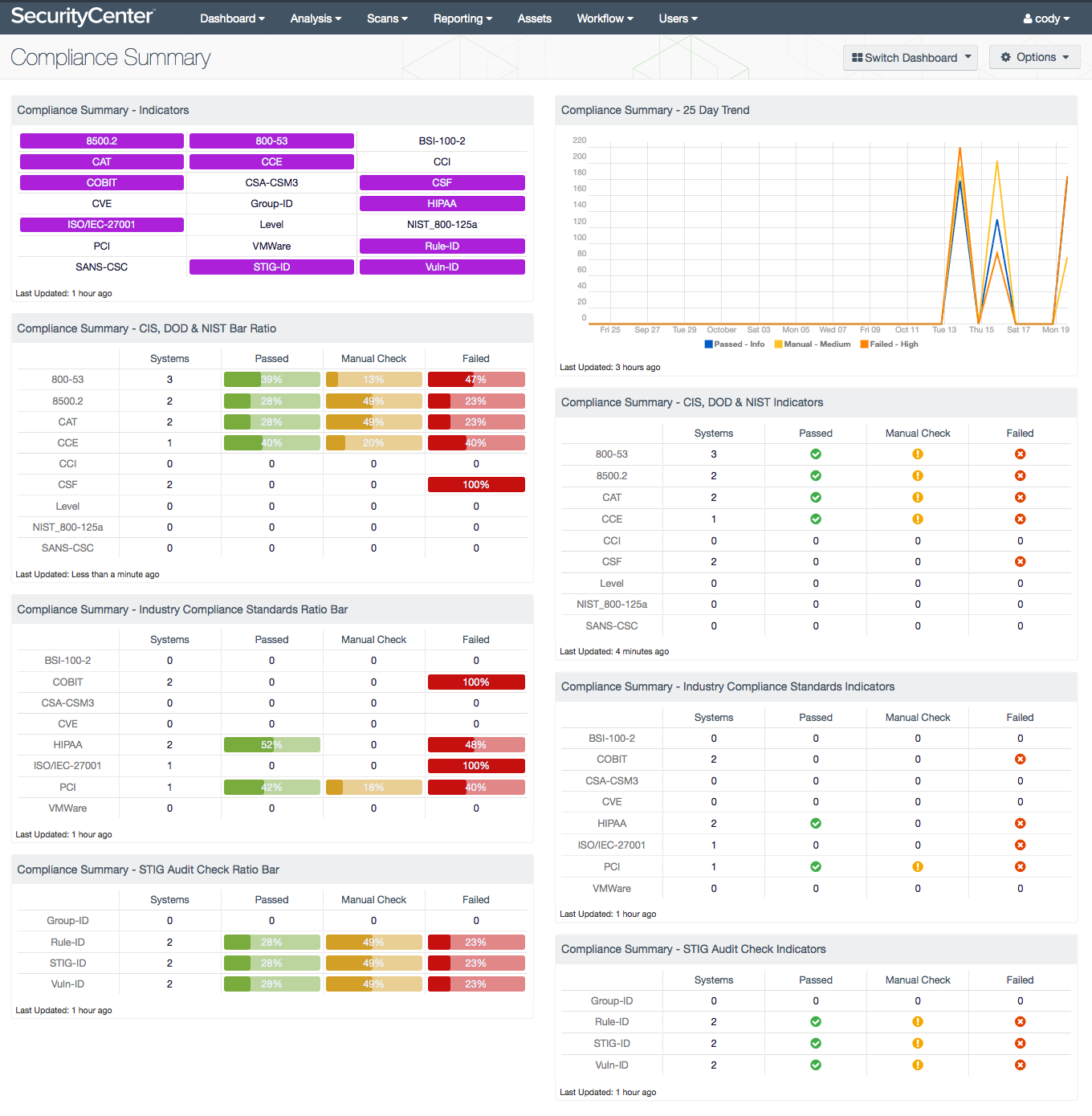 Tenable.sc™ (formerly SecurityCenter®) provides continuous monitoring for healthcare providers, and facilitates and ensures HIPAA security rule compliance by:
Enabling faster response time and time-to-containment of breaches
Providing a single-pane-of-glass view for enterprise-wide visibility of all assets, vulnerabilities and compliance status
Helping scan or monitor 100% of IT assets, applications and medical devices without compromising data
Delivered through a vast selection of dashboards and customizable reports, Tenable.sc quickly empowers security and IT personnel, auditors and executives with the actionable information they need.
Healthcare Security Trends
What are the latest healthcare security trends your organization should know about to stay protected? Find out from Tenable Advisory Board member Craig Shumard, who joined Renee Murphy, Senior Analyst in Security and Risk Management at Forrester Research Inc., to discuss how healthcare organizations can respond to the challenge of implementing sound risk strategies and security practices.
Go Beyond HIPAA Compliance
Even with the Health Information Technology for Economic and Clinical Health Act (HITECH), the HIPAA Security Rules remain largely non-prescriptive, leaving healthcare organizations without guidance to protect their networks. The Tenable Critical Cyber Controls for secure systems can help you develop a comprehensive security policy to keep your network safe and achieve HIPAA compliance.