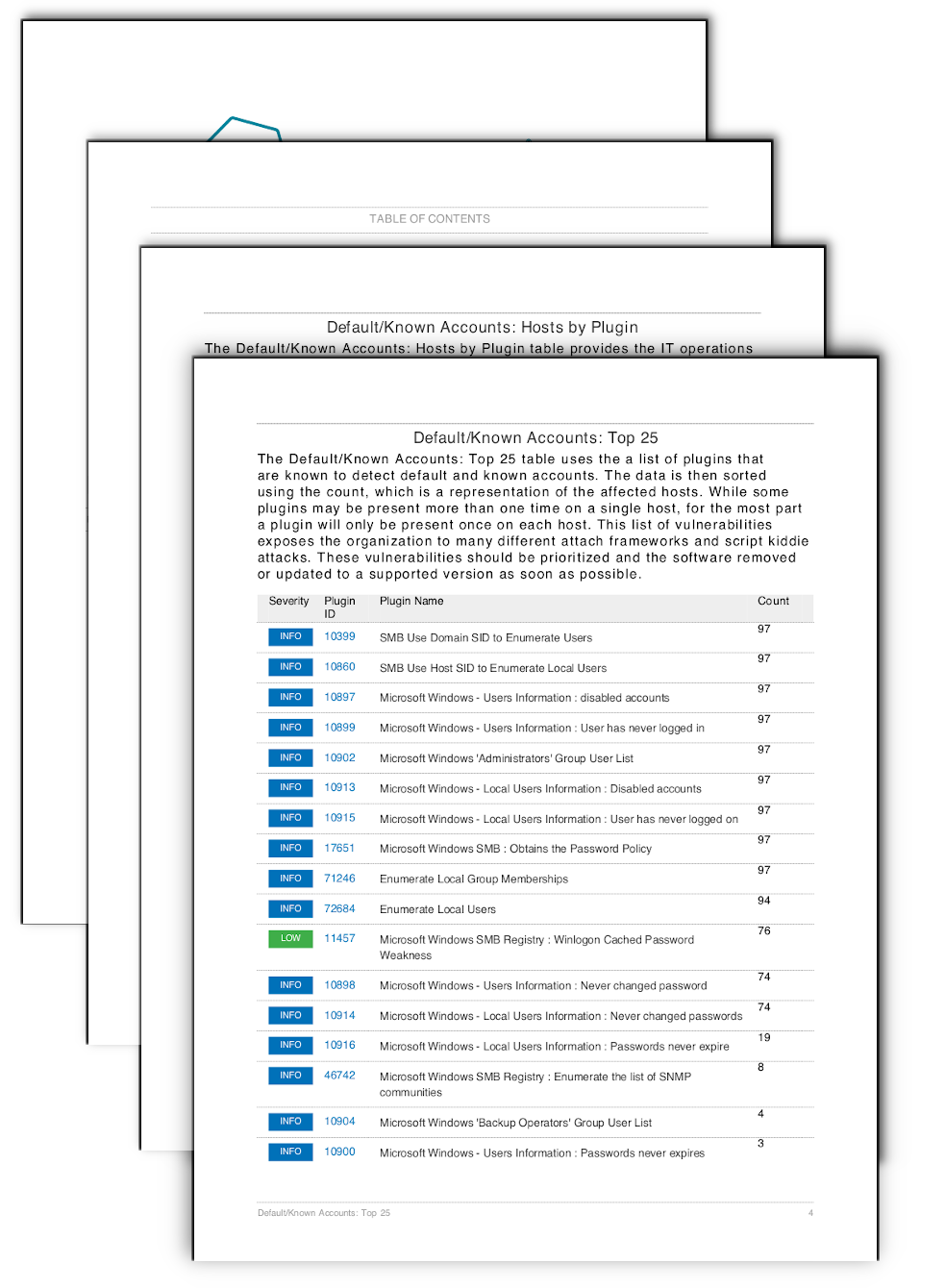 Identifying weaknesses in a network is an ongoing challenge that security teams face. Account vulnerabilities can provide attackers with easier access to an otherwise secure network. Finding weaknesses in the configuration of accounts is a key step to properly securing any network. Default and known accounts create an easy entry point for attackers to gain access to the network and hosts. Once inside the network, an attacker can perform malicious attacks, steal sensitive data, and cause significant damage to critical systems. This report provides a summary of the most prevalent detections of default and known accounts.
Security analysts use this report to review and identify systems with configuration issues related to user accounts. Identifying the vulnerable accounts that are present on the network is an essential part of system configuration hygiene.  The plugins assembled in this report allow the security team and IT operations team to review settings of a large collection of systems easily; for example, group memberships, SMB settings, cached passwords, and other account, group, and password settings. Monitoring user privileges across multiple applications and websites within a network can be difficult for any organization to manage effectively. Without proper access management controls in place to monitor and audit user access to internal resources, organizations are at increased risk of people gaining unauthorized access to confidential data. 
The report supports filters from the Nessus user interface, which are reflected in the output report.  In the Nessus user interface, the analyst can use filters either by host or vulnerability.  For example, by setting a filter for hosts that contain "192.168.0.", the output of the report will be limited to the specified network.  This allows risk managers to identify risks based on subnet or other data attributed collected by Nessus.  This report template is available for Nessus Professional PDF or HTML reports.
Tenable built the most innovative vulnerability scanner, Nessus, which is the world's most widely deployed vulnerability assessment scanner. Powerful and flexible to adapt to the unique requirements of today's modern networks. Nessus provides visibility into a wide range of assets on many computing platforms. The data in this report provides insight into user account and group membership information.  
This report contains the following chapters:
Default/Known Accounts: Top 25 table uses a list of plugins that detect default and known accounts. The data is then sorted using the count, which is a representation of the affected hosts. While some plugins may be present more than one time on a single host, a plugin is usually only present once on each host. This list of vulnerabilities exposes the organization to many different attack frameworks and script kiddie attacks. These vulnerabilities should be prioritized and the software removed or updated to a supported version as soon as possible.
Default/Known Accounts: Hosts by Plugin table provides the IT operations team with an action plan and the identified hosts for each vulnerability. IT managers can use this information to plan patch deployments and work with the information security team on risk mitigation efforts. The table also displays a known list of plugins that identify entities that are using default and/or known accounts and scan results are sorted using severity, then plugin ID. The entries in the "Hosts" column are then sorted in ascending order.