Tenable.io
Tenable.sc
Tenable.sc+
Lumin
Nessus
Tenable's 2020 Threat Landscape Retrospective
Tenable's Security Response Team is taking a look back at the vulnerabilities and threats that made 2020 one of the most active years for security teams in recent memory. While we may want to forget the challenges of this year, as George Santayana said, "Those who cannot remember the past are condemned to repeat it." We must learn everything we can in order to face the new challenges looming in 2021.
Download the Free Report
In the 2020 Threat Landscape Retrospective (TLR), you will read about: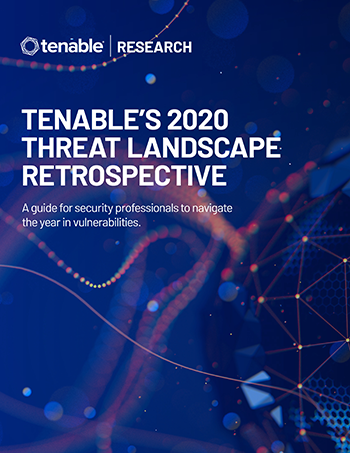 The implications of the COVID-19 pandemic from a cyber defender perspective;
The notable increase in severe vulnerabilities reported during the summer months;
The implications behind a series of alerts from the U.S. government warning about the dangers of unpatched vulnerabilities;
Trends observed in ransomware and breaches; and
Details of the key vulnerabilities affecting enterprise software.
What you'll get from this report:
Identify and patch any of the vulnerabilities referenced in this report
Understand some of the pitfalls from the shift to the remote workforce
Learn how ransomware gangs are breaching organizations and the tactics they're employing to extract ransom demands
Learn some of the common ways data breaches occur and what your organization can do to prevent them from happening
Download the Report:
2020 Threat Landscape Retrospective