What's in a Name? SecurityCenter Is Now Tenable.sc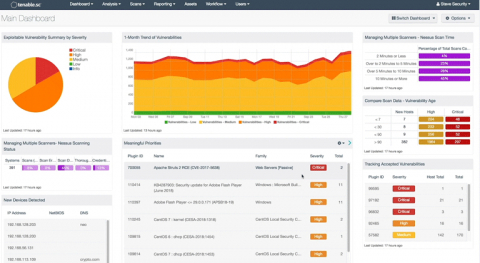 On November 7, 2018, Tenable SecurityCenter was renamed Tenable.sc. Read on to learn more about why we did it - and catch up on the latest innovations coming to our Cyber Exposure platform.
Earlier this month, when we announced new Predictive Prioritization capabilities coming to the Tenable Cyber Exposure platform, we decided it was also time to give one of our key products a fresh name. As of Nov. 7, 2018, Tenable SecurityCenter was renamed Tenable.sc to better reflect its position as a core element of the Tenable Cyber Exposure platform.
Redefining SecurityCenter
For most businesses, the number of vulnerabilities they're dealing with is simply untenable. In fact, the recent Vulnerability Intelligence Report from Tenable Research reveals a 53% increase in vulnerabilities published in 2017 compared with the previous year. Combine this rapidly changing and expanding threat landscape with a huge increase in the amount and types of assets on your network, and it's clear the risk of business-disrupting events has never been higher.
To keep up with the current volume of vulnerabilities, new assets and changes to the threat landscape, organizations need a solution to holistically assess, manage and measure cyber risk across their modern attack surface. Organizations need Cyber Exposure.
And that's why we're excited to bring Tenable.sc into our Cyber Exposure platform. This change gives customers flexible deployment options for managing vulnerabilities in their modern organization. They may now choose between Tenable.sc (managed on-prem) or Tenable.io (managed in the Cloud).
So what does this mean for Tenable.sc?
Innovating Tenable.sc
Tenable.sc, a key part of our portfolio since its inception in 2003, has continually driven innovation in the vulnerability management market. Now, as a core element of the Tenable Cyber Exposure platform, you will see the solution receive increased innovation and accelerated development to help our customers see more, do more and further reduce their cyber risk.
Available now
Last week, we released Tenable.sc 5.8. This release enables our customers to see more, extending beyond the walls of the organization for greater support in an on-prem environment. It includes enhancements to Mobile Agent Workforce capabilities, such as the ability to:
Speed up DNS calls with the ability to resolve DNS assets in parallel
Modify the severity of vulnerabilities with accept/recast rules for agenta data
Get greater flexibility over agent data with option to set a timeline for expiration of agent repositories
Easily retain user data with ability to reassign objects for users deleted by admins
Save time with ability to set a date threshold to import data for agent scans
See key information at a glance with the addition of the scan ID in the component title of PDF reports
For additional information on Tenable.sc 5.8 features and quality fixes check out the release notes.
Coming in 2019
As we move into the new year, you'll see significant innovations in Tenable.sc, including:
Integrating SAML to allow for multiple SSO/ authentication solutions, such as Shibboleth.
Integration between Tenable.sc and Industrial Security to deliver high-level analysis and reporting of both OT and IT networks found in critical infrastructure. This gives customers a single platform to measure and manage cyber risk across both OT and IT networks.
Advanced Predictive Prioritization capabilities to address the deluge of vulnerabilities and predict which ones will generate the most cyber risk to organizations. Predictive prioritization will provide organizations with the unprecedented capability to reduce the number of critical vulnerabilities they need to remediate by 95%, while maintaining the same level of cyber risk across their attack surface compared to basic prioritization with CVSS.
Integration with Tenable Lumin for advanced visualization, analytics and measurements to help organization understand and reduce their Cyber Exposure.
Enhancements and additions to reports and dashboards
So, to answer my original question, what's in a name? As it turns out, a lot.
We're excited to bring these innovations to market and bring all our customers along in our Cyber Exposure journey.
Want to learn more about Tenable.sc? Visit the webpage https://www.tenable.com/products/tenable-sc.
Related Articles
Announcements
Mobile Security
SecurityCenter
Threat Intelligence
Threat Management
Vulnerability Management
Are You Vulnerable to the Latest Exploits?
Enter your email to receive the latest cyber exposure alerts in your inbox.