The Modern Attack Surface
Organizations of all sizes have embraced digital transformation to create new business models and ecosystems, deliver new products and services and operate more efficiently in the digital economy. New digital compute platforms and development shifts such as cloud, mobile, SaaS and DevOps have made it possible to move from concept to capability on a daily basis. Physical devices and systems of all types - from corporate conference systems to power grids - are now network connected and programmable, creating even more opportunities for digital transformation.
Some say these digital technologies are the future. But the truth is, the future is here and now. By 2019, there will be over 9 billion IoT devices deployed in the enterprise and over 90% of organizations have applications running in the cloud today.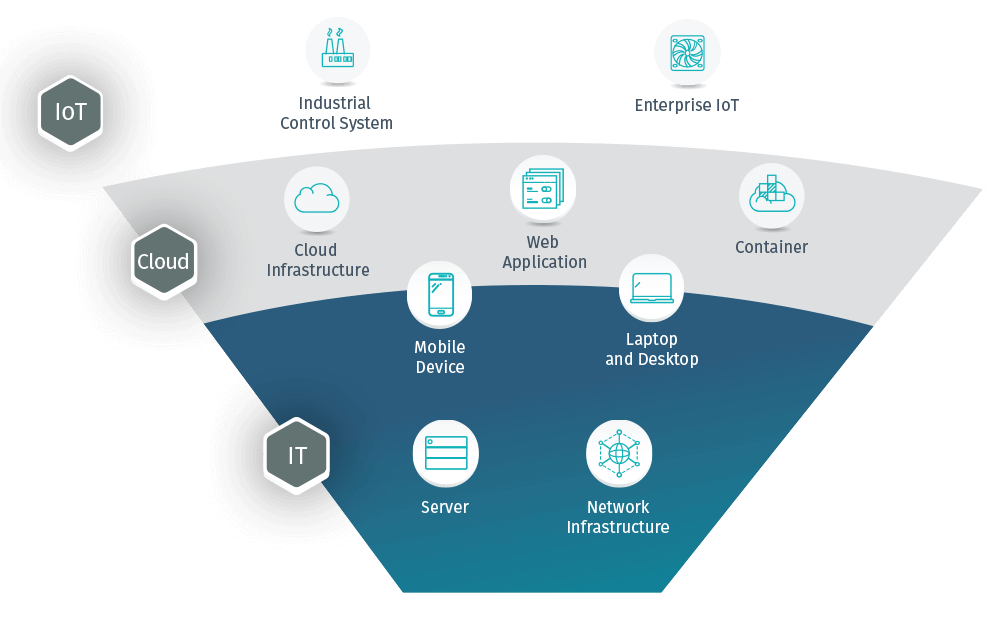 This elastic attack surface has created a massive gap in an organization's ability to truly understand its Cyber Exposure at any given time. We call this the Cyber Exposure gap.
While digital transformation opens up a whole new world of opportunities, this is your new cyber attack surface to defend.
And it's exploding.
Every organization, no matter how large or small,
will be able to confidently answer four questions at all times:
Where are we exposed?
Where should we prioritize based on risk?
Are we reducing our exposure over time?

How do we compare to our peers?
Tenable Lumin enables you to accurately and effectively measure and benchmark your organization's Cyber Exposure, both internally and externally against peer organizations.
Learn More
The Cyber Exposure Gap
The tools and approaches organizations are using to understand cyber risk don't even work in the old world of client/server, on-premises data centers and a linear software development lifecycle where there is less complexity and more control over security. An asset is no longer just a laptop or server. It's now a complex mix of digital compute platforms and assets which represent your modern attack surface, where the assets themselves and their associated vulnerabilities are constantly expanding, contracting and evolving - like a living organism.
Organizations Attempt to Close the Cyber Exposure Gap in a Few Ways
Throw 100s of security tools at the problem to protect from the 'threat of the week', creating siloed visibility, management overhead and reactive firefighting.
Rely on a CMDB to get visibility into asset configuration, but 85 percent of these projects fail in part due to stale data and they weren't built to discover and map today's modern assets.
Take a 'scan the network' approach to identify vulnerabilities. While this is foundational to understanding your cyber exposure gap, the old "one size fits all" techniques and tools haven't adapted for the modern attack surface.
No one has been able to provide the visibility and focus required to close the Cyber Exposure gap against the modern attack surface.
Until Now.
Welcome to the Modern Era of Cyber Exposure
Cyber Exposure is an emerging discipline for managing and measuring cybersecurity risk in the digital era. Cyber Exposure transforms security from static and siloed visibility into cyber risk to dynamic and holistic visibility across the modern attack surface. Cyber Exposure translates raw vulnerability data into business insights to help security teams prioritize and focus remediation based on business risk. Cyber Exposure provides executives and boards of directors with a way to objectively measure cyber risk to help guide strategic decision making. Just as other functions have a system of record - including ITSM for IT and CRM for Sales - Cyber Exposure solutions will provide Security with a system of record to help them effectively manage and measure cyber risk.
Cyber Exposure builds on the roots of Vulnerability Management, designed for traditional assets such as IT endpoints and on-premises infrastructure, moving from identifying bugs and misconfigurations and expanding to the following:
Live discovery of any digital asset across any computing environment
Continuous visibility into where an asset is secure, or exposed, and to what extent
Prioritization of remediation based on business risk
Benchmarking of cyber exposure compared to industry peers and best in class organizations
Measurement of Cyber Exposure as a key risk metric for strategic decision support
Addressing the full
Cyber Exposure Lifecycle
Discover
Identify and map every asset across any computing environment
Assess
Understand the cyber exposure of all assets, including vulnerabilities, misconfigurations and other security health indicators
Analyze
Understand exposures in context, to prioritize remediation based on asset criticality, threat context and vulnerability severity
Fix
Prioritize which exposures to fix first, if at all, and apply the appropriate remediation technique
Measure
Measure and benchmark cyber exposure to make better business and technology decisions
If you are flying blind to a widening Cyber Exposure gap...
... well, that's just untenable.
Join the Movement.
Tenable is built on innovation. We started with Nessus, creating the world's most widely deployed vulnerability assessment solution. Powerful yet flexible to adapt to the unique requirements of today's modern assets. Now with Tenable.io, we've delivered the world's first Cyber Exposure platform to provide visibility into any asset on any computing platform. And we're just getting started...