Tenable Cyber Exposure Platform
The Tenable Cyber Exposure platform is the industry's first solution to holistically assess, manage and measure cyber risk across the modern attack surface. The Tenable platform uniquely provides the breadth of visibility into cyber risk across IT, Cloud, IoT and OT environments and the depth of analytics to measure and communicate cyber risk in business terms to make better strategic decisions.
Tenable Ecosystem Third-Party Data
Tenable Ecosystem Third-Party Data
Benefits of The Platform
Asset Visibility
Live discovery of both traditional and modern assets – including cloud, mobile, and containers – across any computing platform (even the ones you didn't know about).
Actionable Insight
Automatically assess where each asset is exposed and to what extent. Prioritize vulnerabilities, measure risks and speed remediation through intelligent use of business context.
Flexible Deployment
Flexible deployment options for managing vulnerabilities in modern organizations. Tenable.sc (managed onprem) and Tenable.io (managed in the Cloud).
Active and Passive Scanning
Unlimited Nessus sensors for active and agent scanning, as well as passive network monitoring, to maximize coverage and reduce vulnerability blind spots.
Data Science Backed Insights
Predictive Prioritization is the first of its kind in the industry and a critical Cyber Exposure capability to more effectively measure and reduce the available attack surface. By leveraging Predictive Prioritization, security teams can focus on the flaws commonly targeted by attackers, reducing the amount of vulnerabilities they need to patch first by 97% when compared to the Common Vulnerability Scoring System (CVSS).
Predictive Prioritization is enabled through:
Tenable Research Insights: Data science based analysis of over 100,000 vulnerabilities to differentiate between the real and theoretical risks vulnerabilities pose.
Threat Intelligence: Insight into which vulnerabilities are actively being exploited by both targeted and opportunistic threat actors.
Vulnerability Score: The criticality, ease of exploit, and attack vectors associated with the flaw.
Predictive Prioritization is now available as a core capability in Tenable.io and Tenable.sc.
Learn More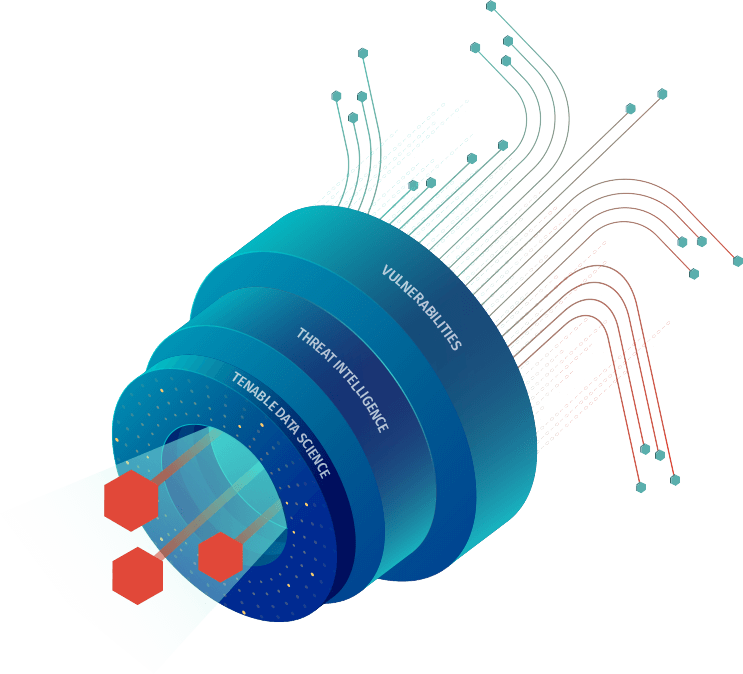 Enterprises, Beware: These Are the Top Vulnerabilities You Need to Consider
In 2017 alone, an average of 41 new vulnerabilities were published daily – that's 15,038 for the year. The latest report from Tenable Research analyzes vulnerability prevalence in the wild, highlighting the cyber threats that security practitioners are dealing with in practice – not just in theory. Discover vulnerability trends in the ever-expanding attack surface and learn whether your organization has one of the most common vulnerabilities.
Download the report now