Tenable Bolsters Container Security to Capture Open-Source Vulnerabilities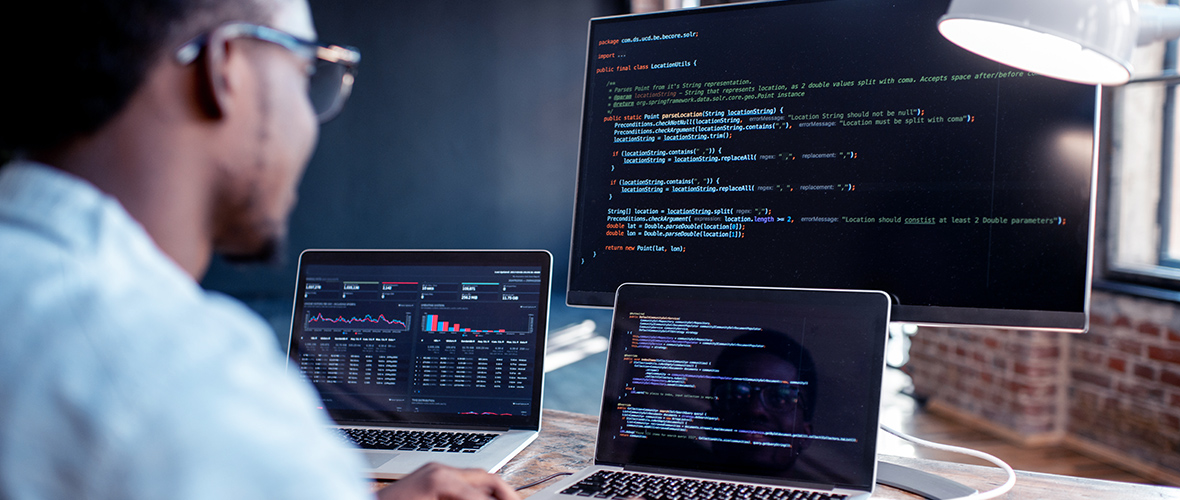 The rise of open-source software means greater speed and efficiency for developers, as well as heightened security risks. Here's how DevOps teams can protect their containerized applications against undisclosed vulnerabilities. 
Application developers have transitioned from writing custom code to assembling reusable components and open-source libraries. This approach enables rapid iteration and more continuous deployment for DevOps teams. But, it can also increase cyber risk if developers unknowingly use vulnerable open-source code. 
Open-source software is everywhere, especially in containerized environments. Recent studies show: 
96% of codebases include open-source components 1
60% of codebases have at least one open-source vulnerability 2
The mean time to identify and fix a vulnerability in an open-source package is two years 3
So, why is open-source software taking off? The biggest reason is it saves time. Rather than writing custom code and reinventing the wheel for every task, developers leverage open-source projects and tools for the bulk of the work and write custom code on top of it to tailor the component to their needs. This enables rapid iteration and continuous deployment of new features in applications. Also, in most cases, the price of open-source software can't be beat. Open-source projects are almost universally free and come without the strings of terms and conditions or long procurement cycles. 
But, these benefits come at a cost. In fact, there's been a 71% increase in open-source breaches in the last five years,4 including the 2017 Equifax breach that exposed over 145 million records. 
Why software composition analysis is essential
To catch vulnerabilities in these open-source libraries, you need software composition analysis (SCA). SCA is the process of scanning open-source project repositories for vulnerabilities, even if they haven't been disclosed to the U.S. National Vulnerability Database (NVD) and assigned a CVE number. 
With SCA, open-source users are alerted to vulnerabilities in application language libraries that other scanners searching solely for registered vulnerabilities miss. Without SCA, security and DevOps teams are blind to vulnerabilities in components that account for up to 85% of their applications.5
There's no prescribed patching or user notification process for open-source software, and users are at the mercy of the community that supports a particular project for critical fixes. The variability in patching and updates across various open-source projects has forced some teams to manually track open-source software versions in use and their most recent patches using spreadsheets, which just isn't viable at scale. 
SCA replaces those spreadsheets and eliminates the guesswork of determining whether a specific open- source component is vulnerable by: 
Discovering all components in use
Assessing these components for vulnerabilities
Providing remediation guidance, including available patches
SCA helps manage vulnerabilities in open-source software and should be incorporated into an organization's overall risk-based vulnerability management program. 
Tenable adds SCA to Container Security for host-to-code coverage
Tenable is partnering with Snyk, a leading provider of SCA in containerized applications. This integration means you can both assess containerized applications from the host infrastructure all the way to the application code and actively test the running application. This platform approach saves you the hassle of screen-switching between point solutions, which not only leads to product fatigue, but creates data silos across the security team. 
The Snyk integration offers a seamless user experience within Tenable.io Container Security, with open-source code vulnerabilities in Ruby, Python and Node.js appearing alongside all other vulnerabilities in a single interface. Support for additional open-source libraries will be added over time. Simply navigate to the Image Details overview to view all vulnerabilities in a particular container image, including OS-level and open-source component issues.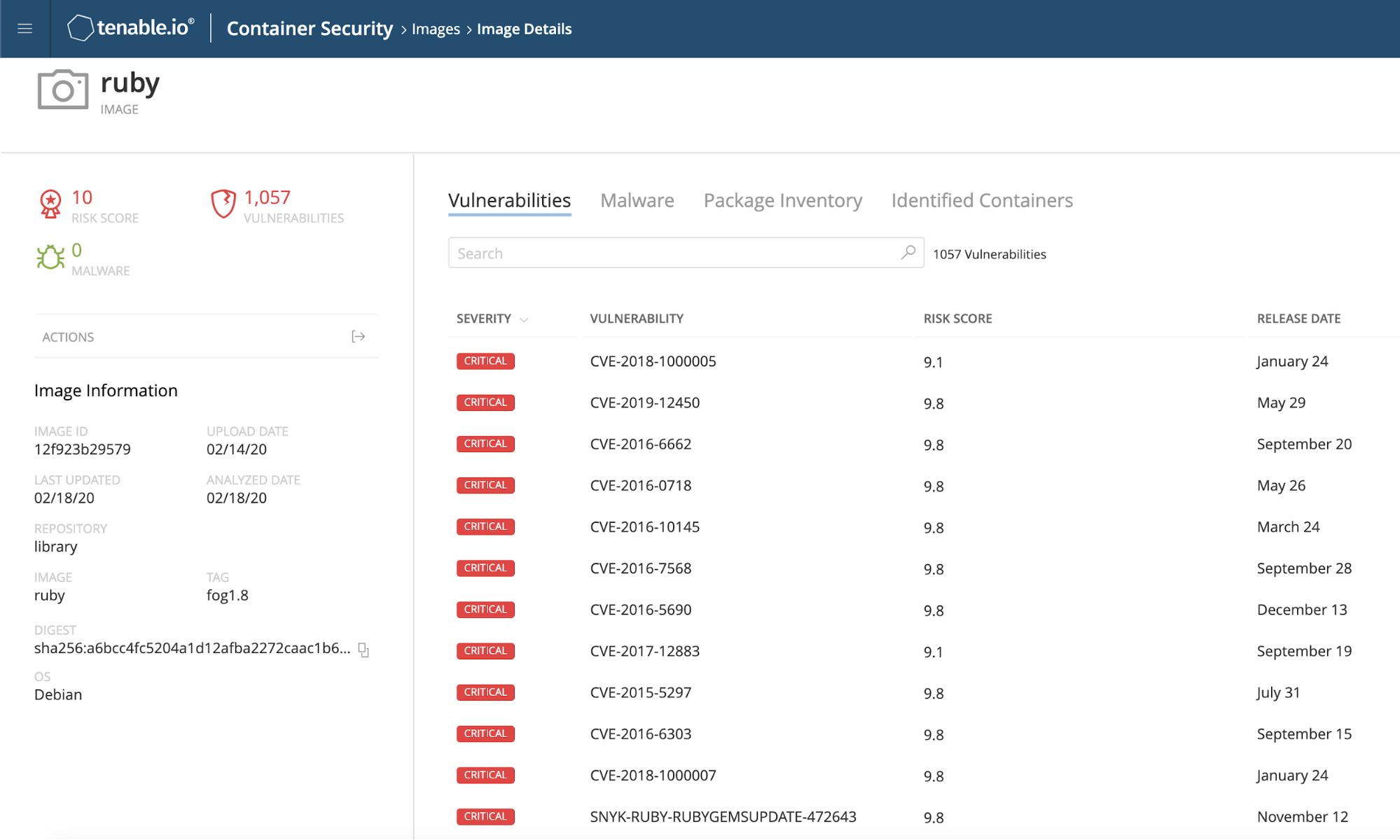 Tenable.io Container Security integrates into all of the most popular container registries and build pipeline tools to identify vulnerabilities and policy violations in container images before they're deployed in production. Tenable.io Container Security allows security teams to keep pace with DevOps and secure modern applications from host infrastructure all the way to the running application when combined with Tenable.io Vulnerability Management and Tenable.io Web App Scanning.
Try Tenable.io Container Security for free for 30 days
The combination of Tenable.io Container Security and Snyk Intel, Snyk's open-source vulnerability database, is a powerful defense against the risks of open-source software that enables you to securely develop the cutting-edge applications your customers demand.
We encourage you to evaluate it for yourself and see Tenable.io Container Security in action. Click below to sign-up for your free 30-day trial and secure your container images today.
1. Synopsis, "2019 Open Source Security and Risk Analysis," April 2019
2. Ibid
3. Snyk, "The State of Open Source Security Report 2019," February 2019
4. Sonatype, "DevSecOps Community Survey 2019," March 2019
5. Ibid
Related Articles
Container security
Tenable.io Container Security
Vulnerability Management
Are You Vulnerable to the Latest Exploits?
Enter your email to receive the latest cyber exposure alerts in your inbox.