Microsoft's August 2023 Patch Tuesday Addresses 73 CVEs (CVE-2023-38180)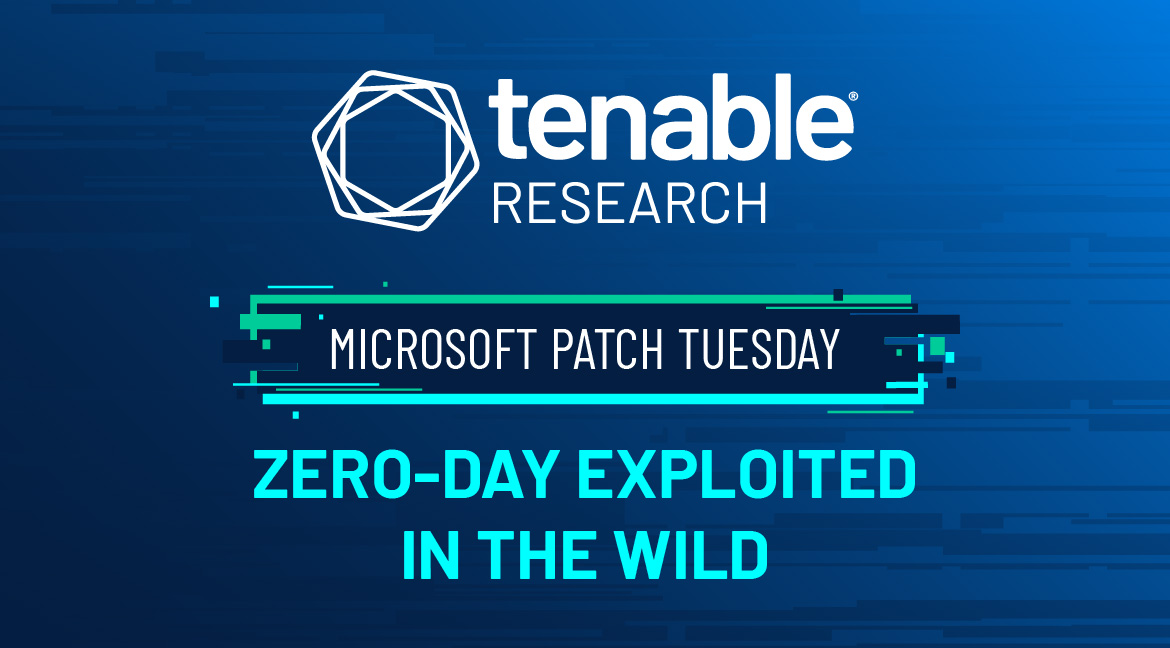 Microsoft addresses 73 CVEs, including one vulnerability exploited in the wild.
6

Critical

67

Important

0

Moderate

0

Low
Microsoft patched 73 CVEs in its August Patch Tuesday release, with six rated as critical and 67 rated as important. Microsoft also released two advisories (ADV230003 and ADV230004) this month as well as a patch for a vulnerability in AMD processors (CVE-2023-20569). These were omitted from our totals.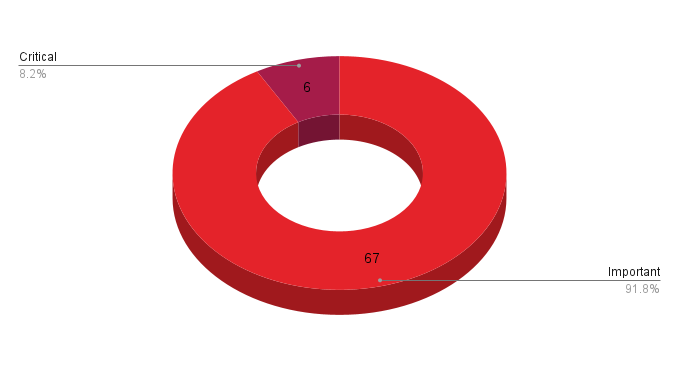 This month's update includes patches for:
.NET Core
.NET Framework
ASP.NET
ASP.NET and Visual Studio
Azure Arc
Azure DevOps
Azure HDInsights
Dynamics Business Central Control
Memory Integrity System Readiness Scan Tool
Microsoft Dynamics
Microsoft Exchange Server
Microsoft Office
Microsoft Office Excel
Microsoft Office Outlook
Microsoft Office SharePoint
Microsoft Office Visio
Microsoft Teams
Microsoft WDAC OLE DB provider for SQL
Microsoft Windows Codecs Library
Reliability Analysis Metrics Calculation Engine
Role: Windows Hyper-V
SQL Server
Tablet Windows User Interface
Windows Bluetooth A2DP driver
Windows Cloud Files Mini Filter Driver
Windows Common Log File System Driver
Windows Cryptographic Services
Windows Defender
Windows Fax and Scan Service
Windows Group Policy
Windows HTML Platform
Windows Kernel
Windows LDAP - Lightweight Directory Access Protocol
Windows Message Queuing
Windows Mobile Device Management
Windows Projected File System
Windows Reliability Analysis Metrics Calculation Engine
Windows Smart Card
Windows System Assessment Tool
Windows Wireless Wide Area Network Service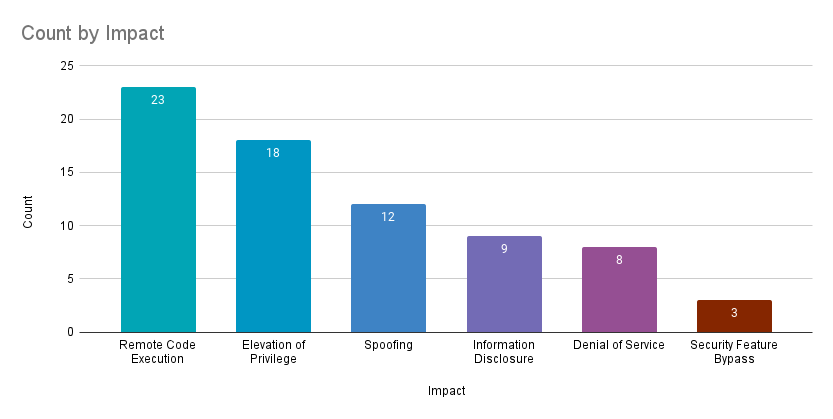 Remote code execution (RCE) vulnerabilities accounted for 31.5% of the vulnerabilities patched this month, followed by elevation of privilege (EoP) vulnerabilities at 24.7%.
CVE-2023-38180 |.NET and Visual Studio Denial of Service Vulnerability
CVE-2023-38180 is a Denial of Service (DoS) vulnerability in Microsoft Visual Studio,.NET versions 6.0 and 7.0, and ASP.NET Core 2.1. It is rated as "Important" and was assigned a CVSSv3 score of 7.5. According to Microsoft, this vulnerability was exploited in the wild as a zero-day. While details of its exploitation were not available at the time this blog post was published, an attacker that exploits this vulnerability would be able to create a DoS condition on a vulnerable server.
ADV230003 | Microsoft Office Defense in Depth Update
Microsoft released security advisory ADV230003 as part of its August Patch Tuesday release to provide "enhanced security as a defense in depth measure." This update is in response to the discovery of CVE-2023-36884, a security feature bypass vulnerability (previously categorized as RCE by Microsoft) affecting Windows and Windows Server installations that was disclosed as part of the July 2023 Patch Tuesday release. While ADV230003 does not directly address CVE-2023-36884, it was included as part of this month's release as it "stops the attack chain" that leads to CVE-2023-36884. Organizations are encouraged to apply the Office updates listed in the advisory and apply the latest Windows updates for August.
Microsoft also updated its advisory page for CVE-2023-36884 as part of its August Patch Tuesday, including updating the title to a "Security Feature Bypass" in Windows Search, while the CVSSv3 score was reduced to 7.5 and the severity decreased from Critical to Important. Microsoft provided patching information to address the vulnerability.
Tenable Solutions
Users can create scans that focus specifically on our Patch Tuesday plugins. From a new advanced scan, in the plugins tab, set an advanced filter for Plugin Name contains August 2023.

With that filter set, click the plugin families to the left and enable each plugin that appears on the right side. Note: If your families on the left say Enabled, then all the plugins in that family are set. Disable the whole family before selecting the individual plugins for this scan. Here's an example from Tenable Vulnerability Management (formerly Tenable.io):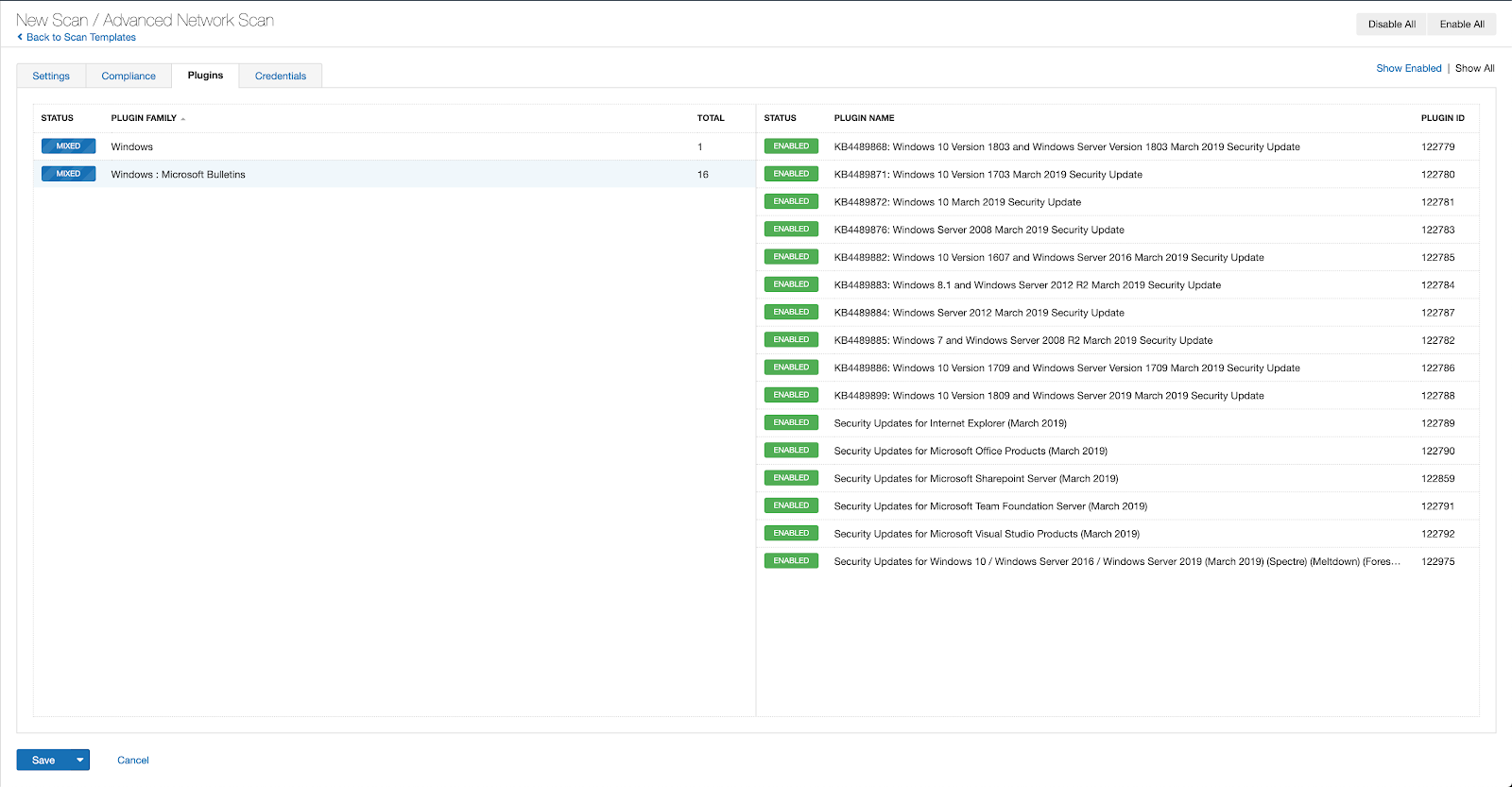 A list of all the plugins released for Tenable's August 2023 Patch Tuesday update can be found here. As always, we recommend patching systems as soon as possible and regularly scanning your environment to identify those systems yet to be patched.
Get more information
Join Tenable's Security Response Team on the Tenable Community.
Learn more about Tenable One, the Exposure Management Platform for the modern attack surface.
Related Articles
Exposure Management
Vulnerability Management
Exposure Management
Vulnerability Management
Cybersecurity News You Can Use
Enter your email and never miss timely alerts and security guidance from the experts at Tenable.