Cloud-Based Vulnerability Management Platform
Protect your environment with the first vulnerability management platform for today's modern assets – cloud, containers, web apps and more. Unify IT and OT security for complete visibility.
Download Forrester Vendor Landscape:
Vulnerability Management, 2017
Applications
Bring clarity to your security posture through a fresh, asset-based approach that provides maximum coverage of your evolving assets and vulnerabilities in ever-changing environments.
Provides comprehensive visibility into the security posture of container images as they are developed, enabling vulnerability assessment, malware detection, policy enforcement and remediation prior to container deployment.
Gain visibility into the security of web applications with safe vulnerability scanning, complete with high detection rates to ensure you understand the true risks in your web applications.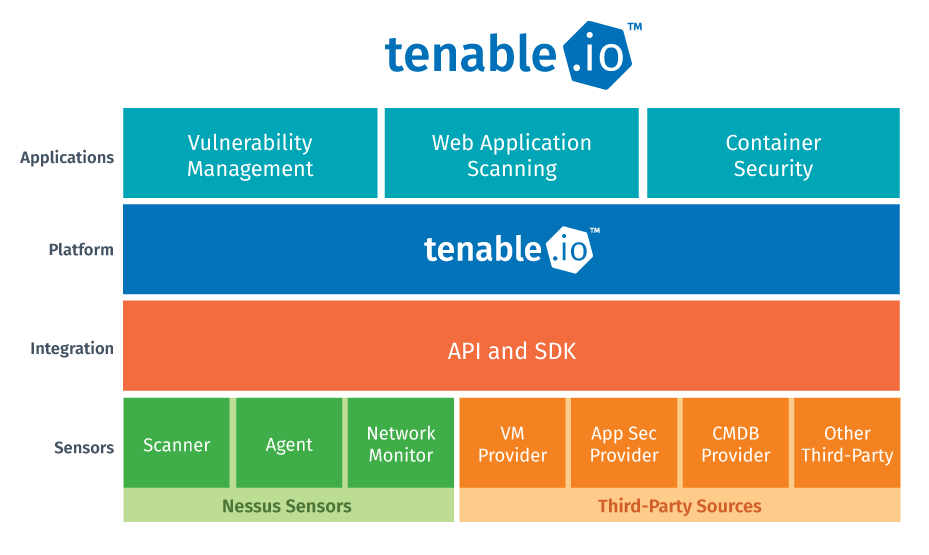 Integrated Applications
Tenable.io delivers multiple applications to solve your toughest security challenges, such as vulnerability management, container security, web application scanning and more to come. Applications are built on a common platform, leverage the Nessus® Sensors, API and SDK, and are accessed through a single interface, making it easy to activate new applications and become productive immediately.
Container Security
As the only vulnerability management solution to offer integrated container security capabilities, Tenable.io continuously monitors container images for vulnerabilities, malware and enterprise policy compliance. By bringing security into the container build process up front, organizations can gain visibility into the hidden risks in containers, remediate them before they reach production and ensure container images comply with enterprise IT security policies without slowing innovation cycles.
Comprehensive Scan Options
Included Nessus Sensors maximize scan coverage and reduce vulnerability blind spots. Active and agent scanning, as well as passive traffic listening are included at no extra cost. Active scanning provides the broadest coverage of assets and vulnerabilities, and agent-based scanning and passive traffic listening covers hard-to-scan assets, such as transient devices, and sensitive hosts, such as medical or industrial control devices.
Asset Tracking
Using an advanced asset identification algorithm, Tenable.io pinpoints the true identity of each resource in your environment – even dynamic assets like laptops, virtual machines and cloud instances. This algorithm uses an extensive set of attributes to accurately track changes to assets, regardless of how they roam or how long they last.
Documented API and Integrated SDK
Easily integrate and automate the sharing of capabilities and vulnerability data, or build on the Tenable.io platform, leveraging a fully documented API set and SDK. There is no extra cost to use these tools to maximize the value of your vulnerability data.
SLA With Uptime Guarantee
Tenable provides the vulnerability management industry's first uptime guarantee through a robust service level agreement (SLA) for Tenable.io. Service credits are offered if the SLA is not met, just like leading cloud vendors, such as Amazon Web Services.
Has Tenable achieved any privacy certifications?
Tenable Network Security complies with the EU-U.S. Privacy Shield Framework and the Swiss – U.S. Privacy Shield Framework as set forth by the U.S. Department of Commerce regarding the collection, use, and retention of personal information transferred from the European Union and Switzerland to the United States, respectively. Tenable Network Security has certified to the Department of Commerce that it adheres to the Privacy Shield Principles. If there is any conflict between the terms in this privacy policy and the Privacy Shield Principles, the Privacy Shield Principles shall govern. To learn more about the Privacy Shield program, and to view our certification, please visit https://www.privacyshield.gov/.
Read the "Gartner Market Guide for Vulnerability Assessment"
Organizations with large or growing cloud, virtualization and DevOps deployments must select a vulnerability assessment solution that addresses these asset demographics. The "Gartner Market Guide for Vulnerability Assessment" provides expert guidance to organizations seeking to evaluate vulnerability assessment solutions and providers. Tenable is pleased to provide this valuable resource at no cost.