Microsoft's September 2021 Patch Tuesday Addresses 60 CVEs (CVE-2021-40444)

Microsoft addresses 60 CVEs in its September 2021 Patch Tuesday release, along with patches for a critical vulnerability in its MSHTML (Trident) engine that was first disclosed in an out-of-band advisory on September 7.
4

Critical

56

Important

0

Moderate

0

Low
Microsoft patched 60 CVEs in the September 2021 Patch Tuesday release, including four CVEs rated as critical and 56 rated as important. This is the seventh time in 2021 that Microsoft has patched fewer than 100 vulnerabilities in a Patch Tuesday release, a stark contrast to 2020, which featured eight months where over 100 CVEs were patched.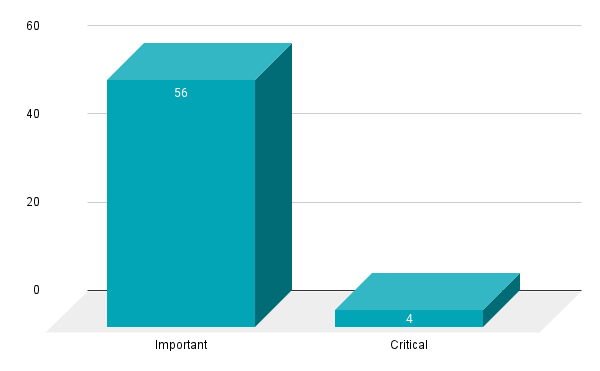 This month's Patch Tuesday release includes fixes for:
Azure Open Management Infrastructure
Azure Sphere
Dynamics Business Central Control
Microsoft Accessibility Insights for Android
Microsoft Edge (Chromium-based)
Microsoft Edge for Android
Microsoft MPEG-2 Video Extension
Microsoft Office
Microsoft Office Access
Microsoft Office Excel
Microsoft Office SharePoint
Microsoft Office Visio
Microsoft Office Word
Microsoft Windows Codecs Library
Microsoft Windows DNS
Visual Studio
Windows Ancillary Function Driver for WinSock
Windows Authenticode
Windows Bind Filter Driver
Windows BitLocker
Windows Common Log File System Driver
Windows Event Tracing
Windows Installer
Windows Kernel
Windows Key Storage Provider
Windows MSHTML Platform
Windows Print Spooler Components
Windows Redirected Drive Buffering
Windows Scripting
Windows SMB
Windows Storage
Windows Subsystem for Linux
Windows TDX.sys
Windows Update
Windows Win32K
Windows WLAN Auto Config Service
Windows WLAN Service.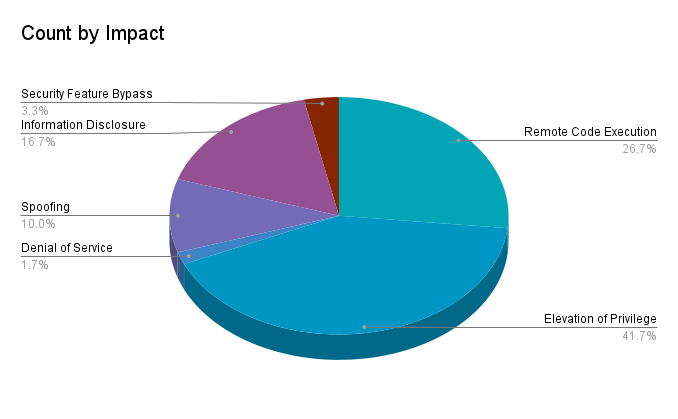 Elevation of privilege (EoP) vulnerabilities accounted for 41.7% of the vulnerabilities patched this month, followed by remote code execution (RCE) vulnerabilities at 26.7%.
CVE-2021-40444 | Microsoft MSHTML Remote Code Execution Vulnerability
CVE-2021-40444 is a critical zero-day RCE vulnerability in Microsoft's MSHTML (Trident) engine that was exploited in the wild in limited, targeted attacks. It was assigned a CVSSv3 score of 8.8. To exploit this vulnerability, an attacker would need to create a specially crafted Microsoft Office document containing a malicious ActiveX control. From there, the attacker would need to use social engineering techniques to convince their target to open the document. Microsoft says the impact of this vulnerability would be more significant in cases where the recipient has administrative privileges.
At the time this blog post was published, there were at least 21 repositories on GitHub containing proof-of-concept code for this flaw.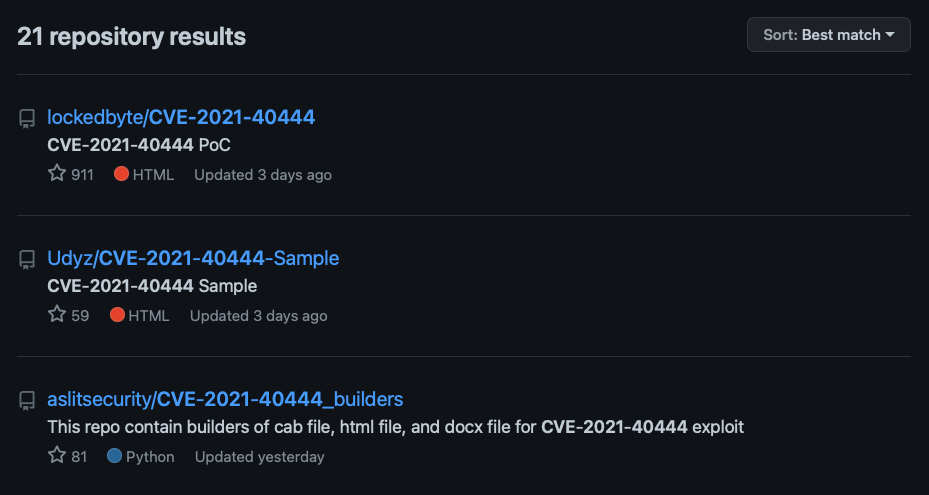 We strongly recommend organizations apply this month's patches to ensure this vulnerability is addressed, as it won't be long before other threat actors, including those affiliated with ransomware groups, begin leveraging this flaw as part of their attacks.
Tenable Solutions
Users can create scans that focus specifically on our Patch Tuesday plugins. From a new advanced scan, in the plugins tab, set an advanced filter for Plugin Name contains September 2021.

With that filter set, click the plugin families to the left and enable each plugin that appears on the right side. Note: If your families on the left say Enabled, then all the plugins in that family are set. Disable the whole family before selecting the individual plugins for this scan. Here's an example from Tenable.io: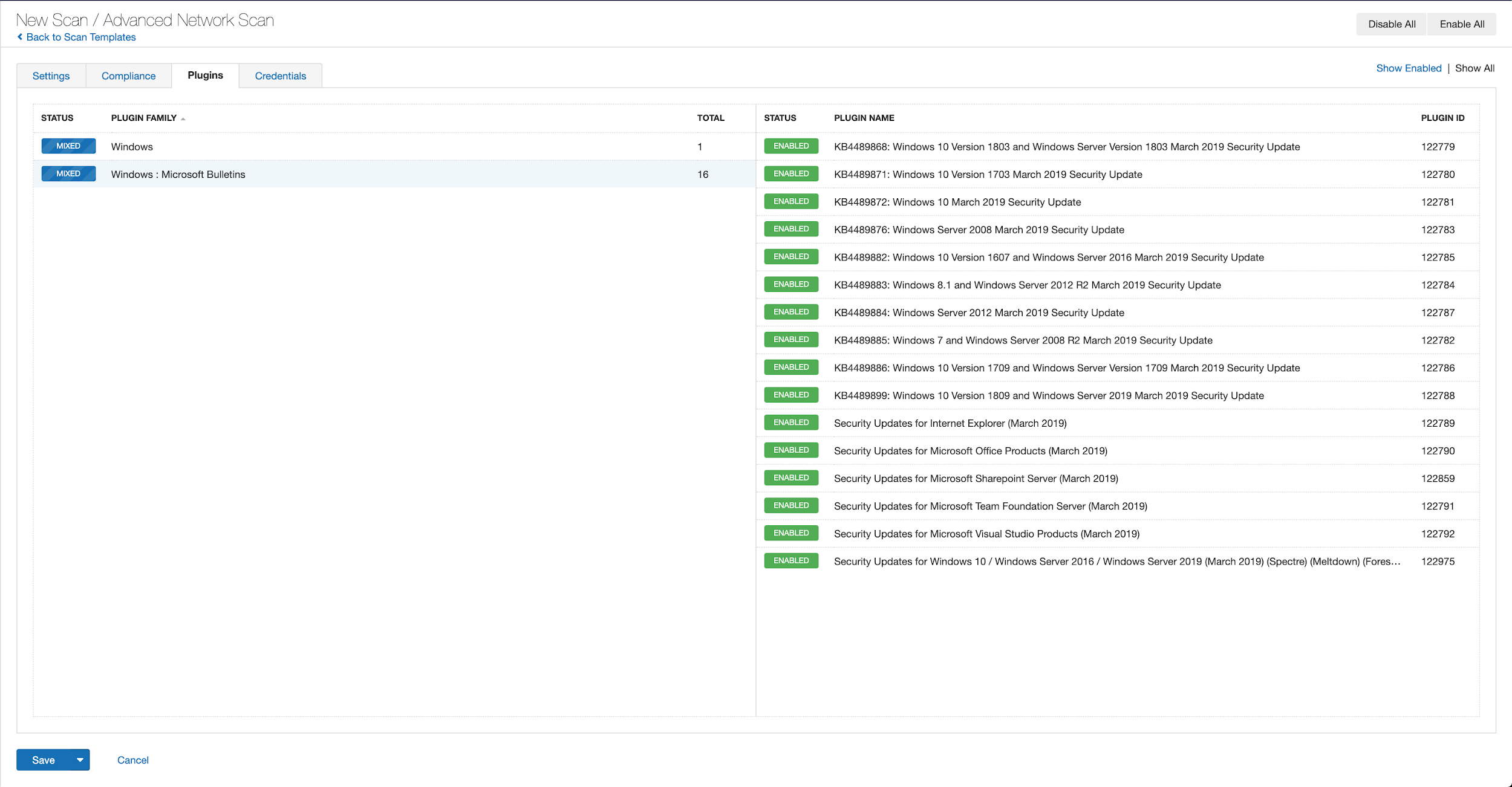 A list of all the plugins released for Tenable's September 2021 Patch Tuesday update can be found here. As always, we recommend patching systems as soon as possible and regularly scanning your environment to identify those systems yet to be patched.
Get more information
Join Tenable's Security Response Team on the Tenable Community.
Learn more about Tenable, the first Cyber Exposure platform for holistic management of your modern attack surface.
Get a free 30-day trial of Tenable.io Vulnerability Management.
Cybersecurity News You Can Use
Enter your email and never miss timely alerts and security guidance from the experts at Tenable.