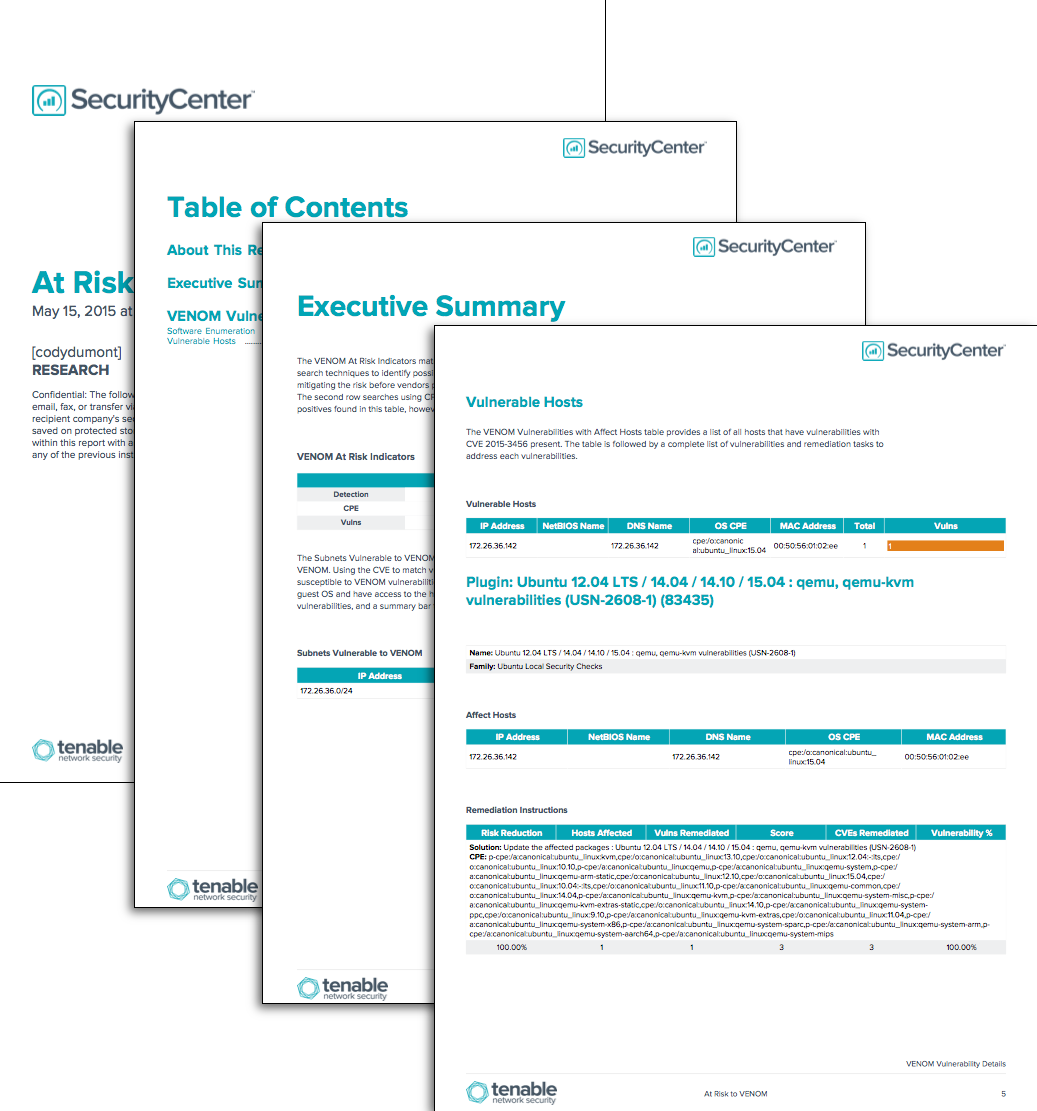 With the public announcement of VENOM (Virtualized Environment Neglected Operations Manipulation) vulnerability (CVE 2015-3456), how can organizations take a proactive approach to remediation? The VENOM vulnerability applies to VM guests and the hypervisors based on XEN and QEMU.  This report searches for content related to XenServer, VirtualBox, QEMU, and KVM installations.  This report takes into account several technics such as software enumeration, CVE matching, and key word searches to help identify vulnerable systems.  
The report is available in the SecurityCenter Feed, a comprehensive collection of dashboards, reports, assurance report cards and assets. The report can be easily located in the SecurityCenter Feed under the category Security Industry Trends. The report requirements are:
SecurityCenter 4.8.2

Nessus 6.3.6
The chapters in this report utilize data collected from previous scans to help organizations respond to VENOM.  The software enumeration component searches for systems with XenServer, VirtualBox, QEMU, and KVM installed.  This will allow analysts to identify vulnerable systems before vendors release patches.  There are other components that search for CPE strings and Vulnerability Name strings for the affected hosts. The remaining components search using the CVE 2015-3456.
One of the components reports mitigation progress.  The first row searches using the CVE string in the cumulative database.  The second row also uses the CVE, but it searches with in the mitigated database.  When a host is scanned, the results are stored in the cumulative database, as this where current vulnerabilities are stored.  When the host is scanned again, if the vulnerability is no longer present, it is considered mitigated, and the results are moved to the mitigated database.  
SecurityCenter Continuous View (CV) provides organizations with proactive continuous monitoring to identify the newest threats across the entire enterprise.  SecurityCenter CV enables the organization to react to advanced threats, zero-day vulnerabilities and new forms of regulatory compliance. SecurityCenter CV supports more technologies than any other vendor including operating systems, network devices, hypervisors, databases, tablets, phones, web servers, and critical infrastructure.
Chapters
Executive Summary - This chapter provides a risk indicator matrix and table of affected subnets. Both of which provide the reader with a high level understanding of risk related to VENOM.
VENOM Vulnerability Details - This chapter provides the organization with a series of tables and charts to allow technical staff to take remediation actions.  One table provides a list of hosts that have XenServer, KVM, QEMU, VirtualBox software programs installed.  Hosts identified by this table may not be vulnerable, but do have software related to the VENOM vulnerability installed. For each confirmed VENOM vulnerability, a list of affected systems and remediation instructions is provided.