Mr. Robot vs. the Android
Season 2, Episode 8 of Mr. Robot opens up with a mischievous social engineering hack by Trenton launching an exploit on Mobley's Android device. Trenton uses the Stagefright Android exploit, by tricking Mobley into thinking the site is a benchmark test for his Android. The touchless user interaction Stagefright Android exploit is a real threat to organizations, and should not be taken lightly. Mobile device vulnerabilities are a growing threat to organizations today; Tenable provides several solutions to monitor and analyze these threats.
The episode starts with Mobley and Trenton in Ron's coffee shop. Once they get their coffee and sit down, Trenton asks Mobley what kind of phone he uses. A friendly debate of Android vs. iPhone ensues that culminates with Trenton asking Mobley to visit a website she provides him to see how fast his phone can download a file. These types of tests are common to test the bandwidth capability of a phone to determine how fast a phone can connect to networks. Mobley visits the website and begins to download a malicious MP4 media file that was encoded with a Stagefright exploit. Trenton observes on her computer that the exploit payload was delivered and begins to take over Mobley's phone. Darlene shows up and explains to Mobley how he was socially engineered with a very specific spear phishing attack to visit a malicious website owned by Trenton. Darlene explains to Mobley that the MP4 file he downloaded was malicious and how he should not trust people as readily as he did in order to prevent social engineering tricks. While Trenton's "pwning" Mobley's phone with the Stagefright exploit may be prankster in nature, the exploitation of Android phones with Stagefright is a real-world issue.
When Zimperium announced the Stagefright bug, they determined that roughly 1 billion Android devices were vulnerable to this bug. Stagefright is a collection of vulnerabilities around a system library, libstagefright, in the Android operating system. As demonstrated in this episode and in a real-world scenario by Zimperium, we can see how easily susceptible Android devices are to vulnerabilities within the libstagefright library. Many organizations adopt Android devices as part of BYOD strategies, enabling attackers to use this exploit to their advantage. Attackers could research people in an organization, determine if an Android device is used (such as analyzing email headers to determine if an Android device was used to reply to an email), and send a malicious payload to the device over MMS or a link to a malicious MP4 file. Depending on the security boundaries with Android devices within a corporate network, a compromised Android device could potentially be used as a pivot device to access the corporate network.
Google addressed the vulnerabilities with software updates to fix the vulnerability, but due to the many versions of Android out there, this left many devices still at risk to exploitation. Organizations with Tenable SecurityCenter Continuous View™ (SecurityCenter CV™) can benefit from monitoring the environment for vulnerable Android devices. The dashboard, Android Devices and Vulnerabilities, can assist analysts with the inspection of the network for Android devices. Analysts are able to not only see Android devices in the organization, but vulnerabilities associated with all Android devices over time and individual detail.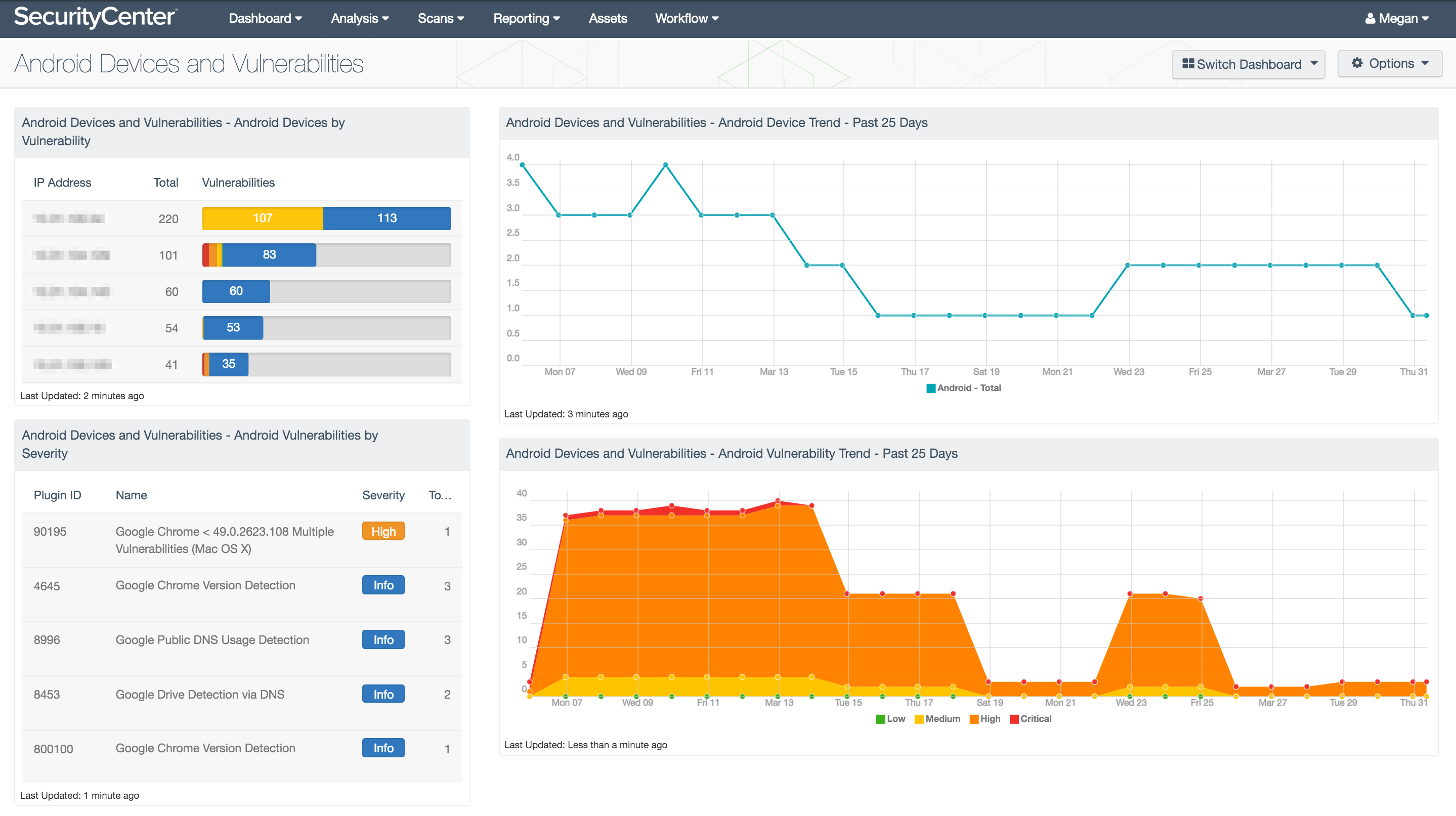 In the real world, attacker controlled websites that are serving malicious payloads can be detected with SecurityCenter CV. SecurityCenter CV has the capability to determine if user directed traffic is sending or receiving data to malicious websites. The threats presented on websites are categorized using the advanced correlation features of the Log Correlation Engine™ (LCE®) in SecurityCenter CV. Analysts can use the Threatlist Activity dashboard to monitor logs collected by LCE agents. The LCE agent monitors system logs and other activities to determine if users are communicating with attacker controlled websites. The advanced correlations use many different log sources such as NetFlow, firewall logs, and other log sources in conjunction with system logs from this host to identify the malicious activity.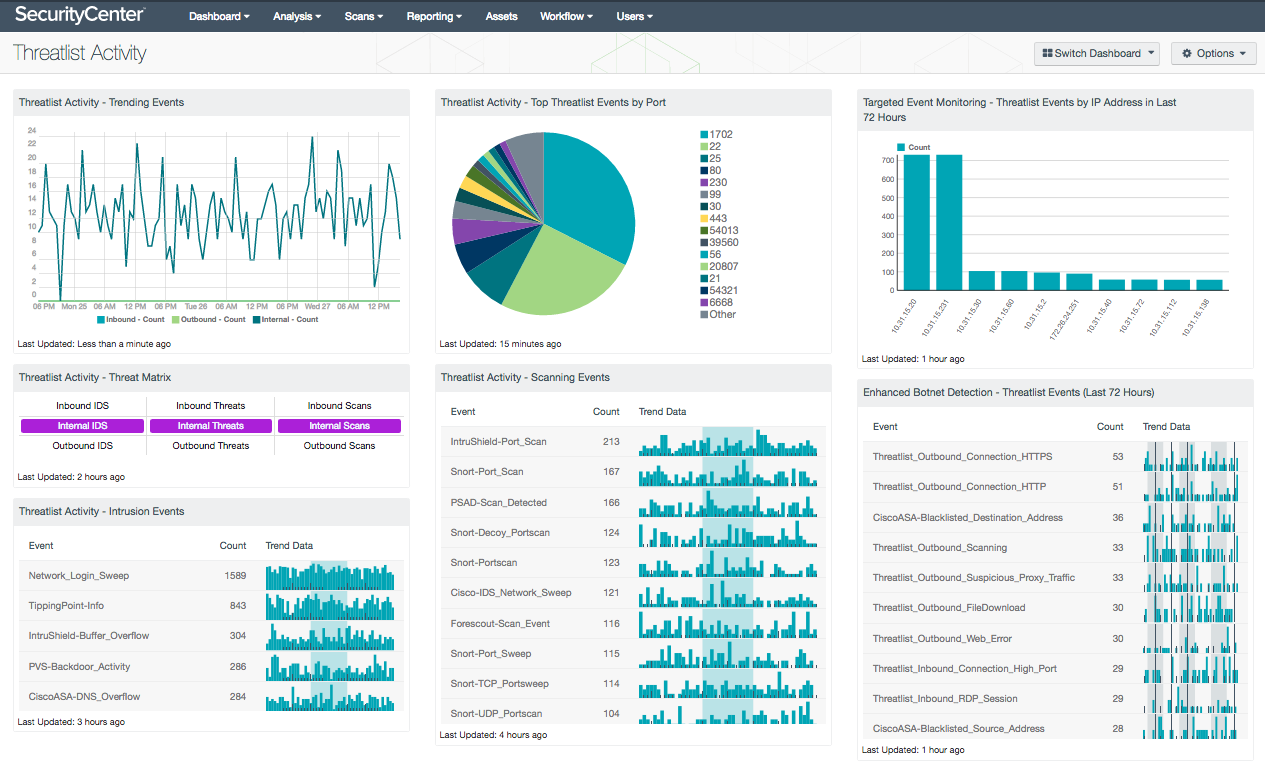 SecurityCenter CV is a fully featured vulnerability management system that has the ability to identify risks to mobile devices and relate the threats to the corporate infrastructure. By integrating Mobile Device Management (MDM) solutions, dynamically correlating log events, and then alerting incident responders when malicious attacks are occurring, SecurityCenter CV can provide the CISO with much needed piece of mind, knowing vulnerability and threat analysis is an ongoing activity and is not limited to monthly scanning.
Related Articles
BYOD
Mobile Security
SecurityCenter
Are You Vulnerable to the Latest Exploits?
Enter your email to receive the latest cyber exposure alerts in your inbox.