Microsoft's January 2022 Patch Tuesday Addresses 97 CVEs (CVE-2022-21907)

Microsoft addresses 97 CVEs in its January 2022 Patch Tuesday release, including four zero-day vulnerabilities that were publicly disclosed but not exploited in the wild.
9

Critical

88

Important

0

Moderate

0

Low
Update January 13: The Solutions section has been updated to reflect the availability of an audit file based on Microsoft's mitigation guidance.
Microsoft patched 97 CVEs in the January 2022 Patch Tuesday release, including nine rated as critical and 88 rated as important. Please note that Microsoft included patches for two CVEs in open source libraries.
This month's update includes patches for:
.NET Framework
Microsoft Dynamics
Microsoft Edge (Chromium-based)
Microsoft Exchange Server
Microsoft Graphics Component
Microsoft Office
Microsoft Office Excel
Microsoft Office SharePoint
Microsoft Office Word
Microsoft Teams
Microsoft Windows Codecs Library
Open Source Software
Windows Hyper-V
Tablet Windows User Interface
Windows Account Control
Windows Active Directory
Windows AppContracts API Server
Windows Application Model
Windows BackupKey Remote Protocol
Windows Bind Filter Driver
Windows Certificates
Windows Cleanup Manager
Windows Clipboard User Service
Windows Cluster Port Driver
Windows Common Log File System Driver
Windows Connected Devices Platform Service
Windows Cryptographic Services
Windows Defender
Windows Devices Human Interface
Windows Diagnostic Hub
Windows DirectX
Windows DWM Core Library
Windows Event Tracing
Windows Geolocation Service
Windows HTTP Protocol Stack
Windows IKE Extension
Windows Installer
Windows Kerberos
Windows Kernel
Windows Libarchive
Windows Local Security Authority
Windows Local Security Authority Subsystem Service
Windows Modern Execution Server
Windows Push Notifications
Windows RDP
Windows Remote Access Connection Manager
Windows Remote Desktop
Windows Remote Procedure Call Runtime
Windows Resilient File System (ReFS)
Windows Secure Boot
Windows Security Center
Windows StateRepository API
Windows Storage
Windows Storage Spaces Controller
Windows System Launcher
Windows Task Flow Data Engine
Windows Tile Data Repository
Windows UEFI
Windows UI Immersive Server
Windows User Profile Service
Windows User-mode Driver Framework
Windows Virtual Machine IDE Drive
Windows Win32K
Windows Workstation Service Remote Protocol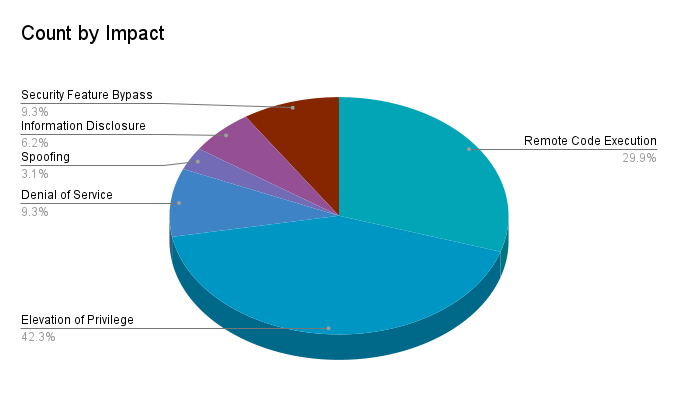 Elevation of privilege (EoP) vulnerabilities accounted for 42.3% of the vulnerabilities patched this month, followed by remote code execution (RCE) vulnerabilities at 29.9%.
CVE-2022-21907 | HTTP Protocol Stack Remote Code Execution Vulnerability
CVE-2022-21907 is a RCE vulnerability in Microsoft's HTTP Protocol Stack (http.sys) that can be exploited by a remote, unauthenticated attacker by sending a crafted packet to an affected server. The vulnerability received a 9.8 CVSSv3 score and Microsoft warns that this flaw is considered wormable. Patching affected servers should be prioritized immediately. While the flaw has not been exploited, it was rated as "Exploitation More Likely" according to Microsoft's Exploitability Index. According to the advisory, Windows Server 2019 and Windows 10 version 1809 do not have the HTTP Trailer Support feature enabled by default, however this mitigation does not apply to other affected versions of Windows.
CVE-2022-21969, CVE-2022-21846 and CVE-21855 | Microsoft Exchange Server Remote Code Execution Vulnerabilities
CVE-2022-21969, CVE-2022-21846 and CVE-2022-21855 are RCEs in Microsoft Exchange Server that all received a CVSSv3 score of 9.0 and were rated as "Exploitation More Likely." According to the advisories, these vulnerabilities require adjacent attack, meaning "it cannot simply be done across the internet, but instead needs something specific tied to the target." The attacker would need to establish some sort of foothold in the target environment before exploiting these vulnerabilities.
CVE-2022-21969 is credited to Dr. Florian Hauser with Code White GmbH, CVE-2022-21855 was discovered by Andrew Ruddick from the Microsoft Security Response Center and CVE-2022-21846 is credited to the National Security Agency.
CVE-2022-21874 | Windows Security Center API Remote Code Execution Vulnerability
CVE-2022-21874 is a publicly disclosed RCE in the Windows Security Center API that received a CVSSv3 score of 7.8. It was discovered by Jinquan with DBAPPSecurity Lieying Lab. This vulnerability requires user interaction to exploit and the attack vector is local.
CVE-2022-21893 | Remote Desktop Protocol Remote Code Execution Vulnerability
CVE-2022-21893 is a RCE vulnerability in the Remote Desktop Protocol (RDP). In order to exploit this flaw, an attacker would need to convince a targeted user to connect to a malicious RDP server. Once an RDP connection has been established, the attacker could use the malicious RDP server to access or modify the contents of the clipboard and on the filesystem of the victim's machine. While exploitation is less likely, the vulnerability is still an important flaw to remediate.
CVE-2022-21850 and CVE-2022-21851 | Remote Desktop Client Remote Code Execution Vulnerability
CVE-2022-21850 and CVE-2022-21851 are both RCE vulnerabilities in the Remote Desktop Client. For both CVEs, an attacker would need to convince a user on an affected version of the Remote Desktop Client to connect to a malicious RDP server. Each of these vulnerabilities received a CVSSv3 score of 8.8 and requires user interaction to exploit.
CVE-2022-21836 | Windows Certificate Spoofing Vulnerability
CVE-2022-21836 is a spoofing vulnerability affecting Windows certificates which has received a 7.8 CVSSv3 score. An attacker could utilize compromised certificates to bypass the Windows Platform Binary Table binary verification. While exploitation is rated as less likely, Microsoft states that the flaw was publicly disclosed. The compromised certificates known to Microsoft have been added to the Windows kernel driver block list and Microsoft offers additional guidance in their security advisory.
CVE-2022-21919 | Windows User Profile Service Elevation of Privilege Vulnerability
CVE-2022-21919 is an EoP vulnerability in the Windows User Profile Service. To exploit this vulnerability, an attacker would need to have established a foothold on the vulnerable system through social engineering, a separate exploit or malware. Successful exploitation would give an attacker elevated privileges on the vulnerable system. This vulnerability is considered a zero-day, as it was publicly disclosed prior to Microsoft issuing patches for it.
Internet Explorer 11 Upcoming End Of Life
Microsoft previously noted that support for Internet Explorer 11 will end on June 15, 2022 for certain versions of Windows 10. As some organizations may utilize applications that require the use of Internet Explorer, you will want to verify if you are using a long term supported version of Windows or determine next steps. Microsoft has provided an FAQ document here.
Tenable Solutions
Users can create scans that focus specifically on our Patch Tuesday plugins. From a new advanced scan, in the plugins tab, set an advanced filter for Plugin Name contains January 2022.

With that filter set, click the plugin families to the left and enable each plugin that appears on the right side. Note: If your families on the left say Enabled, then all the plugins in that family are set. Disable the whole family before selecting the individual plugins for this scan. Here's an example from Tenable.io: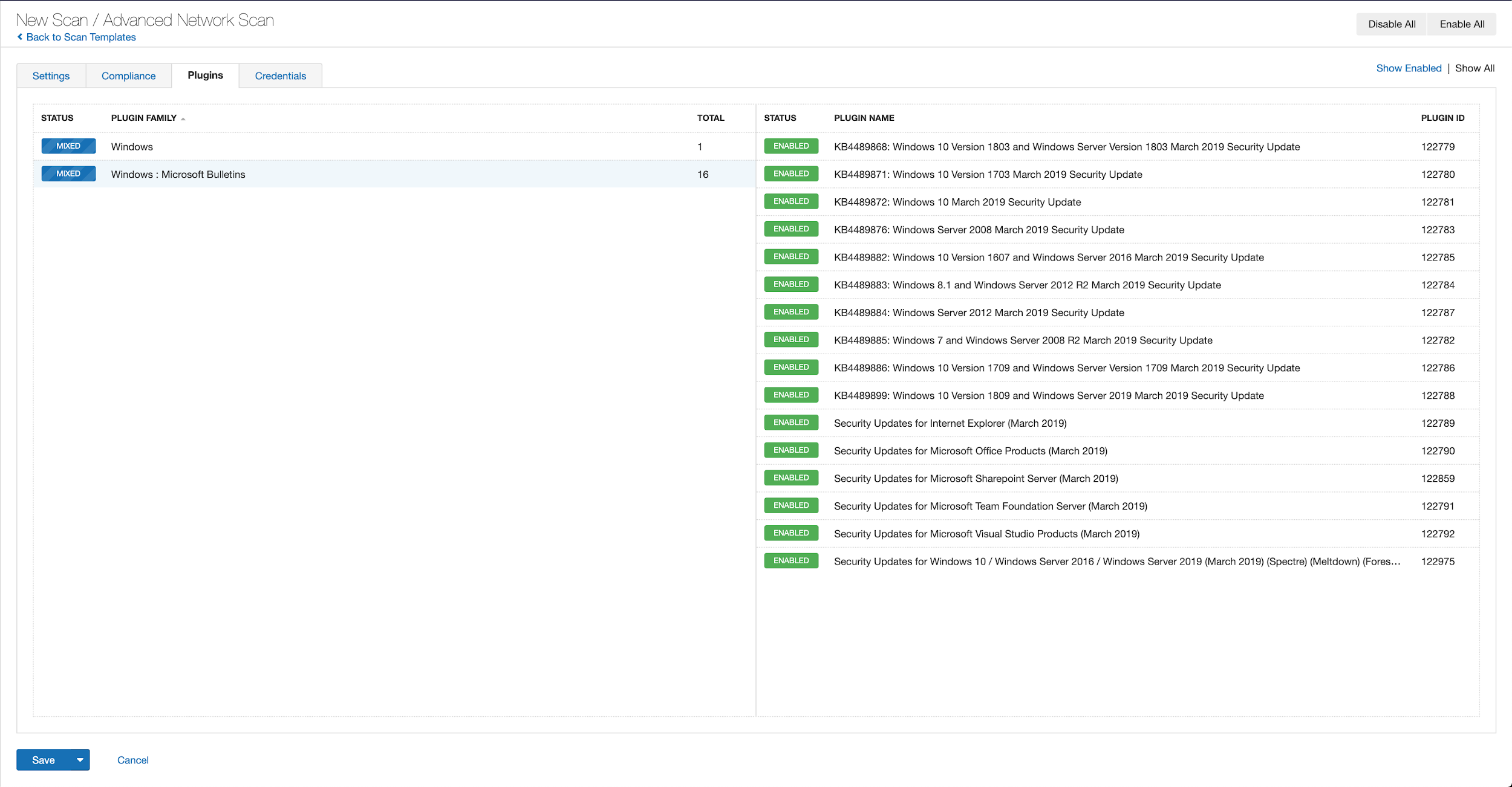 A list of all the plugins released for Tenable's January 2022 Patch Tuesday update can be found here. As always, we recommend patching systems as soon as possible and regularly scanning your environment to identify those systems yet to be patched.
An audit file was created to help customers identify Microsoft's mitigation guidance based on the presence of the EnableTrailerSupport value in the HTTP\Parameters registry key.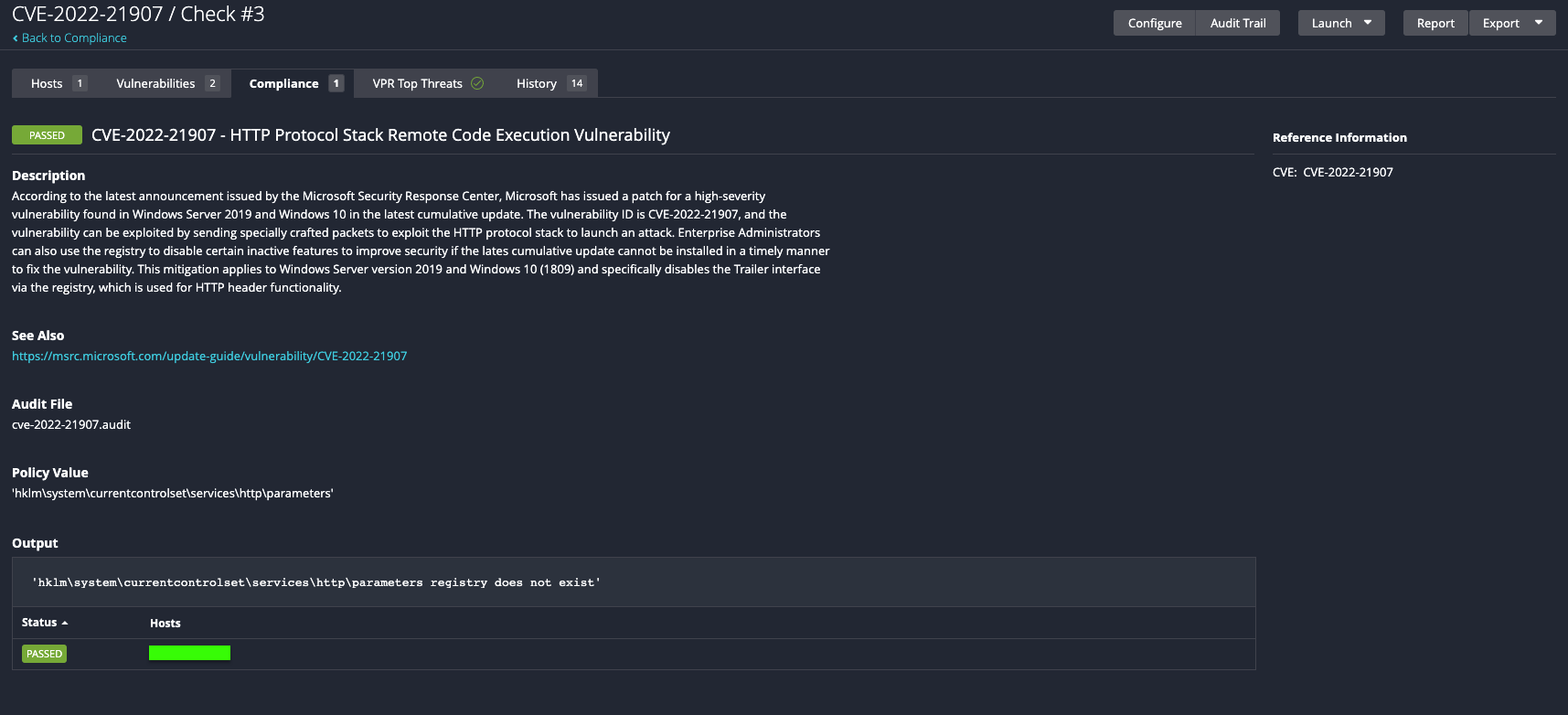 Get more information
Join Tenable's Security Response Team on the Tenable Community.
Learn more about Tenable, the first Cyber Exposure platform for holistic management of your modern attack surface.
Get a free 30-day trial of Tenable.io Vulnerability Management.
Are You Vulnerable to the Latest Exploits?
Enter your email to receive the latest cyber exposure alerts in your inbox.