Announcing Nessus UI 2.2: Multi-scanner Support and Simplified Scan Results View
Note:  Nessus Cloud is now a part of Tenable.io Vulnerability Management. To learn more about this application and its latest capabilities, visit the Tenable.io Vulnerability Management web page.
Tenable is excited to announce a new update to the Nessus vulnerability scanner user interface (UI) - version 2.2. The latest version of Nessus introduces multi-scanner support and the ability to control internal and external scans from the cloud, as well as several enhancements to the vulnerability output and more!
Controlling Multiple Nessus Scanners
Nessus UI 2.2 introduces the ability to delegate vulnerability scanning to multiple secondary servers. You can use your own Nessus server to act as the primary, or you can configure your Nessus Perimeter Service scanner in the cloud to be the primary.
[video: http://youtu.be/omz8ccEtevs]
This new feature is a game changer for many organizations. Users can now install a server within their organization's internal network. Then, a user can configure the Perimeter Service to designate scans to the internal network scanner, as well as perform external scans of your perimeter and achieve PCI compliance. The multi-scanner feature records all of your vulnerability scan results in one place, and allows you to schedule scans and email results to the responsible parties.
Scanner Roles
In the settings for Nessus, you will now see an option for "Multi Scanner". You can select which role the Nessus server will take from this menu, including primary scanner, secondary scanner, and Perimeter Service scanner.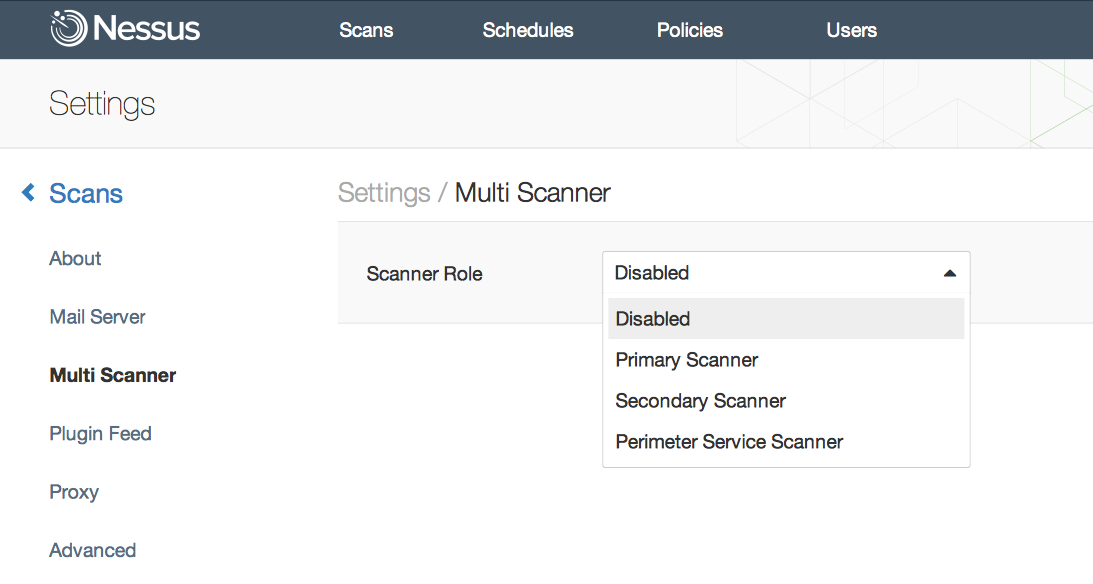 Primary Scanner - One Nessus scanner is configured as the primary server. This scanner will communicate with multiple secondary Nessus scanners, delegating scans so they run on the agents.

A Nessus scanner can be designated as either a primary (control) or a secondary scanner, but not both. Communication is always from the secondary scanner to the primary scanner. A key is generated on the primary scanner and is used to configure the secondary scanner.

Secondary Scanner - An unlimited number of Nessus scanners can be designated as secondary scanners. They will initiate the communication to the primary server, carry out vulnerability scans, and send results back to the primary server.

Nessus agents will check in to the primary every 30 seconds and send all scan data to the primary server.

Perimeter Service Scanner - You can designate a Nessus instance to be a secondary scanner to Nessus Perimeter Service.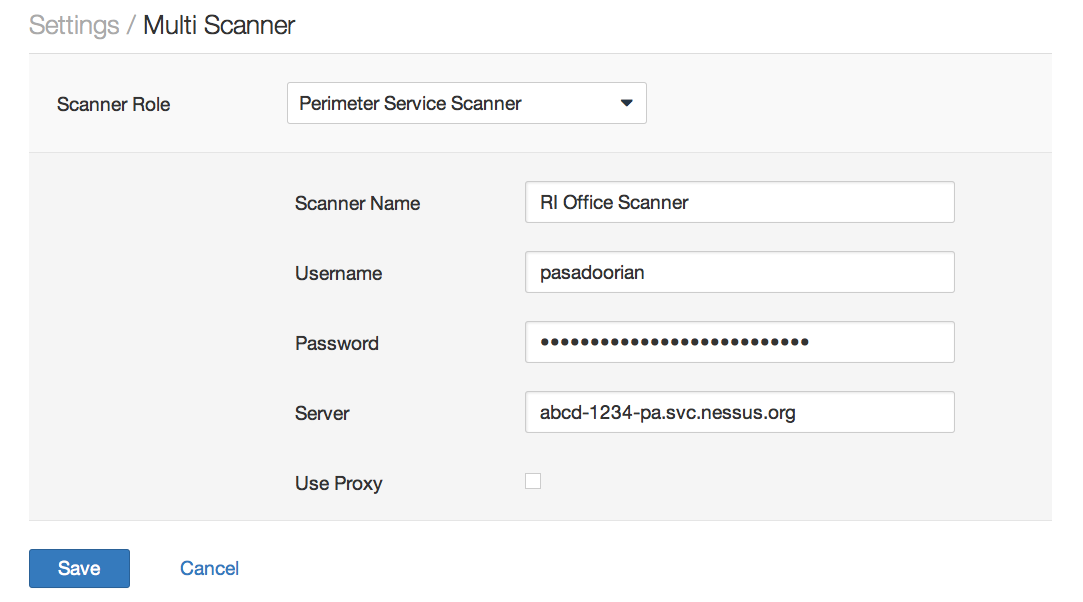 Scanner Selection and Scan Results
Delegation occurs on a per scan basis. When the user creates a new scan on the primary Nessus server, he then selects which Nessus agent to run the scan on.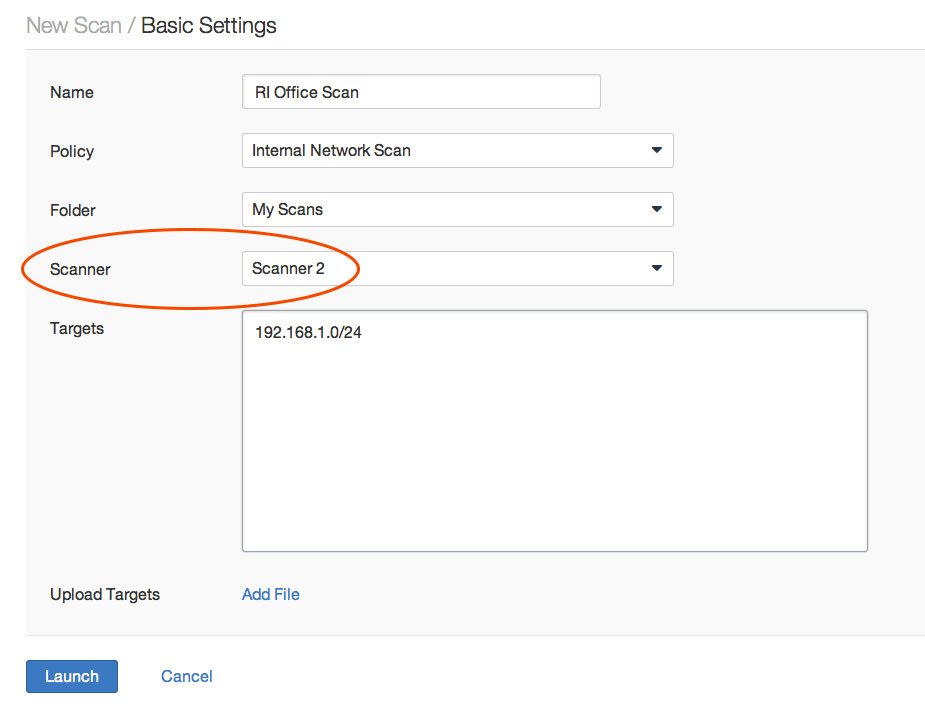 The results of scans being run on secondary servers are all displayed on the primary server. The server which ran the scan is designated in the results.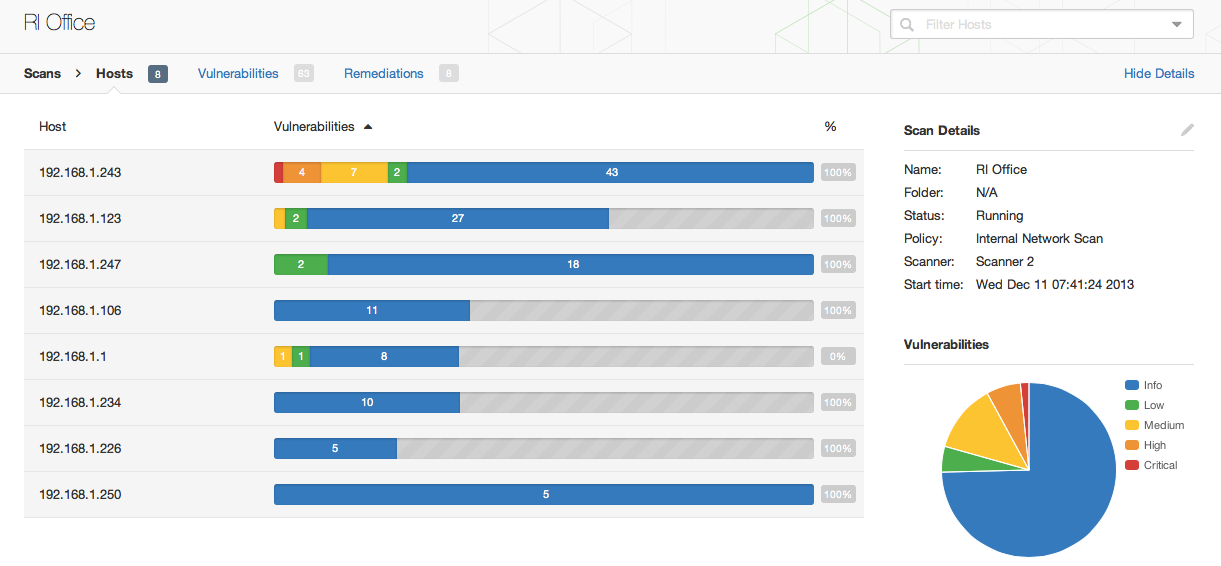 Report Output Enhancements
Each vulnerability finding contains a list of targets that were identified as vulnerable during the scan. A new layout has been implemented to more easily review these results: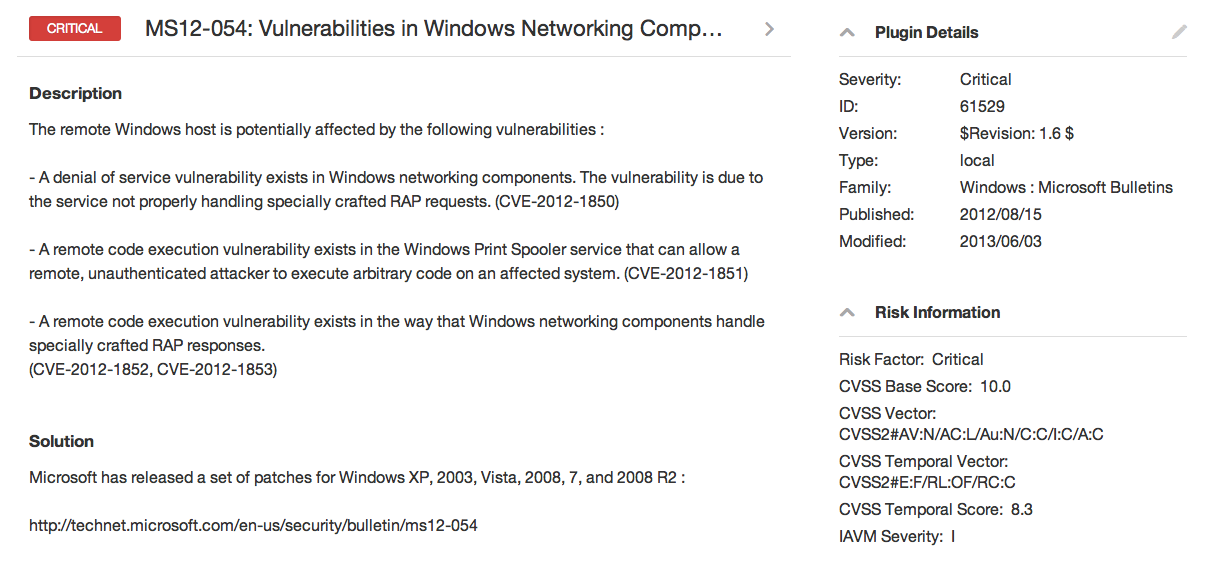 Additional Enhancements
Nessus now support exploits from D2 Elliot.
Users can more easily manage and rename custom folders.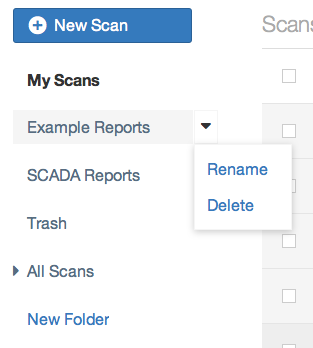 Where To Get the New Features
As of February 2015, multi-scanner support is available with Nessus Manager and Nessus Cloud. In addition, the Nessus Perimeter Service is now included in the Nessus Cloud product.
Nessus users will receive the new UI update free of charge when their scanner's plugins are updated. Note: Nessus Home users will not receive the multi-scanner feature. Further information can be found in the Nessus 5.2 HTML5 User Guide.
Nessus and Nessus Perimeter Service customers: Please contact Tenable Support (support -at- tenable.com) with any questions regarding the user interface. Users may also visit the Tenable Discussions Forum for more information.
Resource