Whitepaper
Risk-based Vulnerability Management Maturity in India
Survey of Indian Companies' cybersecurity Best Practice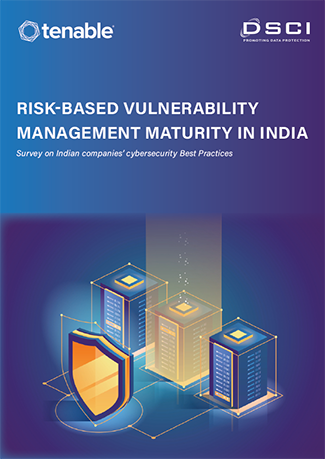 Cybersecurity is an ever evolving field. While enterprise investments in information security in India are increasing, the number of security breaches and threats is growing as well. Why are we always playing catch-up against our adversaries? Are we guilty of ignoring some seemingly foundational practices that hold the key to improving our security posture?
Your Vulnerability management (VM) strategy needs to change with your evolving IT landscape. Organizations are embracing new virtual and cloud assets such as containers. Mobile devices are increasingly used to access enterprise networks on the go. Periodic scanning of traditional assets is no longer enough to deliver the necessary visibility and insight. But organizations still follow an ad hoc approach when it comes to developing and performing VM.
The report is an outcome of an in-depth survey of 180 IT and security leaders that covered various aspects of Risk-based Vulnerability Management (RBVM) across the entire VM lifecycle, from the discovery phase to the remediation phase.
In this report, you'll find
Learn the importance of following a sound RBVM program
Study the current state of Indian organizations and their maturity in the adoption of VM.
Understand the difference between vulnerability assessment (VA), VM and RBVM
Explore the factors to consider while deciding whether to outsource an RBVM solution or keep it in-house
Learn the best practices to keep in mind while implementing an RBVM program.
Risk-based Vulnerability Management
Exposure Management
Tenable Vulnerability Management
Tenable Security Center
Tenable Security Center Plus
Tenable Lumin