Whitepaper
Ransomware attacks on education: Tough lessons for schools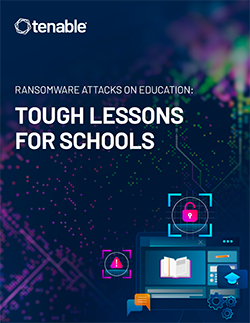 Ransomware operators have inflicted significant damage on numerous sectors over the last decade, but few have seen as much attacker interest as the education sector. Cybersecurity in K-12 and higher educational organizations is complicated by multiple factors including reliance on legacy systems, a squeeze on resources and a large and disparate Active Directory attack surface that is attractive to threat actors.
Attacks on the education sector have a massive impact on their operations, ranging from restricted access to networks and data, theft of personal information, delayed exams and canceled school days.
To stay ahead of ransomware operators who continue to perfect their attack techniques, K-12 institutions need to continuously and proactively detect critical vulnerabilities, identify and disrupt lateral movement and thwart attacks targeting the network's most crucial asset—Active Directory.
Download this white paper to learn:
Why schools are being repeatedly targeted by ransomware
Why Active Directory is viewed as a tool for leveraging attack efficiency
Why schools need to turn their attention to often neglected vulnerabilities that arise out of misconfigurations in Active Directory
Tenable One
Tenable Identity Exposure