White Paper
How to prevent a cybersecurity crisis in Healthcare?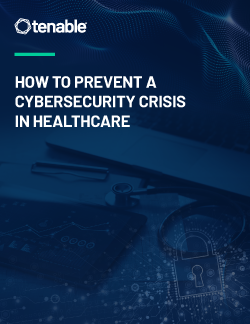 The healthcare sector was hit hardest during the pandemic and the demands on the service have continued to increase. Against this, ransomware operators remained ruthless in targeting the sector.
A (too) long list of cyber incidents have impacted the healthcare sector and it's unlikely to get better any time soon. In fact, the World Economic Forum Global Risks Report ranks "Widespread cybercrime and cyber insecurity" in its top 10 of the most severe risks over the next decade.
Security breaches in the healthcare sector have long-lasting impacts upon both operations and patient care, which implies making improvements to IT and also operational technology (OT) systems used to power medical devices, as well as expanding cybersecurity and threat response.
Download this white paper to learn:
How and why Active Directory is targeted
How threat actors take advantage of healthcare IT silos
A new security approach on its way
Active Directory
Risk-based Vulnerability Management
Vulnerability Management
Tenable Identity Exposure