Whitepaper
How to Convince Your C-Suite That Active Directory Security Matters
Everything you need to convince your C-suite. No, really. Everything.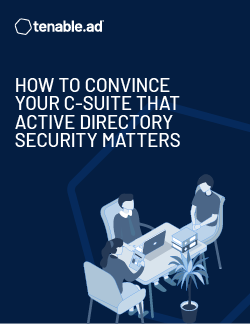 Stop asking why your C-suite isn't investing in AD security. Get the guide to learn how to convince them to take security seriously. We even built an email template to your CXO – just hit send.
A complete email template addressed to your C-suite
3 best practice checklists to harden your AD security
15 corporate breaches that cost household names billions
Start reading the free guide.
Tenable Identity Exposure