Whitepaper
Cybersecurity in Public Sector
5 Insights You Need to Know
Tenable recently teamed with Ponemon Institute on a global study exploring how cyber risk disrupts business operations in both the private and public sectors. The latest report focuses on the public sector, revealing they're at serious risk of cyberattack.
Agency IT security organizations must quickly identify and respond to vulnerabilities across the modern attack surface – including IT assets as well as OT infrastructure. But, what's slowing them down? And, more importantly, what's the solution?
Download Cybersecurity in Public Sector: 5 Insights You Need to Know now to learn:
What are the top priorities for public sector cybersecurity leaders in 2019? Why has preventing attacks on OT become a major concern?
Why are current approaches for measuring cyber risks falling short – and what's needed?
How can technology help security teams stay ahead of cyberattackers?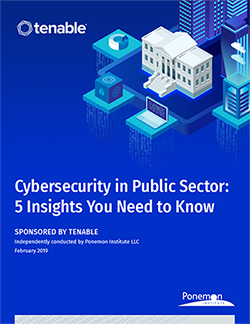 Continuous Monitoring
Predictive Prioritization