Whitepaper
1.5 Million Lessons From the Infamous SingHealth Hack
They hacked 1.5 million records. Like taking candy from your CISO.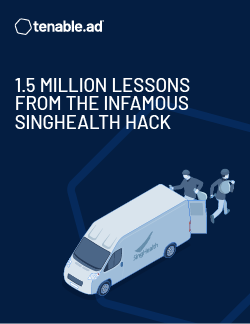 A hacker broke into the personal medical records of 25% of Singapore's citizens. Active Directory was the target. Get the guide by Microsoft MVP Sylvain Cortes to learn how to defend against these new types of attack.
Insights into the official 453-page attack report
The steps taken to fix the breach of 1.5 million records
The future-proof tech to harden your own security
Start reading the free guide.
Tenable Identity Exposure