On-Demand Webinar
Security Leader Roundtable
Risk-based Vulnerability Management
Tenable Vulnerability Management
Tenable Security Center
Tenable Security Center Plus
Tenable Lumin
On-demand
Tenable commissioned Forrester Consulting to conduct a worldwide study of more than 800 business and security executives to examine cybersecurity strategies and practices at midsize to large enterprises. The results reveal an alarming disconnect between security leaders and their business stakeholders.
Join Adam for the chance to:
Network with peers, discuss pain points and better understand the security landscape.
Learn how to align your security program to strategic business in today's economic climate
And gain insights on how to answer the question, "How secure, or at risk, are we?" in language your C-suite and the board can understand
Adam Palmer has over 20 years working in cybersecurity. His experience includes executive positions at large cybersecurity vendors, leading the U.N. Global Programme against Cybercrime, and working as the Global Director for IT & Cyber Risk at one of the largest EU banks. Adam's diverse global background perfectly positions him to understand and advise security leaders to be successful.
Speakers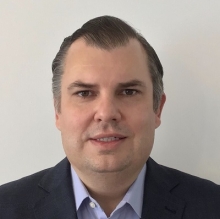 Adam Palmer
Chief Security Strategist, Tenable
Watch now.