On-Demand Webinar
Risk-based Vulnerability Management - Financial Services
Exposure Management
Predictive Prioritization
Risk-based Vulnerability Management
Vulnerability Management
Tenable Vulnerability Management
Tenable Security Center
Tenable Security Center Plus
Tenable Lumin
On-Demand
With the rapid adoption of new digital platforms like cloud, IoT and OT, there are new risks.  A CISO must continue to address old security issues such as visibility of assets, threats and vulnerabilities, on these new technologies.  To be able to confidently answer the question "How secure are we?", and address cyber risks before they become major business risks, security leaders need to see everything, predict what matters most, and ensure basic processes are measured and optimised.
Adam Palmer will provide an overview of how to visualise and prioritise cyber risk and improve security program maturity.  Adam is the former Global Director for Cyber Risk at a Top 20 global bank, and has also worked as the Lead Cybersecurity Risk program manager for the US Industry Association of large financial services companies.  In this webinar, he will share his experiences of implementing a risk-based vulnerability management solution in the financial services industry.
Adam Palmer has over 20 years working in cybersecurity. His experience includes executive positions at large cybersecurity vendors, leading the U.N. Global Programme against Cybercrime, and working as the Global Director for IT & Cyber Risk at one of the largest EU banks. Adam's diverse global background perfectly positions him to understand and advise security leaders to be successful.
Speakers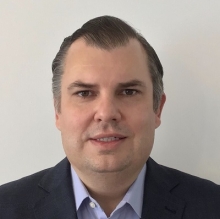 Adam Palmer
Chief Security Strategist, Tenable
Watch Now.