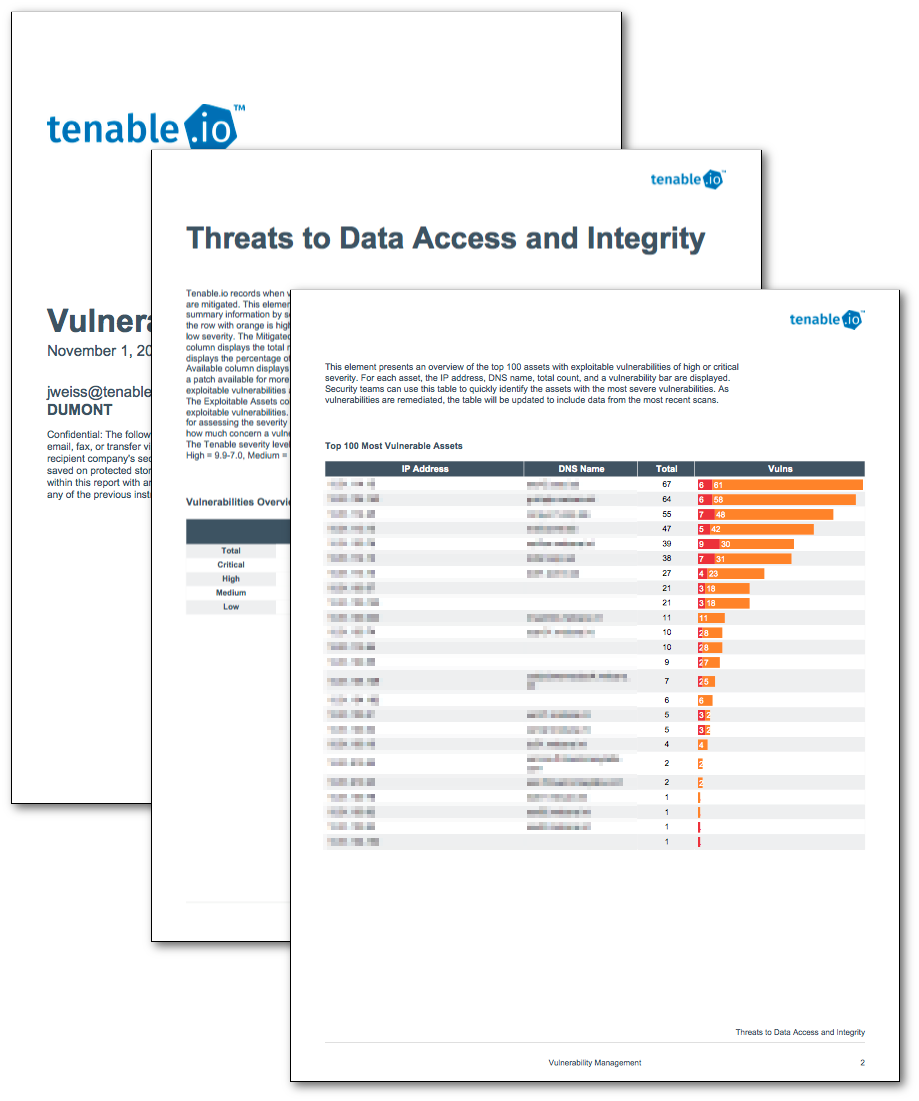 Organizations that embrace Cyber Exposure are learning a new discipline on how to manage and measure their cyber risk across traditional and non-traditional assets such as container security, cloud services and web applications. As an organization learns about Cyber Exposure they are better equipped to accurately understand, represent and ultimately reduce their cyber risk against the rapidly changing modern attack surface. As the leader of the security operations team, the CISO has the responsibility to translate a mountain of security data to understand the risk exposure of the organization.
Tenable.io records when vulnerabilities are discovered, when patches are issued and when vulnerabilities are mitigated. The Vulnerability Management report provides a high-level overview of an organization's vulnerability management program. This report assists the CISO in identifying and tracking security issues in all phases of the Cyber Exposure Lifecycle, translating raw security data into a common language for communicating risk back to the organization.
While assisting the CISO, the report is also beneficial to the security and risk managers by providing insight into possible threats to data access and integrity. In addition to understanding which assets contain vulnerabilities, exploits and missing patches, risk managers are also aware of remediation efforts. Security teams can efficiently determine which assets need further attention and which can be safely ignored. Overall this report is beneficial to multiple teams within the organization to better reduce cyber risk. Tenable.io is the first solution in Cyber Exposure and provides the key risk metrics business' need to measure risk exposures.
Chapters
Threats to Data Access and Integrity - This chapter provides several elements that provide details on file security, file integrity and remediation efforts. Elements include a vulnerability overview, top 100 most vulnerable assets, potentially sensitive information, data access vulnerabilities and an exploitable vulnerability indicator.