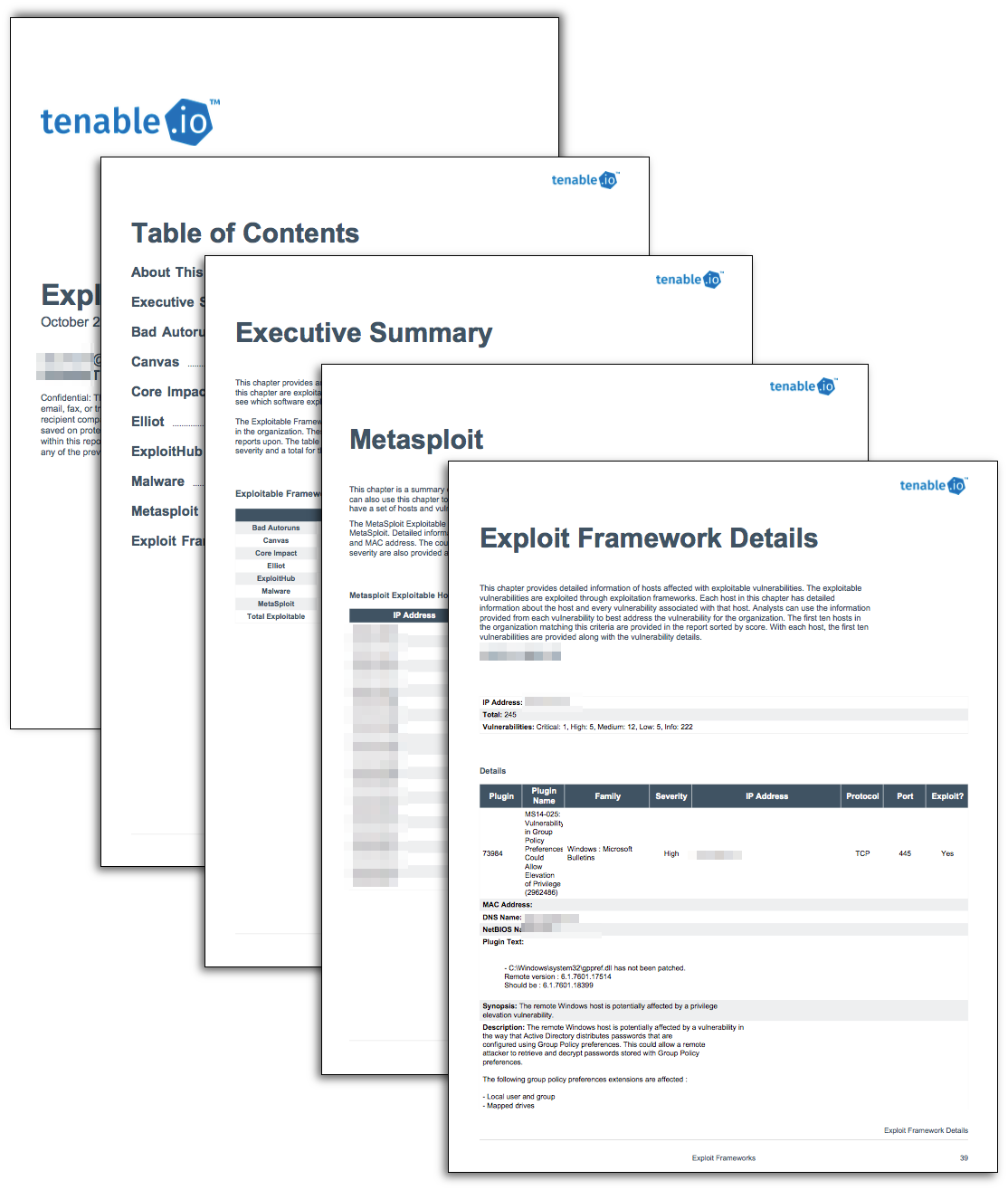 Using exploit frameworks as their foundation, malicious operators are evolving new methods as cyber weapons against the modern attack surface. By gaining an understanding of how exploit frameworks impact an organization's network, the risk manager can better assess risk and implement mitigation strategies.  This report provides details on how many exploit frameworks can be used against the network.
The Cyber Exposure discipline provides a framework for understanding how to defend the modern attack surface.  This new framework is called the Cyber Exposure Lifecycle. As part of the lifecycle, Tenable.io helps to model the modern attack surface and provides metrics to influence overall IT strategy by information technology decisions. When the assets on the network are scanned using active methods or agents, each vulnerability discovered is checked against known exploit frameworks. If the vulnerability is found to be exploitable by a framework, the exploited by tag is set and becomes searchable. 
Within this report, risk managers and incident responders are provided detailed information relating to the vulnerabilities exploitable by exploitation frameworks. The report contains details on the host, vulnerability and related information for each exploitation framework. The chapters in the report contain tables reporting vulnerabilities by plugin family, Microsoft bulletins, and CVE. Depending on the reporting metrics used within the organization, the risk manager can easily prioritize mitigation efforts. 
As part of the risk mitigation planning and prioritization efforts, the risk manager and CISO work together to define the overall strategy for the organization to follow.  They need to understand the context for each asset and be able to assign business values.  Once the business value is assigned, the content in this report helps them to understand the level of difficultly needed to exploit the identified vulnerabilities.  Vulnerabilities that are not exploitable by a framework may be more difficult to exploit and therefore may have a lesser priority level. Meaning, mitigation is still very important, but the vulnerabilities with exploits that are exploitable via a framework should be addressed first.  
Tenable.io is the first Cyber Exposure platform that is able to translate raw security data into common language to accurately represent and communicate cyber risk to the business.  By creating a metric-driven cyber risk mitigation program, where the Cyber Exposure Lifecycle is used to quantify and measure risk so that, the organization can better communicate cyber risk alongside every other business risk.
Chapters
Executive Summary: This chapter provides an overview of the exploitable vulnerabilities in the organization
Bad Autoruns: This chapter is a summary of exploitable vulnerabilities with Bad Autoruns
Canvas: This chapter is a summary of exploitable vulnerabilities with the Canvas exploitation framework
Core Impact: This chapter is a summary of exploitable vulnerabilities with the Core Impact exploitation framework
Elliot: This chapter is a summary of exploitable vulnerabilities with the Elliot exploitation framework
ExploitHub: This chapter is a summary of exploitable vulnerabilities with the ExploitHub exploitation framework
Malware: This chapter is a summary of exploitable vulnerabilities with malware
MetaSploit: This chapter is a summary of exploitable vulnerabilities with the MetaSploit exploitation framework
Exploit Framework Details: This chapter provides detailed information of hosts affected with exploitable vulnerabilities