Cloud Security: Visibility and Insight Into All of Your Cloud Infrastructure
Your Go-To-Hub for All Things Cloud Security
Cloud security includes processes, tools, resources and policies to continually assess all assets within your cloud environments so you can discover and remediate vulnerabilities, misconfigurations and other security issues.
It's an emerging and evolving process, but you can make your cloud security program stronger by adopting some best practice recommendations.
Cloud Security Solutions
Learn how Tenable.io can give you a unified view of your entire attack surface, including all assets in your cloud environments.
Learn More
Tenable Community for Cloud Security
Tenable Community is the best place to talk about cloud security, ask questions, and share tips
Learn More
Get Complete Visibility Into All of Your
Cloud Assets, Vulnerabilities and Exposures
Eliminate Blind Spots and Secure Everything in the Cloud
Your security team needs continuous visibility into your IT attack surface, including cloud environments.
Legacy vulnerability management tools don't always work in the cloud, leaving you with blind spots and vulnerable to risks.
Managing your risks in public cloud infrastructure is challenging, but understanding the role cloud assets play in your Cyber Exposure will help you better protect your organization.
Growing From Vulnerability Management to Cyber Exposure
Managing Cyber Risk in a Dynamic, Cloud-native Infrastructure Requires More Than Legacy Vulnerability Management Tools
Netskope is a cloud access security broker (CASB) vendor whose patented Cloud XD technology gives clients 360-degree visibility into the cloud with data protection.
To manage the company's cloud-native infrastructure, the Netskope team wanted to evolve its cybersecurity risk management from legacy vulnerability management to a more strategic approach for Cyber Exposure.
Netskope wanted more inclusive and holistic cyber risk management strategies, which revealed there was a gap between what the company wanted to accomplish and existing vulnerability management tools.
The team's goal was to move from vulnerability overload—data with no context and no insight to quickly prioritize risk and response—to a more effective way to manage cyber risk decisions.
For this transition, Netskope deployed Tenable for continuous visibility into its Cyber Exposure. With Tenable's advanced reporting, the company can now align its security goals to business objectives.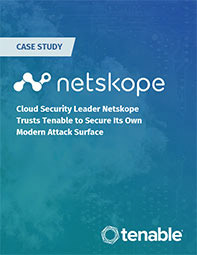 Read the Case Study
Reducing Cyber Exposure from Cloud to Containers
Lessons Learned by Industry Leaders
Do you know how to protect all of your dynamic assets to reduce your cyber exposures within the cloud?
Tenable recently connected with 29 global security professionals and posed the question, "How have modern assets like cloud instances, web-based applications, mobile devices, application containers, and others affected your security and risk management program?"
Their answers are as varied as their experience, but several unifying themes emerged, including:
The need to have more collaboration between security professionals and app developers
More emphasis on continuous scanning value and detection
Data-centric security strategies
This white paper, which shares almost 30 individual essays, gives insight into lessons they've learned and offers recommendations on how you can decrease your Cyber Exposure to keep your cloud assets safe.
In this white paper, you'll also learn more about how you can:
Better secure your dynamic IT environment
Develop a security plan for your cloud environments
Automate cloud security testing and controls
Move security to the application layer
SANS White Paper: A Guide to Managing Cloud Security
Get Complete Visibility Into Your Cloud Infrastructure
The highly dynamic nature of the cloud means now, more than ever, it's imperative to adopt cloud security vulnerability and remediation processes that are as agile and efficient as those you have for on-premises assets.
About 41% of organizations, according to a SANS Institute survey, have adapted—or are in the process of adapting—vulnerability management strategies for cloud environments.
While much of what you know about legacy vulnerability management is applicable for the cloud, there are several core differences.
Effective cloud security requires continuous vulnerability assessment, as well as constant attack surface insight and assessment.
This white paper explores the scope of vulnerability and threat management for cloud environments, and offers tips about how you can:
Find vulnerabilities in a hybrid or off-premises model with a cloud-native approach
Understand DevOps infrastructure-as-code model
Evaluate threats and protect your cloud data and cloud assets
What to Look for in a Cloud Vulnerability Management Solution
Critical Factors to Explore So You Can Manage Vulnerabilities in the Cloud
From ease of deployment and maintenance, to scalability and flexibility, an increasing number of organizations around the globe are moving their business processes and applications from on-premises to the cloud.
But the speed at which the cloud enables your operation to grow and change creates challenges for your security team trying to catch up.
If you're considering a cloud vulnerability management solution, where do you begin and how do you know which solution is right for you?
From setting goals to understanding solution capabilities, this guide will walk you through five key areas, including questions you should ask about product capabilities, coverage and updates.
You'll also learn more about:
How to set cloud security program goals and use them in your solution assessments
How vulnerability management solutions should deliver core capabilities
How a quality cloud vulnerability management solution handles current and emerging threats
How vulnerability management providers use the cloud and how to keep it secure
Frequently Asked Questions About Cloud Security
Do you have questions about cloud security? Here are some frequently asked questions and answers:
What is cloud security?
Cloud security is made up of processes, tools, resources and policies to protect all of your data and resources stored off-premises and in the cloud. It continually assesses all of the assets within your cloud environments so you can discover and remediate vulnerabilities, misconfigurations and other security issues to keep your organization safe.
What security risks exist for cloud computing?
While cloud computing brings a lot of flexibility and scalability to your organization, there are a number of security risks. Any time you move your data and workloads off on-premises, you lose some control. For example, Amazon Web Services (AWS) has a shared responsibility model that means AWS is responsible for physical security of the cloud, but you are responsible for your data and workloads. Also, most cloud providers aggregate data and services into their systems, meaning attackers can often access more data with less work. That means cloud environments can increase the value of a hacking target. Other potential risks include blind spots in your cloud environment, not meeting legal requirements or compliance obligations, losing service if your cloud provider goes down or you lose connectivity to your cloud, unauthorized access to your data by your cloud provider's employees, or the potential your data stored in the cloud and could be lost.
Why is cloud security important?
Cloud security ensures your data, business workloads, and apps remain safe while they are stored off-site within a cloud infrastructure. While most cloud providers have a much higher level of security than many on-premises solutions, continuous discovery and assessment of your cloud assets will help you further protect your information stored in the cloud. Whether you're a business facilitating workloads or you're an individual who needs extra storage for your files, cloud security can help ensure all of your data remains secure.
What are cloud attacks?
The cloud is a potential attack vector hackers can use to exploit vulnerabilities and put your organization at risk. There are a number of ways attackers can attempt to exploit your cloud environments. For example, an attacker can inject malware to access information stored in the cloud and once inside move laterally to affect other systems. Other types of cloud attacks can include Denial of Service (DoS) or brute force attacks, wrapping attacks, service hijacking, man-in-the-middle attacks, insider attacks, and side-channel attacks.
Tenable Integrates with Google Cloud Security Command Center, Microsoft Azure and Amazon Web Services
Tenable.io now integrates with Google Cloud Security Command Center (Cloud SCC), Microsoft Azure and Amazon Web Services (AWS) to provide you with more visibility into your public and private cloud assets—all through a single dashboard. This integration means you can now better manage your Cyber Exposure across your entire attack surface, including the cloud, to reduce your organization's cyber risk.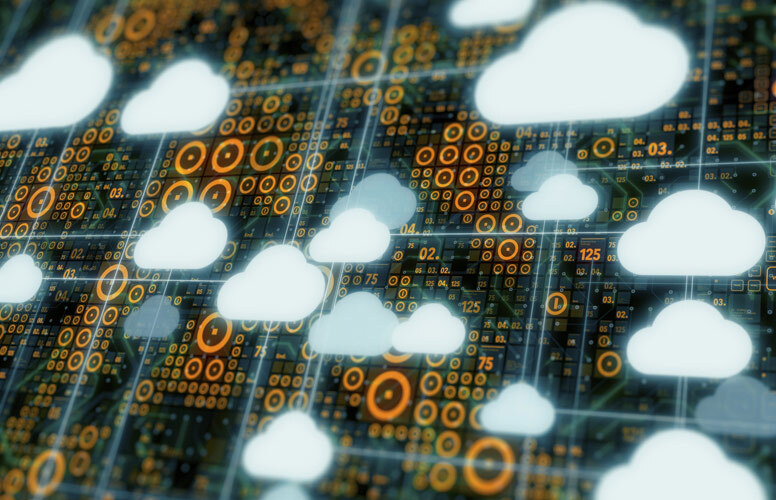 Aligning Cloud Security With Your Cyber Exposure Lifecycle
Cloud solutions are all about speed, scale and usability.
While cloud infrastructure brings many benefits and flexibility to your organization, it can also increase your cyber risk. From asset discovery to benchmarking success, your cloud security processes should correlate with the five phases of the Cyber Exposure lifecycle:
Discover

If your organization has moved processes and applications to the cloud, then you likely know it's built for speed and you can easily scale with it. And while that's great for business efficiencies, it can create new challenges for your security team by inadvertently increasing your cyber risks.

Tenable's Cloud Connectors for Amazon Web Service (AWS), Google Cloud Platform (GCP) and Microsoft Azure enable detection of new short-lived compute asset deployments across cloud environments. That means you can keep up with cloud-native assets like auto-scaling, on-demand instances and container deployments.

Assess

If you're using legacy vulnerability management scanning tools for your cloud environments, you may have blind spots within your attack surface.

Instead of those legacy tools, harden your cloud infrastructure based on Center for Internet Security (CIS) best practices.

From host to workloads and data, Tenable can help you find vulnerabilities, misconfigurations, and other security issues across all your cloud assets so you can plan and prioritize for remediation.

Prioritize

Once you've assessed all of the assets across your cloud environments, you need to prioritize which vulnerabilities pose the greatest threat to your organization.

Tenable enables you to automatically analyze those risks by evaluating threat intelligence, exploit availability and other vulnerability data so you can prioritize remediation for those most likely to impact your organization in the near future.

Then you can use custom dashboards within Tenable.io to share that information with your DevOps team, and you can automatically send information to your Security Information and Event Management (SIEM) with event context.

Remediate

Once you've discovered all of the assets within your IT attack surface—including your cloud infrastructure and discovered your vulnerabilities, misconfigurations and other security issues–you'll need to prioritize them for risk so you can quickly and efficiently remediate issues.

Tenable enables you to shift left with your cloud security so you can find vulnerabilities before they reach production. You can create secure machine and container images before deployment to prevent additional vulnerabilities and you can integrate your vulnerability management processes into your CI/CD systems.

Additionally, bug-tracking and remediation tools that use APIs enable you to track bugs and seamlessly integrate remediation into your DevOps.

Measure

Finally, all of these steps align to determine your organization's complete Cyber Exposure.

You can use Tenable's advanced analytics and scoring to get a clearer picture of your actual organizational risk. From there, you can communicate your cloud security program success and weaknesses to your key stakeholders and team members so you can plan for program growth and improvements.

Internal benchmarking will help you analyze how your program measures up across departments and industry peer benchmarking helps you evaluate your processes against similar organizations.

From here, you can align your security program goals with your organizational goals to facilitate stronger decision-making and planning for your organization.
Protect Your Cloud Environments With a Risk-Based Approach to Vulnerability Management
Legacy Vulnerability Management Tools Can't Meet All Your Cloud Needs
Cloud environments enable your business to quickly build and scale new infrastructure and rapidly react to customer demands. But without the right capabilities in place to detect and manage vulnerabilities and misconfigurations in an ever-changing environment, this speed and scalability can be a double-edged sword.
Legacy vulnerability management can't keep pace with this new paradigm, and point solutions lead to information silos without a unified view of all vulnerabilities.
Your security teams need to adopt a risk-based vulnerability management approach to find all vulnerabilities across your attack surface so you can focus on the critical security issues that matter most—vulnerabilities that are the most likely to be exploited.
Here's a quick summary of how you can adopt a risk-based approach for cloud vulnerability management:
Discover

Identify cloud assets in a dynamic environment

Assess

Use scan templates and deployment models built for cloud providers and cloud-native infrastructure

Prioritize

Plan and execute vulnerability remediation based on business risk, using machine learning to correlate vulnerability severity, probability of exploitation and asset criticality

Remediate

From development to operations, prioritize which exposures to fix first, and leverage powerful integrations to optimize your entire vulnerability management lifecycle

Measure

Measure and benchmark Cyber Exposure to make better business and technology decisions
Complete Visibility Into Your Cloud Infrastructure
Get the most accurate visibility and insight into your dynamic cloud environments with Tenable.io so you can continuously assess your cloud infrastructure, uncover vulnerabilities, and prioritize remediation to protect your modern IT attack surface.
Tenable.io: Modern Vulnerability Management for the Cloud
Tenable.io is the foundation of a strong cloud security program. Whether your organization is large or small, you can put Tenable.io to work for you so you can effectively and efficiently discover, assess, prioritize, remediate and measure all of your cloud assets to decrease your organization's cybersecurity risks.
Assessments
To gain full visibility into your entire attack surface, including cloud environments, use Nessus sensors for active and agent scanning and passive network monitoring.
Prioritization
Vulnerability information, threat intelligence and data science combine in Tenable.io to help you find the vulnerabilities that pose the greatest risk to your organization so you can prioritize which ones to fix first.
Asset Tracking
Eliminate blind spots in your entire attack surface by tracking all of your assets, including those in the cloud.
Network Monitoring
Never be caught off guard. Tenable.io helps you to keep a constant and continuous eye on your network traffic so you can find and assess all assets, including short-lived systems and devices that are hard to scan.
Cloud Visibility
Tenable Cloud Connectors will give you complete visibility and enable continuous assessments for all of your public cloud environments through AWS, Azure, and GCP.
Pre-built Integrations and Flexible API
Tenable.io enables workflow automation and you can share Tenable.io data with third-party systems using pre-built integrations, APIs and SDK resources.
Try Tenable.io for Free
Protect your attack surface from threats with Tenable.io