White Paper
7 Steps to Harden Cloud Security Posture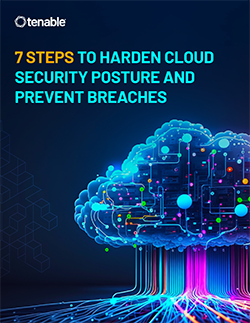 "7 Steps to Harden Cloud Security Posture and Prevent Breaches," is an essential eBook that equips you with the knowledge to fortify your cloud security framework.
In this paper, you will discover a practical approach to industrialize cloud security, gaining insights from high-profile breaches and their preventable measures.
With the provided formula for hardening cloud security, you'll be able to assess, prioritize, track, and remediate risks, ensuring the safety of your cloud environment and preventing potential breaches.
Cloud
Container Security
Exposure Management
IT/OT
Risk-based Vulnerability Management
Vulnerability Management
Web Application Scanning
Tenable One
Tenable Cloud Security
Tenable Vulnerability Management
Tenable Web App Scanning