Malware, Threat and Malicious Behavior Detection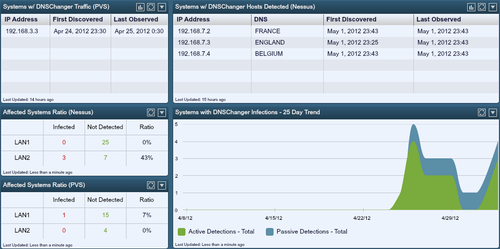 The Intelligent Way To Protect Against Threats and Malware
Malware detection and prevention solutions are necessary in any organization. But anti-virus and malware prevention solutions only operate on the known software threats, leaving gaps in coverage and allowing unknown, potentially malicious software to run in your environment.
Tenable Malware Detection which is built into Nessus and SecurityCenter CV is able to detect unknown software, which helps detect new types of malware as well as potentially unwanted and unmanaged software in the IT systems. Tenable Malware Detection uses a combined, reputation-based whitelist and blacklist approach to monitor known good processes, alert on known bad, and identify the coverage gaps between the two by flagging unknown processes for further inspection.
Fill The Gaps By Detecting The Unknown
Tenable also audits the existing AV and malware prevention systems to determine if these systems are configured correctly and operational. Tenable SC CV includes over 100 plugins that audit anti-virus products from leading anti-virus vendors including Trend Micro, McAfee, ClamAV, Bitdefender, Kaspersky, ESET, F-Secure, and others.
Tenable Malware Detection can:
Detect a wide range of threats to an organization
Audit anti-virus and other prevention methods
Reduce response time, pinpointing responses to breaches and malicious access