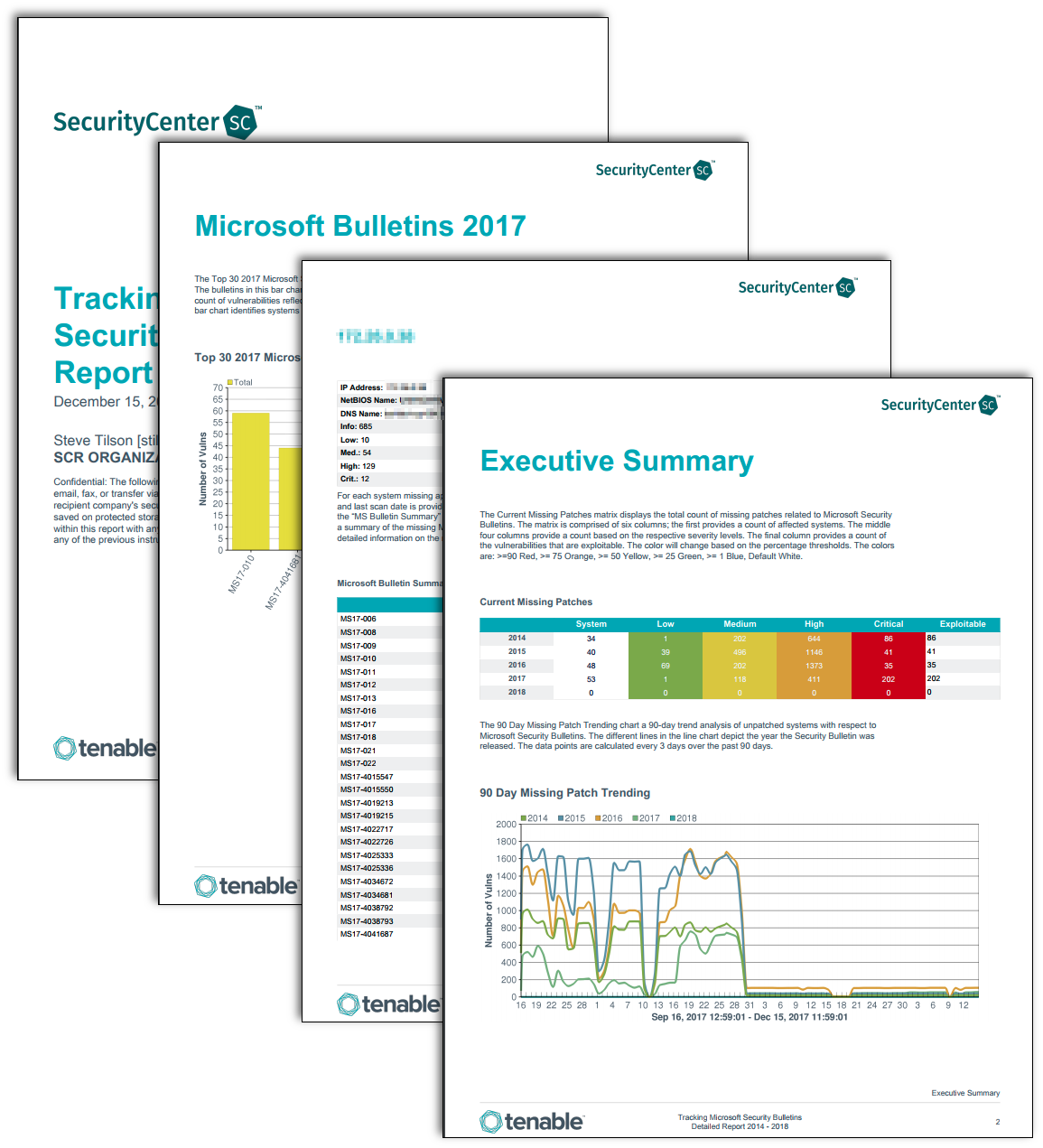 Patching is one of the most critical steps in reducing cyber risk. Monitoring the application of Microsoft Security Bulletins can assist organizations in reducing security risks for their Microsoft systems This report provides critical information for analysis of applied and missing patches along with patching timelines for a summary of Microsoft patch efforts.
Microsoft Security Bulletins provide information and guidance about updates that are available to address software vulnerabilities that exist in Microsoft products. With each security bulletin that is released, there is an associated software update available for the affected product. Leveraging Tenable.sc's ability to use Microsoft Bulletin IDs in combination with mitigation instructions and current vulnerability data can provide analysts with better clarity for further required patching efforts.
As vulnerabilities are made known and bulletins are released, so does the risk of exploitation by attackers and the criticality of patch timing. Microsoft bulletins include information about related Knowledge Base articles and provides technical information IT professional will find useful when conducting risk assessments. Microsoft releases security updates on the second Tuesday of every month and patching efforts should reflect. Information in this report provides managers with a high-level view of Microsoft patch management efforts in correlation with Microsoft Security Bulletin's.
The report and elements are available in the Tenable.sc Feed, a comprehensive collection of dashboards, reports, assurance report cards and assets. The report can be easily located in the Tenable.sc Feed under the category Discovery & Detection.
The report requirements are:
  Tenable.sc 5.2.0
  Nessus 8.5.1
  NNM 5.9.1
Tenable's Tenable.sc Continuous View® (Tenable.sc CV™) provides continuous network monitoring, vulnerability identification and security monitoring. Tenable.sc CV™ is continuously updated with information about advanced threats, zero-day vulnerabilities and new types of regulatory compliance configuration audit files. Tenable constantly analyzes information from unique sensors, delivering continuous visibility and critical context, and enabling decisive action that transforms a security program from reactive to proactive. Active scanning periodically examines the applications on the systems, the running processes and services, web applications and configuration settings. Passive listening provides real-time discovery of vulnerabilities on operating systems, protocols, network services, wireless devices, web applications, and critical infrastructure. Tenable.sc CV™ provides an organization with the most comprehensive view of the network and actionable information to support mitigation efforts and reduce cyber risk. Managers can better monitor and asses Microsoft security patch management through Microsoft Security bulletins happening across the network with Tenable.sc CV™. Tenable enables powerful, yet non-disruptive, continuous monitoring that will provide organizations with the information needed to reduce risk within the enterprise.
This report contains the following chapters:
Executive Summary: The executive summary contains several components that provide information on currently missing Microsoft patches, patches that have been missing for more than 30 days, and the patches that have been applied. Additionally, there is a trend graph showing an analysis of how patch management has been maintained over the preceding three months.   
Microsoft Bulletins: The bulletin detail chapters provide a bar chart summarizing the relevant Microsoft security bulletins for the specified year, and an iterator of all vulnerable systems and details of the applicable bulletins.   
The first report groups information for all years (1999-2018) into a single report. The first chapter is an executive summary and provides an overview of Microsoft patch deployments. The remaining four chapters each contain results from a 5-year period; for each chapter, results are combined using the Microsoft Bulletin ID filter feature.  Multiple years can be added to a filter by using a comma as the delimiter. For example, 'MS09,MS10' would search for Microsoft Bulletins released in 2009 and 2010.  The other four reports focus on specific 5-year periods.  Each of these reports contains an executive summary and a chapter for each of the individual years covered by the report.
The five reports in this series are:
Tracking Microsoft Security Bulletins Detailed Report

Tracking Microsoft Security Bulletins Detailed Report (1999 - 2003)

Tracking Microsoft Security Bulletins Detailed Report (2004 - 2008)

Tracking Microsoft Security Bulletins Detailed Report (2009 - 2013)

Tracking Microsoft Security Bulletins Detailed Report (2014 - 2018)