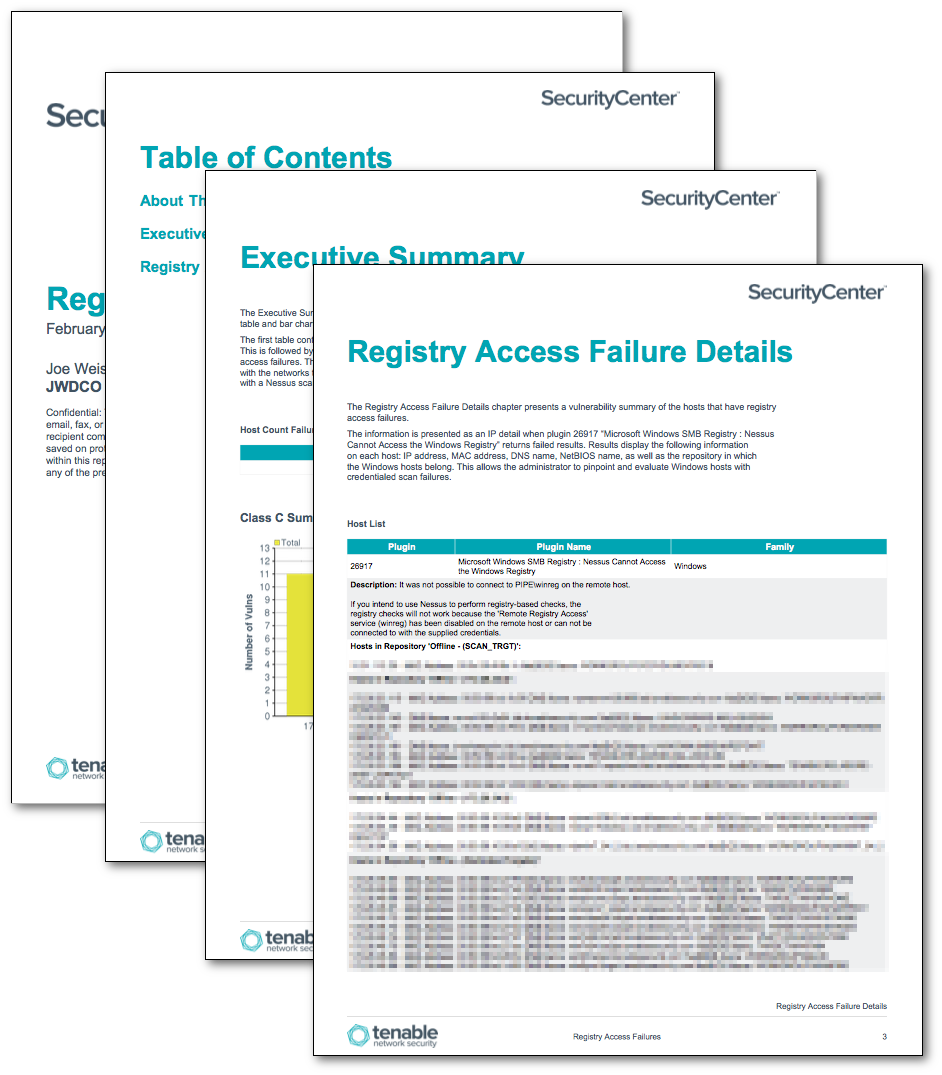 Determining the Windows systems that failed authentication is important. When a system fails a credentialed scan, patch and compliance auditing will be incomplete or possibly inaccurate. Just as important is the continuous analysis of the scans results as changes to networks and hosts could affect the risk exposure of an organization. This report template is designed to report registry access failures using the results of Nessus plugin 26917, "Microsoft Windows SMB Registry : Nessus Cannot Access the Windows Registry".
Credentialed scanning is beneficial and provides a safe method of obtaining information from servers and workstations. Credentialed scans require fewer ports to be open between the scanner and the target(s) and require less network bandwidth and target resources. Which means that the odds of a credentialed scan causing device resource or availability issues are minimal. Information from credentialed scanning is more accurate and provides a larger vulnerability picture of the device being scanned than traditional port scanning. Credentialed scanning also allows for customized auditing of the devices content.
If you intend to use Nessus to perform registry-based checks against Windows devices, the registry checks will not work if the "Remote Registry Access" service (winreg) has been disabled on the remote host or can not be connected to with the supplied credentials. When Nessus is not able to access the remote Windows Registry via PIPE\winreg, plugin 26917 returns the results. The results are presented to the analyst in this report. Results display the following information on each host: IP address, MAC address, DNS name, NetBIOS name, as well as the repository.
Please note Nessus has the ability to start the remote registry service on a Windows host. More information may be found by researching the Nessus preference setting "SMB Registry : Start the Registry Service during the scan" referred to in the Tenable.sc User Guide.
The report is available in the Tenable.sc Feed, a comprehensive collection of dashboards, reports, Assurance Report Cards, and assets. The report can be easily located in the Tenable.sc Feed under the category Monitoring.
The report requirements are:
Tenable.sc 5.0.0
Nessus 8.5.1
Tenable.sc Continuous View (CV) provides continuous network monitoring, vulnerability identification, risk reduction, and compliance monitoring. Tenable.sc CV is continuously updated with information about advanced threats, zero-day vulnerabilities, and new types of regulatory compliance configuration audits. Tenable.sc CV allows for the most comprehensive and integrated view of network health.
The report contains the following chapters:
Executive Summary - The Executive Summary provides an overview of the main chapter of this report. Presented is a table and bar chart with an overview of registry access failures.
Registry Access Failure Details - The Registry Access Failure Details chapter presents a vulnerability summary of the hosts that have registry access failures.