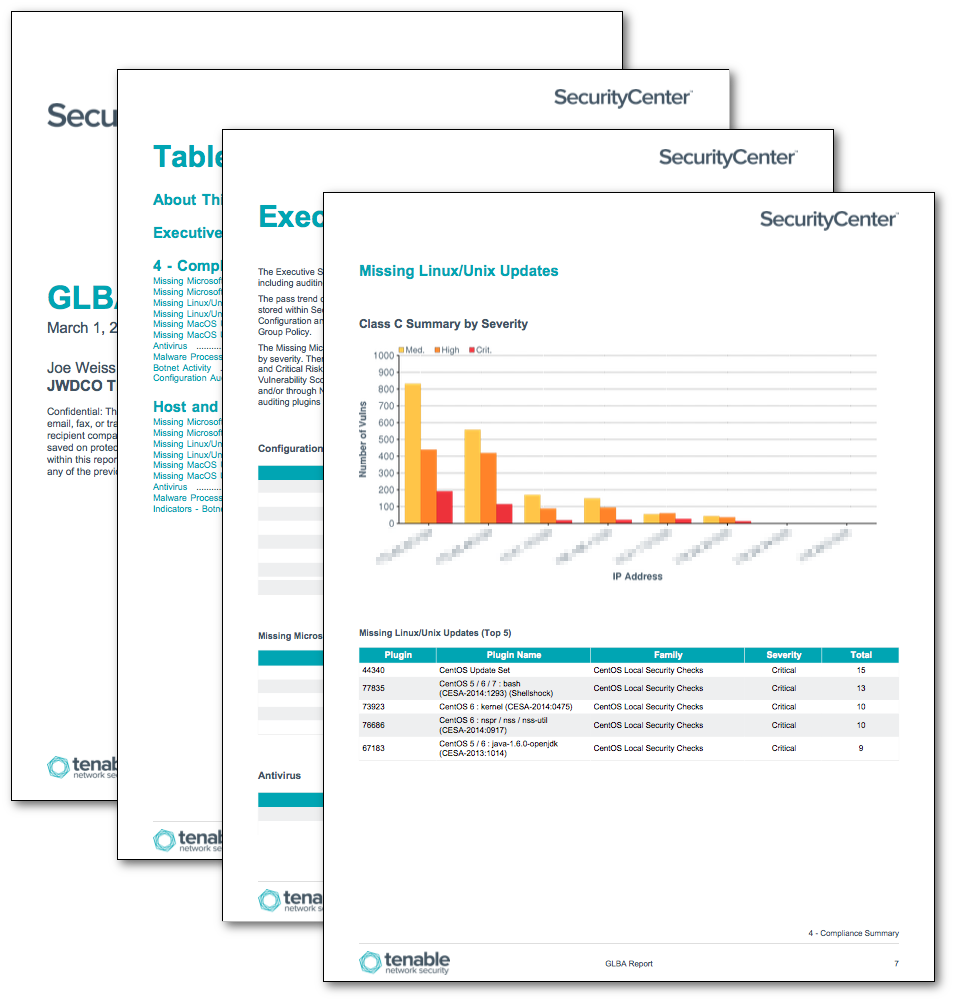 The Gramm-Leach-Biley Act (GLBA), also known as the Financial Modernization Act of 1999, is a federal law that governs the way financial institutions handle the private information of individuals. GLBA compliance is mandatory. Safeguards must be in place to reduce risk and protect data integrity. Summarized within this report are audit results as they relate to the controls described by the Federal Financial Institutions Examination Council's (FFIEC) guidance on host level malicious code prevention for Section 501 (b) compliance of the Gramm-Leach-Bliley Act (GLBA).
Many financial transactions include customer data that must be kept private under the Safeguards Rule. One of the challenges faced by financial institutions under this rule is the prevention, detection, and response to attacks, or intrusions to systems that may store customer data.
The FFIEC provides guidance within a document titled the "Information Security Booklet" for host level malicious code prevention. This booklet includes controls for patch application, security-minded configurations, antivirus, and the periodic auditing of host configurations.
To assist organizations, this report summarizes audit results as they relate to the controls described by the FFIEC guidance on host level malicious code prevention for Section 501 (b) of the GLBA. Compliance/configuration settings, vulnerability data, patch application, and antivirus configurations for Windows, Linux/Unix, and Mac OS operating systems are vetted against known best practices.
Results are presented in a series of sections that highlight vulnerability data and potentially compromised hosts. Nessus scan results are used to generate the vulnerability and severity information contained within the tables and charts of this report.
To demonstrate the ability to include and report across a broad range of standards, the report contains compliance summaries for many industry standards, such as COBIT, HIPAA, 800-53, and more.
Malware Process Monitoring and Botnet sections highlight immediate concerns in regards to potentially compromised hosts. This level of detail doesn't directly roll under the FFIEC's host level controls for malicious code prevention; however, one malicious code infection and its activity may lead to further infections.
The report is available in the Tenable.sc Feed, a comprehensive collection of dashboards, reports, Assurance Report Cards, and assets. The report can be easily located in the Tenable.sc Feed under the category Compliance.
The report requirements are:
Tenable.sc 5.0.0
Nessus 8.5.1
Compliance Data
Tenable.sc Continuous View (CV) provides continuous network monitoring, vulnerability identification, risk reduction, and compliance monitoring. Tenable.sc CV is continuously updated with information about advanced threats, zero-day vulnerabilities, and new types of regulatory compliance configuration audits. Tenable.sc CV allows for the most comprehensive and integrated view of network health.
The report contains the following elements:
Executive Summary - The Executive Summary contains three elements that provide a visual overview of several key areas, including auditing compliance status, missing Microsoft Security Bulletins, and anti-virus status.
Compliance Summary - This chapter provides summary compliance views using audit results for security-minded host configurations, antivirus, patch application, and malicious code detection.
Host and Asset Summary - This chapter breaks down compliance related information to bring focus to poorly performing areas of noncompliant hosts.