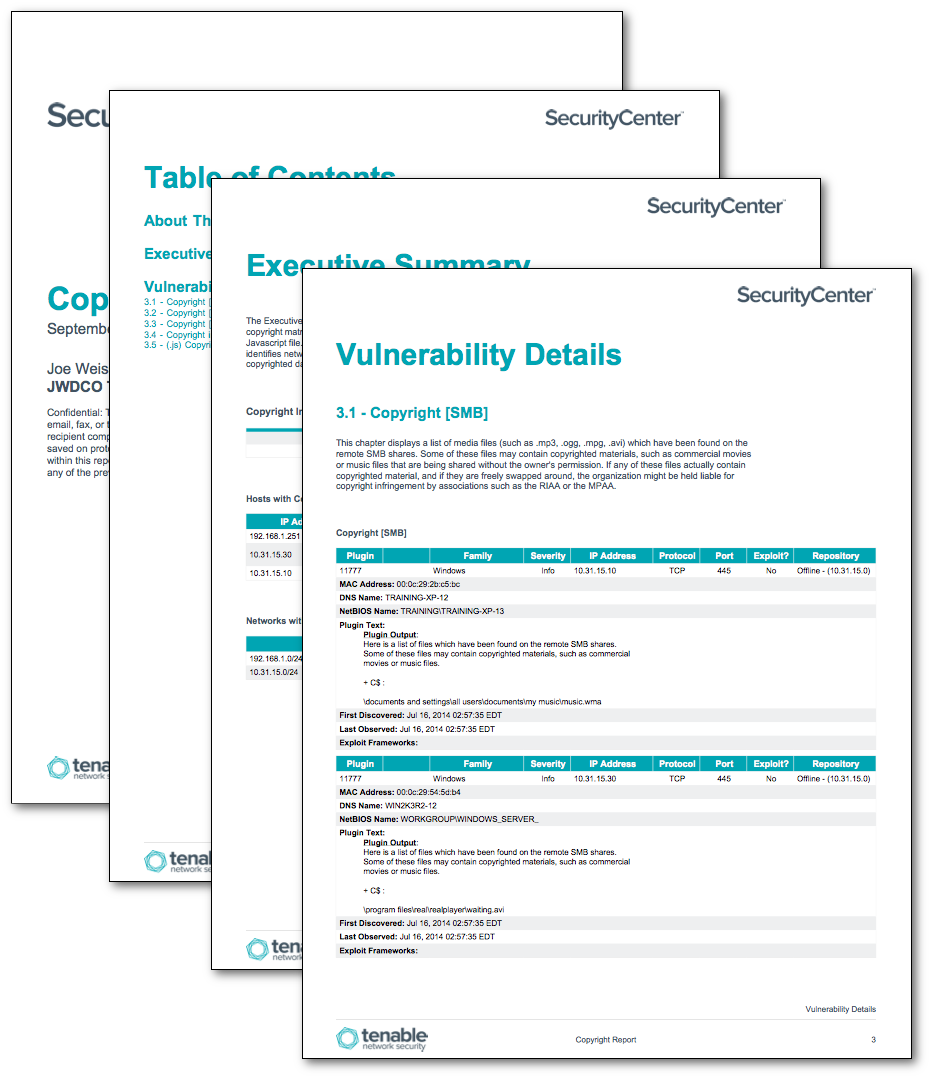 This report presents a detailed vulnerability summary on files that may contain copyrighted materials, such as commercial movies or music files that are being shared without the owner's permission. If any of these files actually contain copyrighted material, and if they are freely swapped around, the organization might be held liable for copyright infringement by associations such as the Recording Industry Association of America (RIAA) or the Motion Picture Association of America (MPAA).
Copyright law covers materials, such as books, videos, music, movies, and items downloaded on the internet. Many of these types of works are copyrighted, and this content is commonly distributed over peer-to-peer networks.
The Digital Millennium Copyright Act (DMCA) is a federal copyright law that is meant to stop piracy of digital media. The law makes it illegal to download copyrighted digital media, such as movies, music and software. Not only is hosting copyrighted data unlawful, the digital theft of music, movies and copyrighted content is bandwidth intensive. The Information Technology and Innovation Foundation has determined that 24 percent of bandwidth globally, and 17.5 percent in the United States, is consumed by transfer of copyrighted material.
The RIAA and the MPAA made their intentions clear, through the DMCA, organizations will be liable for the actions of their employees. Universities may also be liable for the actions of their students who access the internet via university computers. Organizations must be aware of what their users are doing, and take measures to identify and act on complaints of copyright infringement.
Whether intentionally or not, uploading or downloading copyrighted materials is an infringement of the copyright owner's rights of reproduction and distribution. The organization may be liable for damages for each work infringed, including attorney fees. To avoid these risks, an organization should assume any material found is copyright protected, until the material is identified as otherwise.
The report is laid out in two main chapters: Executive Summary, and Vulnerability Details. The report utilizes the following plugins, which include file name and path information, to gather and present detailed results:
Plugin 11777 - Microsoft Windows SMB Share Hosting Possibly Copyrighted Material displays a list of media files (such as .mp3, .ogg, .mpg, .avi), which have been found on the remote SMB shares.
Plugin 11778 - Web Server Hosting Potential Copyrighted Material. The remote web server is hosting media (.mp3, .wav, .avi, or .asf files) that might be infringing on the owners' copyright.
Plugin 11779 FTP Server Copyrighted Material Present - The remote FTP server is hosting .mp3, .wav, .avi, or .asf files, which could be potentially copyright-infringing.
Plugin 4709 Copyright Information Within HTML Comments - The remote web server was observed responding to a web request with HTML code that consisted of copyright information within the HTML comments.
Plugin 1762 Webserver Javascript File (.js) Copyright Information - The remote web server was observed responding to a web request with JavaScript code which consists of the following copyright information. If this JavaScript is part of an open source or third party project, you will need to ensure that your SDL covers this code as well as all code written 'in house'.
The report is available in the SecurityCenter Feed, a comprehensive collection of dashboards, reports, assurance report cards and assets. The report can be easily located in the SecurityCenter Feed under the category Discovery & Detection.
The report requirements are:
SecurityCenter 5.0.2
Nessus 6.4.2
PVS 4.2.1
Tenable's SecurityCenter Continuous View (SecurityCenter CV) is the market-defining continuous network monitoring platform. SecurityCenter CV includes active vulnerability detection with Nessus and passive vulnerability detection with Passive Vulnerability Scanner (PVS). Using SecurityCenter CV, an organization will obtain the most comprehensive and integrated view of its network.
The report contains the following Chapters:
Executive Summary - The Executive Summary provides an overview in three areas of copyright material identification. A copyright matrix provides indication of copyright material found via SMB, FTP, HTTP, in HTML, or via Javascript file. A Host table identifies hosts where copyright data has been found to reside. A Network table identifies networks on which copyright data is present. Together, these tables provide a summary of where copyrighted data is present, while the following chapters provide detailed information on the data found.
Copyright [SMB] - This chapter displays a list of media files (such as .mp3, .ogg, .mpg, .avi) which have been found on the remote SMB shares. Some of these files may contain copyrighted materials, such as commercial movies or music files that are being shared without the owner's permission. If any of these files actually contain copyrighted material, and if they are freely swapped around, the organization might be held liable for copyright infringement by associations such as the RIAA or the MPAA.

Copyright [HTTP] - The remote web server is hosting media (mp3, wav, avi, or asf files) that might be infringing on the owners' copyright. If any of these files actually contain copyrighted material, and if they are freely swapped around, the organization might be held liable for copyright infringement under the Digital Millennium Copyright Act (DMCA). To avoid these risks, an organization should assume any material found is copyright protected, until the material is identified as otherwise.
Copyright [FTP] - The remote FTP server is hosting .mp3, .wav, .avi, or .asf files which could be potentially copyright-infringing. If any of these files actually contain copyrighted material, and if they are freely swapped around, the organization might be held liable for copyright infringement under the Digital Millennium Copyright Act (DMCA). To avoid these risks, an organization should assume any material found is copyright protected, until the material is identified as otherwise.
Copyright in HTML - The remote web server was observed responding to a web request with HTML code that consisted of copyright information within the HTML comments. If any of these files actually contain copyrighted material, and if they are freely swapped around, the organization might be held liable for copyright infringement under the Digital Millennium Copyright Act (DMCA). To avoid these risks, an organization should assume any material found is copyright protected, until the material is identified as otherwise.
(.js) Copyright Information - The remote web server was observed responding to a web request with JavaScript code which contains copyright information. If this JavaScript is part of an open source or third party project, the organization will need to ensure that the SDL covers this code as well as all code written 'in house'.