Comprehensively Reduce Your OT Cyber Exposure With Tenable.ot
Complete Visibility
Converged OT infrastructures require protection beyond OT. Protect both with comprehensive network coverage and deep situational awareness of your IT and OT assets.
Unified Security
Tenable.ot with Nessus unifies your OT and IT security in an integrated solution that eliminates traditional blind spots and potential security risk.
Prioritized Threat Management
Tenable.ot's Vulnerability Priority Rating (VPR) identifies vulnerabilities and prioritizes them. With real-time information, you'll always know your risk profile and which vulnerabilities to handle first.
ONE day of factory shut down.
$10M+
Source: Business Insider

"Tenable.ot is far ahead of anybody that I reviewed on the control security space. The company understands controls...why did that change happen? Who made that change? We now have that power." John Roosa, Chief Information Officer, Stupp Corporation
Industrial Control Systems Require
Industrial Grade Security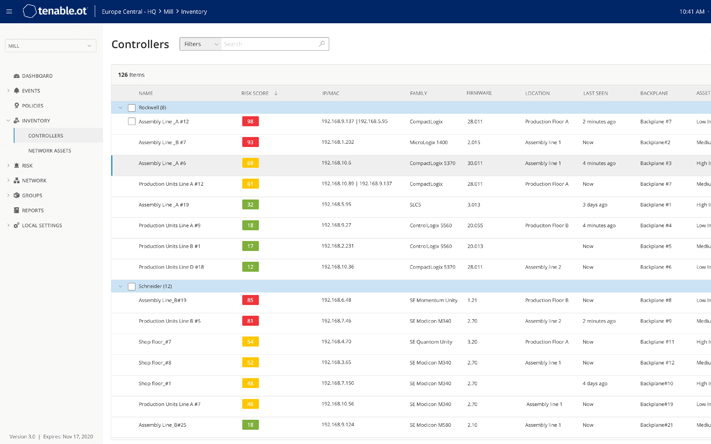 In a converged OT infrastructure, it is no longer IT or OT. It is cyber exposure. Manage your OT network and gain deep situational awareness into all assets across your entire industrial infrastructure. Proactively comply with security and compliance regulations, gain real-time updates and pull historical and audit reports at any time.
Attack vectors hunt for "at risk" weak points in your environment and will proactively alert you to them even before a threat emerges. Our hybrid threat detection engine hunts for new attacks innovative ways and can help you stop an attack before damage occurs.
Routine queries provide deep details into the state of your controllers. These insights give you visibility and a prioritized list for fixing vulnerabilities that may impact your industrial controllers.
Improve awareness with enterprise-wide visibility, along with full drill-down capabilities for any asset or event, including important details and meaningful alerts to improve your situational awareness and forensics support.
Compare current device snapshots with previous snapshots to get a better understanding of changes to your OT environment, including details into what happened and when changes occurred. You can even roll a device back to its last known good state.
<5%
Of OT professionals said they were confident in their company's ability to secure IIoT devices and systems.
Source: 2018 SANS Industrial IIoT Security Survey
"We chose Tenable.ot for its unique ability to monitor, proactively detect and alert our staff to any changes made to our industrial control systems that could impact their integrity and proper operation."
Steve Worley, SCADA Security Manager for the
City of Raleigh
Visibility, security and control over threats that put your organization at risk
Tenable.ot protects industrial networks from cyber threats, malicious insiders and human error. Tenable.ot identifies and protects operational technology (OT) environments from cyber exposure and threats and ensures operational safety and reliability.
Comprehensive Visibility
Up to 50% of your OT infrastructure contains IT assets. Attacks can easily propagate across IT/OT infrastructure. Tenable.ot provides complete visibility into your converged attack surface while measuring and controlling cyber risk across your OT and IT systems. Tenable.ot integrates with the Tenable product portfolio and also with leading IT security tools.
Asset Management
Tenable.ot gives you deep insights and unparalleled situational awareness into your infrastructure without impacting operations. This patented approach gathers far more information than network monitoring alone, including identification of devices that do not communicate on your network.
Advanced Threat Detection
Attack vectors can proactively identify weak points in the OT environment before an attack ever occurs. Furthermore, Tenable.ot's multi-detection engine, identifies policy violations, detects anomalous behaviors and tracks signatures for potential high-risk events. Granular control allows you to set and fine-tune detection methods so they are optimized for your environment. With context-rich alerts, you can quickly respond and mitigate threats impacting your operations.
Risk-Based Vulnerability Management
Tenable.ot leverages domain expertise in industrial security for OT assets, and Nessus for IT assets. Tenable's VPR scoring generates vulnerability and risk levels using each asset in your ICS network. Reports include detailed insights, along with mitigation suggestions. This enables authorized personnel to quickly identify the highest risk for priority remediation before attackers can exploit vulnerabilities.
Configuration Control
With Tenable.ot, you can track malware and user-executed changes made over your network or directly on a device. Tenable.ot provides a full history of device configuration changes over time, including granularity of specific ladder logic segments, diagnostic buffers, tag tables and more. This enables administrators to establish a backup snapshot with the "last known good state" for faster recovery and compliance with industry regulations.
Harness The Power of The Tenable Portfolio
The Power of a Unified Risk-based View Across Your Converged Infrastructure
With Tenable.ot and Tenable.sc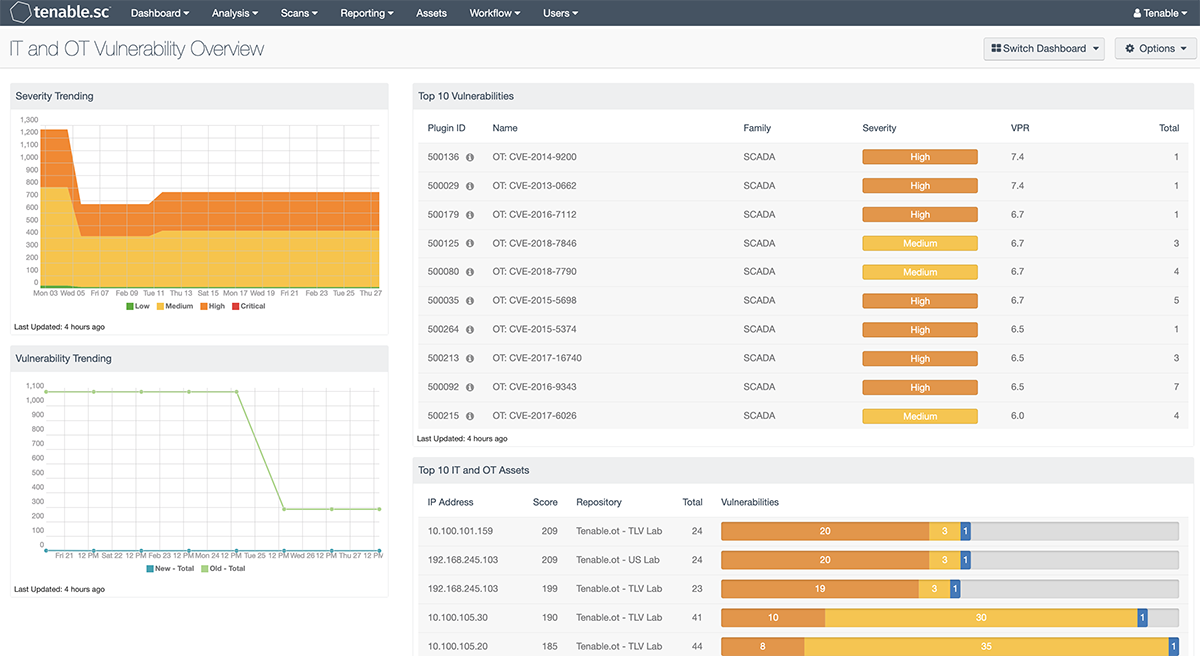 Addressing all OT vulnerabilities is important, but predicting which are easy for attackers to exploit and target enables you to focus first on what matters most.
With the integration of Tenable.sc and Tenable.ot, you can track and trend mitigated and outstanding vulnerabilities.
For a complete understanding of your modern attack surface, unify your OT and IT security with an integrated view.
The Power of a Unified Risk-based View Across Your Converged Infrastructure
With Tenable.ot and Tenable.sc
Reduce Risk Across OT Operations From Anywhere With Tenable.ot and Tenable.io
If you are involved in industrial operations or critical infrastructure, you know risk does not stop with IT.
Tenable.ot now integrates with Tenable.io so you can gain full visibility of your OT risk and manage your environment from the cloud.
Schedule a Demo
Learn More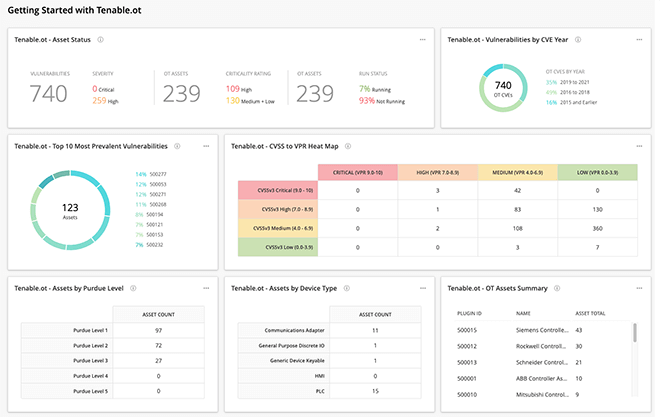 Tenable.ot 3-Minute Explainer Videos