Tenable Named a Leader in Latest IDC MarketScape Report on Risk-Based Vulnerability Management
November 13, 2023 · Columbia, MD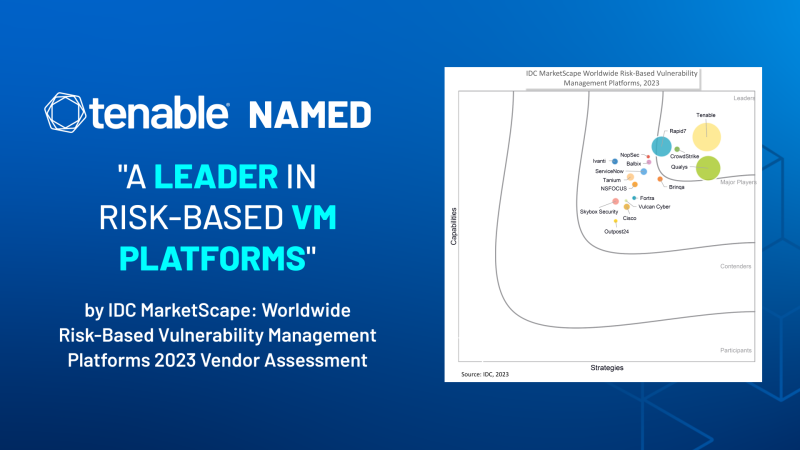 Tenable®, the Exposure Management company, today announced that it has been named a Leader in the IDC MarketScape: Worldwide Risk-Based Vulnerability Management Platforms 2023 Vendor Assessment (doc #US50302323, November 2023). In addition to its Tenable Vulnerability Management solution, Tenable has also expanded its approach to preventive security with the Tenable One Exposure Management Platform, which provides customers with comprehensive visibility, vulnerability data, attack path analytics and contextual information needed to prioritize remediation and proactively secure the organization across IT infrastructure, private and public cloud infrastructure, web apps and identity systems. 
Tenable's position as a Leader in the IDC MarketScape is based on several criteria including customer interviews and buyer surveys. According to the IDC MarketScape, "Tenable One brings together several sources of exposure into an aggregate platform so that they can be prioritized holistically."
The IDC MarketScape report recommends that users, "Look for a vendor that can help with the complexities of your environment and offer a solution that brings together exposures on cloud, applications, and IoT/OT devices if they are present."
The report goes on to explain, "Tenable One, which uses Snowflake's data platform, brings together several products that surface exposures including ASM, web application security, cloud security, and identity."
Tenable's comprehensive portfolio of exposure management solutions includes its newly enhanced Tenable Cloud Security, a unified cloud native application protection platform (CNAPP) equipped with market-leading cloud infrastructure entitlement management (CIEM) capabilities. Tenable Cloud Security easily and accurately visualizes and prioritizes security gaps, reduces complexity, minimizes cloud exposure and enforces least privilege at scale. 
Tenable also recently launched ExposureAI, a suite of artificial intelligence capabilities available in Tenable One. ExposureAI enables faster analysis, decision-making and guidance, cutting through complexity to help security teams stay ahead of attackers.
"Tenable One takes the guesswork out of prioritization," said Glen Pendley, CTO, Tenable. "Context is a critical component of risk prioritization. With the addition of Ermetic, Tenable One brings vulnerabilities, misconfigurations, excessive privileges and assets in both on-premises and cloud environments into a single view, and provides rich insights into the relationships between each variable to inform an effective proactive security." 
To read an excerpt from the IDC MarketScape report, visit: https://www.tenable.com/analyst-research/idc-marketscape-worldwide-risk-based-vulnerability-management-platforms-2023
About IDC MarketScape:
 IDC MarketScape vendor assessment model is designed to provide an overview of the competitive fitness of ICT (information and communications technology) suppliers in a given market. The research methodology utilizes a rigorous scoring methodology based on both qualitative and quantitative criteria that results in a single graphical illustration of each vendor's position within a given market. IDC MarketScape provides a clear framework in which the product and service offerings, capabilities and strategies, and current and future market success factors of IT and telecommunications vendors can be meaningfully compared. The framework also provides technology buyers with a 360-degree assessment of the strengths and weaknesses of current and prospective vendors
About Tenable
Tenable® is the Exposure Management company. Approximately 43,000 organizations around the globe rely on Tenable to understand and reduce cyber risk. As the creator of Nessus®, Tenable extended its expertise in vulnerabilities to deliver the world's first platform to see and secure any digital asset on any computing platform. Tenable customers include approximately 60 percent of the Fortune 500, approximately 40 percent of the Global 2000, and large government agencies. Learn more at tenable.com.
Media Contact:
Tenable
[email protected]
Stay up to date!
Subscribe to our email alerts for new press releases.
Analyst Relations
Risk-based Vulnerability Management