YouTube Shorts: Stolen TikTok Videos Manipulated in Adult Dating, Dubious Products Scams for Views and Subscribers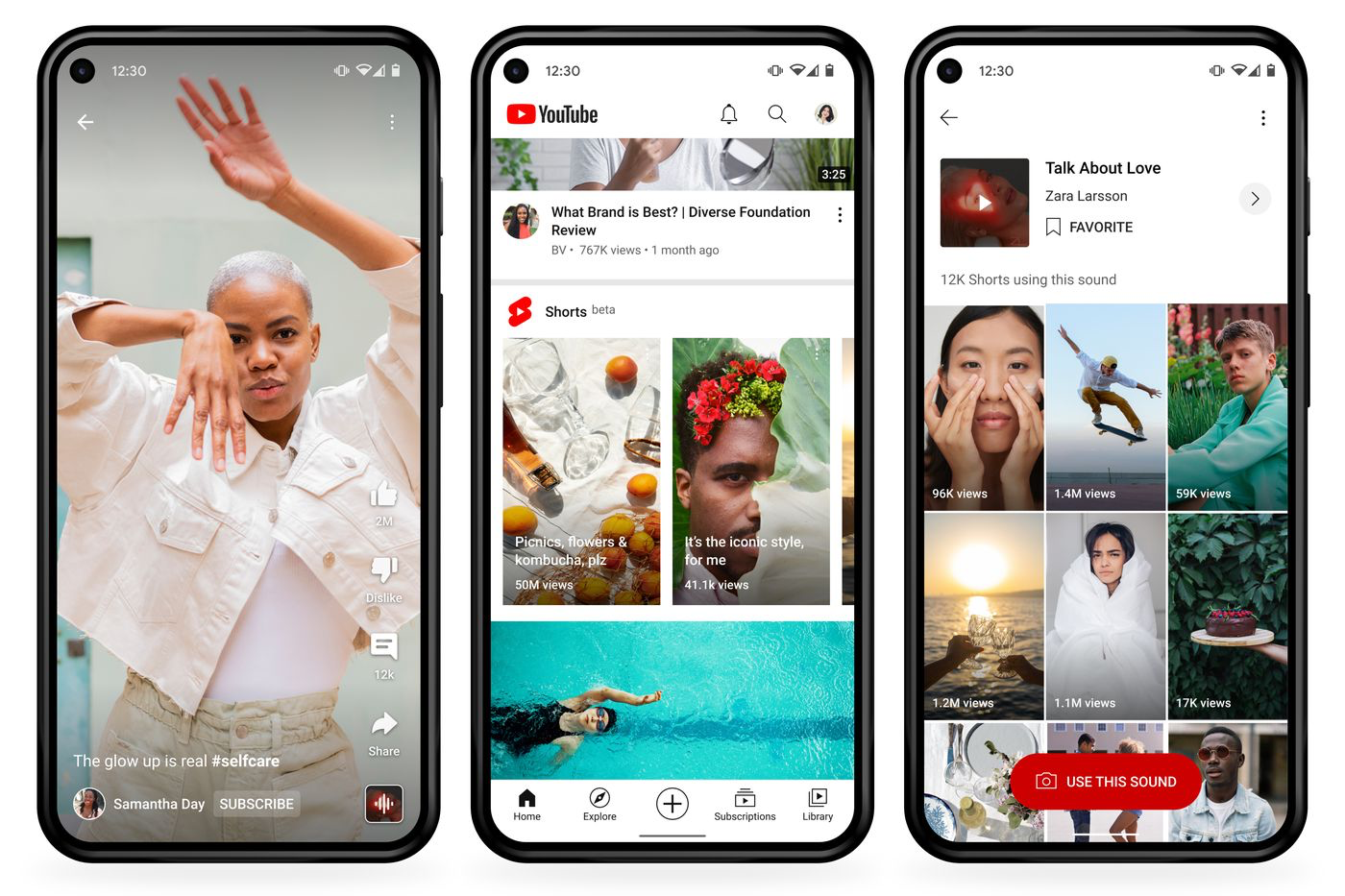 As Google's TikTok competitor YouTube Shorts gains viewers, hordes of scammers are quick to follow.
Background
Over the last several months, YouTube Shorts, Google's competitor to TikTok, has become a haven for adult-dating scams and the promotion of dubious products. It has also been used as a short-cut to increase online social currency, such as subscribers and video views. All of these scams have one thing in common: the use of stolen TikTok video footage.
Released into beta in March 2021, YouTube Shorts allows YouTube channels to upload short-form videos that appear on YouTube in a separate carousel, with a dedicated menu button and vertical scrolling, similar to TikTok's feed.
While YouTube creators are leveraging the new platform to create short-form video content, scammers are finding staggering success, based on engagement metrics, by stealing existing short-form videos from TikTok and reposting them to YouTube Shorts, racking up millions of views and gaining tens of thousands of subscribers. They are able to achieve this success by capitalizing on the newness of YouTube Shorts and its existing user base of 2 billion monthly logins.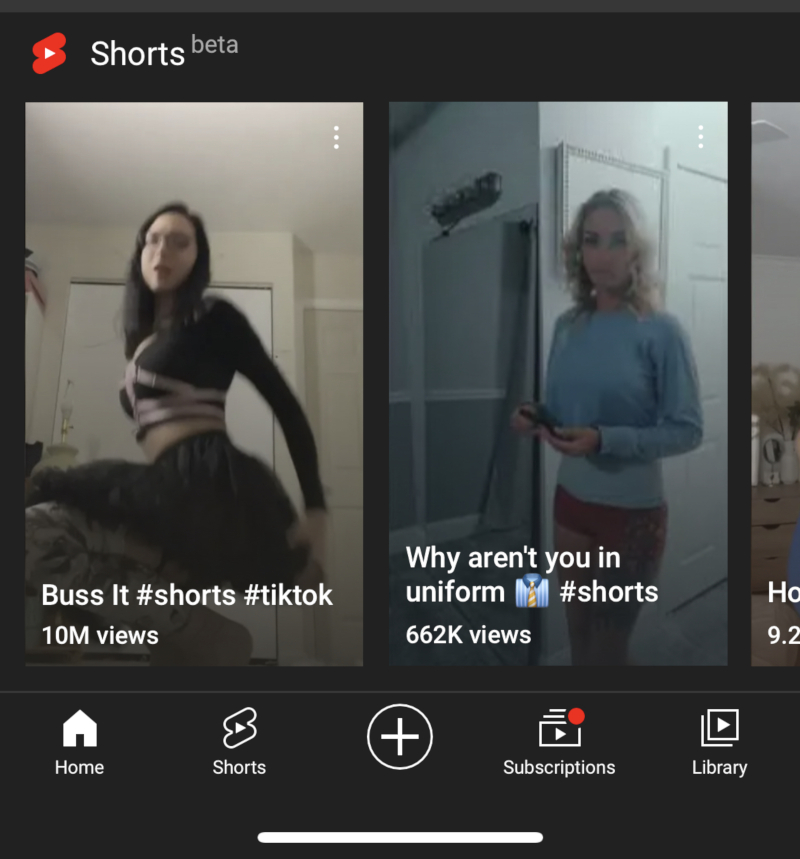 In the example above, there are two videos stolen from TikTok users participating in viral TikTok challenges. One video earned 10 million views from YouTube shorts, one of the more successful videos I encountered during my research.
Based on my experience with researching these scams, they primarily fall into three categories:
Adult dating affiliate scams
Promotion of dubious retail products and weight loss supplements
Stealing TikTok videos to increase social currency (views and subscriber counts)
Adult dating affiliate scams thrive on YouTube Shorts
If there's been one common thread amongst all of the research I've done on social media over the last decade, it's that adult dating is at the forefront of scams on rising platforms and services. Therefore, it's no surprise that YouTube Shorts are rife with adult dating scams.
Scammers are creating fake YouTube channels filled with videos stolen from TikTok, including dance challenges like Buss It and Big Bank as well as other challenges, like Wear It Big and Why Aren't You In Uniform. These fake YouTube channels typically pin a link at the top of the comments of their YouTube Short videos. These links go through a series of redirects before landing on an adult dating advertisement.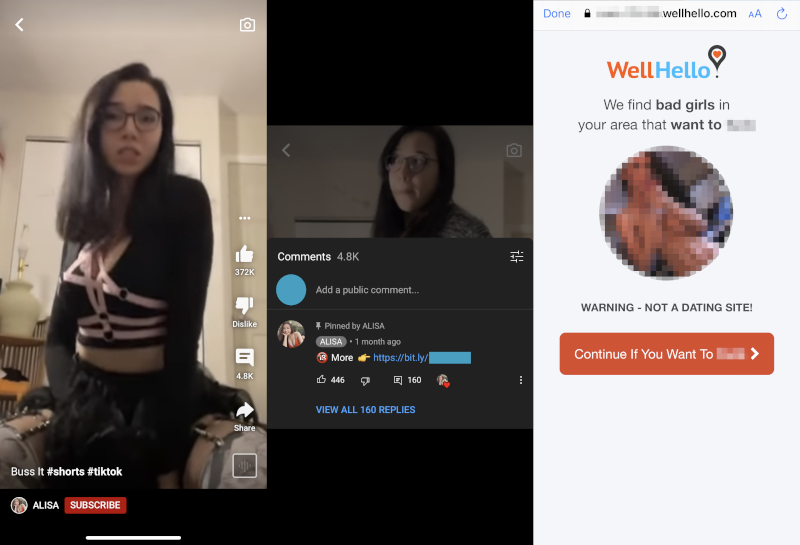 These advertisements are part of an affiliate marketing strategy employed by adult dating websites to generate more leads. To incentivize affiliates, these websites pay based on a cost per action (CPA) or cost per lead (CPL) basis. However, scammers have been abusing these affiliate offers to generate profits by duping users of social media websites. All a scammer needs to do is convince users to visit these adult dating websites and sign up with an email address, whether it's legitimate or not. Once the visitor of an adult dating website is converted to a registered user, the scammer is eligible to receive anywhere from $2–$4 for the successful CPL conversion.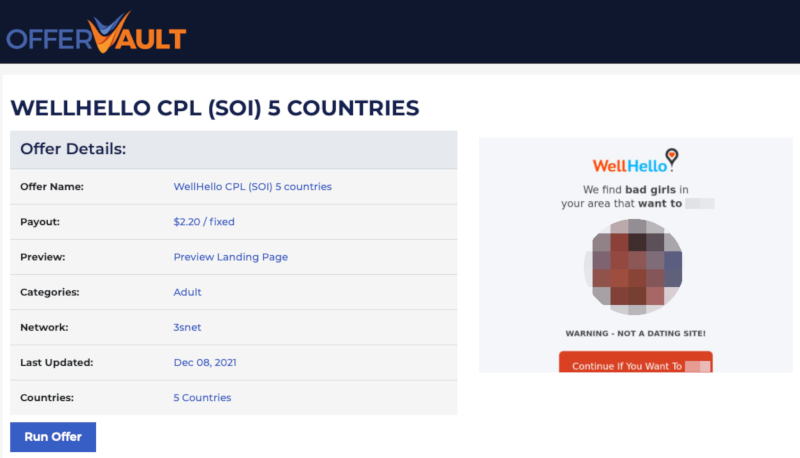 With TikTok challenges receiving billions of views, it's no wonder scammers are stealing them and repurposing them on YouTube, to an audience that may not be familiar with them. Many of the videos I encountered did not have the TikTok watermarks often seen in downloaded videos, meaning they were downloaded using specialized software.
In some cases, YouTube channels are using stolen TikTok videos for engagement, rather than to promote the adult dating websites themselves; yet, even these videos are nonetheless being bombarded with comments promoting adult dating scams.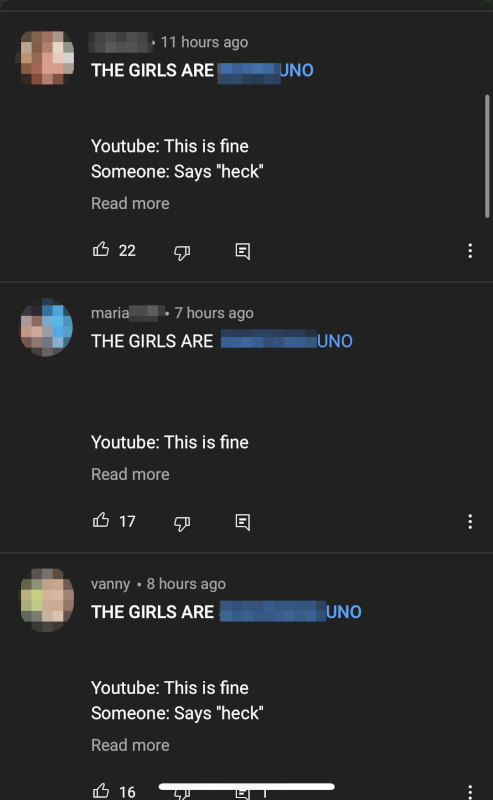 While adult-dating scams proliferate across many platforms, the introduction of YouTube Shorts, with its enormous potential reach and built-in audience, is fertile ground that will only serve to help these scams become even more widespread. This trend is alarming because of how successful these tactics have become so quickly on YouTube Shorts, based on the volume of video views and subscribers on these fake channels promoting stolen content.
Dubious products find a new home on YouTube Shorts
As I've outlined in my past research on TikTok scams, dubious products are another popular vehicle for scammers. From my research, I found scammers using stolen TikTok footage of women at the gym in order to promote gym leggings.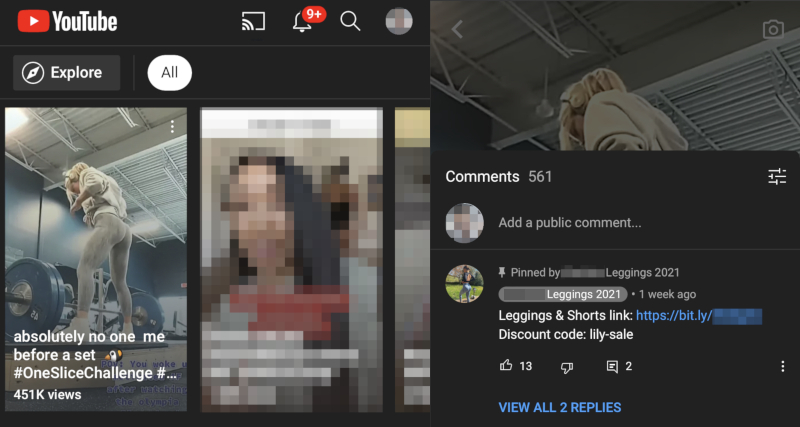 These leggings are being sold on a Shopify store, which is employing the dropshipping technique, whereby the scammers operate as a middle person, as their products originate from websites like AliExpress.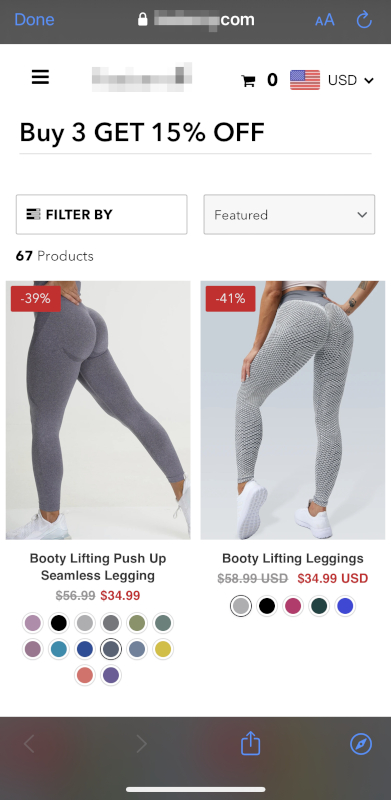 When users purchase the leggings from these advertisements, they are paying a higher price than what the scammers are quoted for the leggings. For instance, I found a similar pair of leggings on AliExpress offered for $12 less than on the Fashion Leggings page. The major concern with these advertisements is that scammers cannot guarantee the item being purchased will arrive, or arrive as advertised.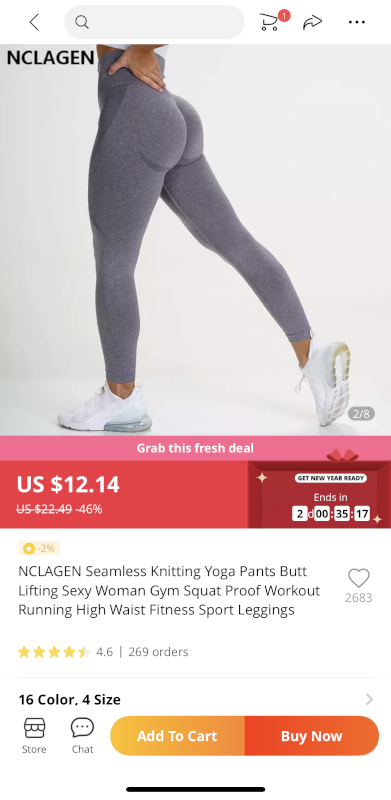 In addition to leggings, I've seen scammers promoting a weight loss program involving smoothies.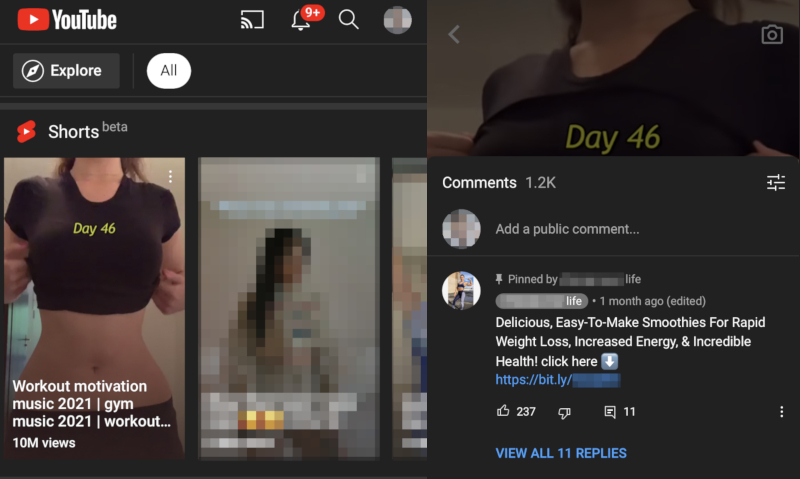 Traditionally, weight loss scams on social media are designed to get users to sign up for a free bottle of diet pills in an effort to trick them into submitting their credit card details in order to bill them after a trial period. However, in this instance, it appears the scammers are leveraging a very generous affiliate program for this smoothie diet product.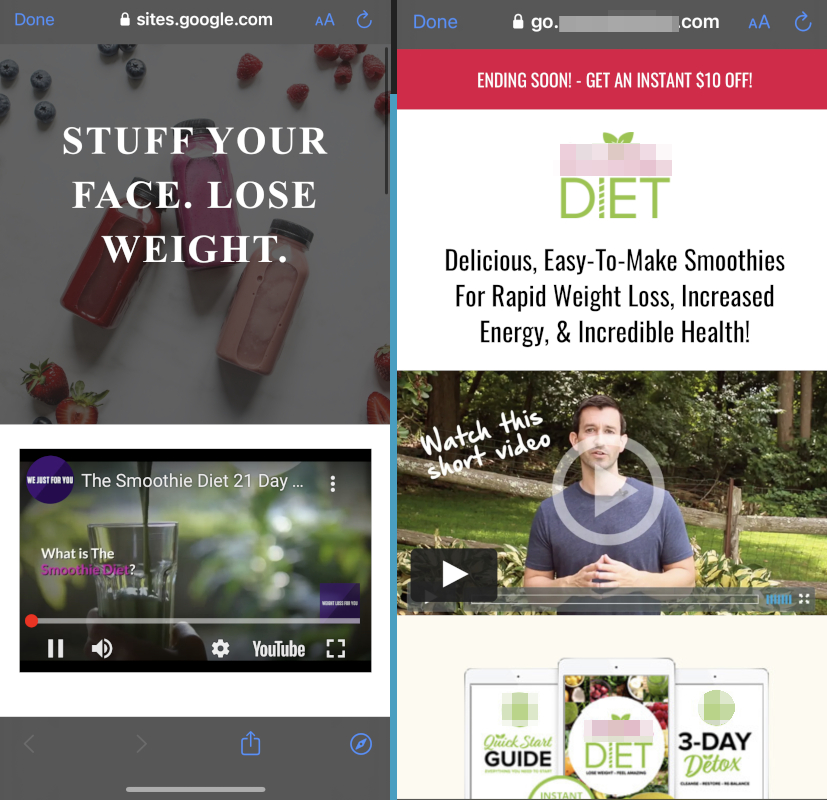 Unlike the adult dating affiliate offer I outlined earlier, this affiliate program is driven by Cost Per Sale (CPS). For CPS offers on this weight loss program, affiliates can earn a 75% commission on the front-end product, as well as potential upsells, which could net an affiliate up to $100 per sale. CPS offers are often the most generous because they are much harder to convert.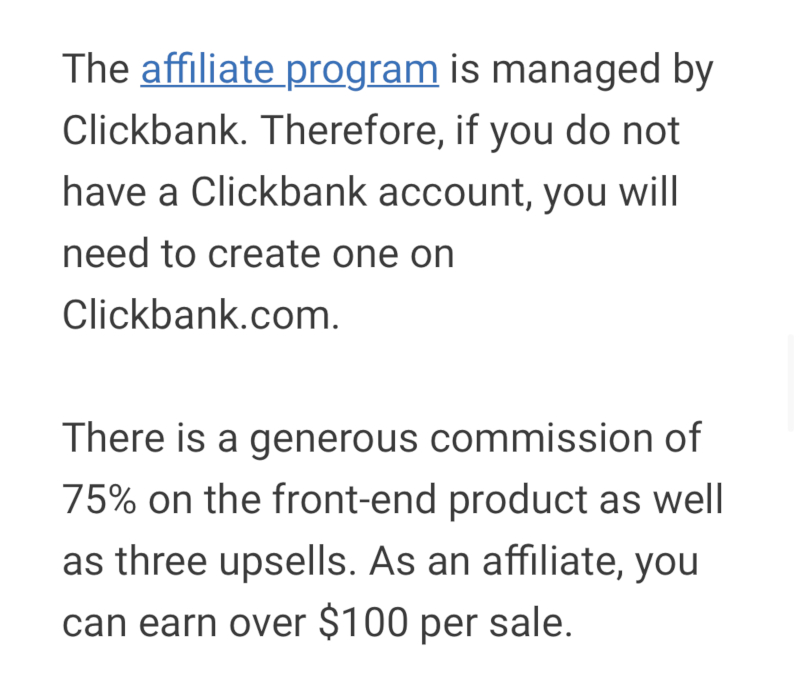 Stolen TikTok videos to gain social currency on YouTube
<
Social currency is one facet of an economy that fuels scam activity on social platforms like TikTok. As a platform, YouTube provides creators with avenues to make money through advertisements and brand deals that are often tied to subscriber counts. Traditionally, scammers would seek out dubious services they could use to pay for YouTube views and subscribers. As YouTube and other platforms have sought to penalize creators and channels for fake engagement, scammers are using stolen TikTok videos to gain social currency using content that doesn't belong to them.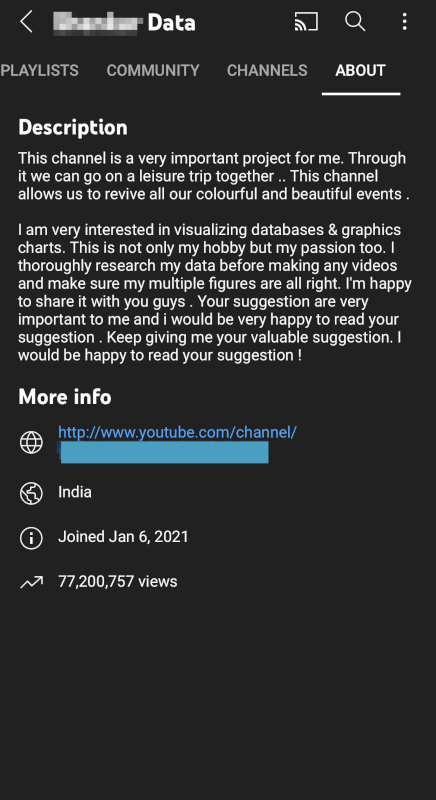 Creators are using stolen TikTok videos, the same types of videos used to promote adult dating websites, to drive up their views and subscriber counts. For example, one user has received over 78 million views on their channel, but if you look at a breakdown of their actual content, it's the videos that they did not create that have the greatest engagement numbers.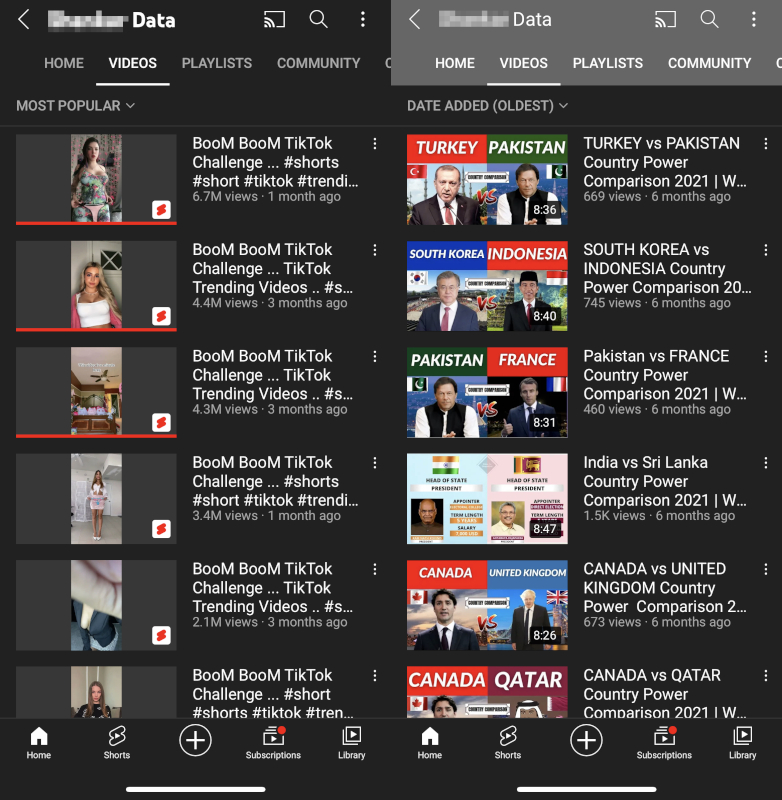 There are also a number of YouTube channels that have been created solely as hubs for stolen TikTok content, similarly to gain social currency.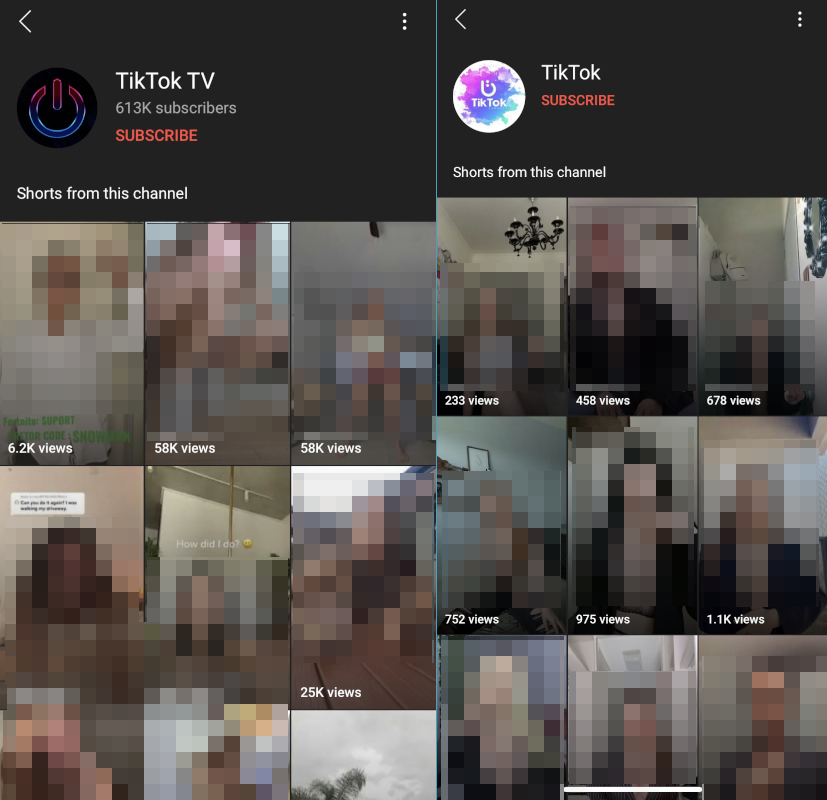 A pitfall these channels face is that they are also being inundated with comments promoting adult dating websites.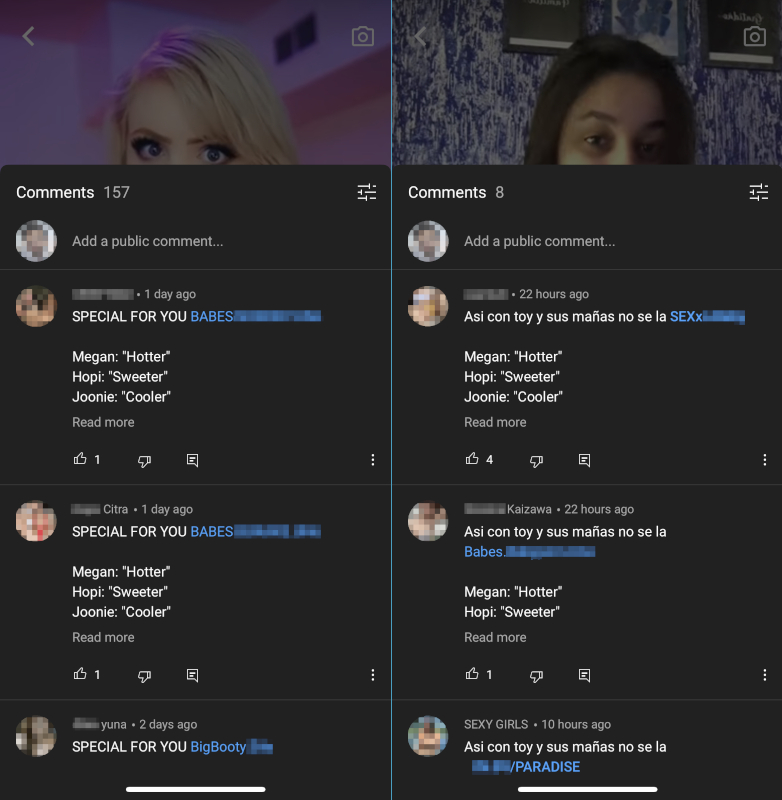 Scammers net at least 3.2 billion views on YouTube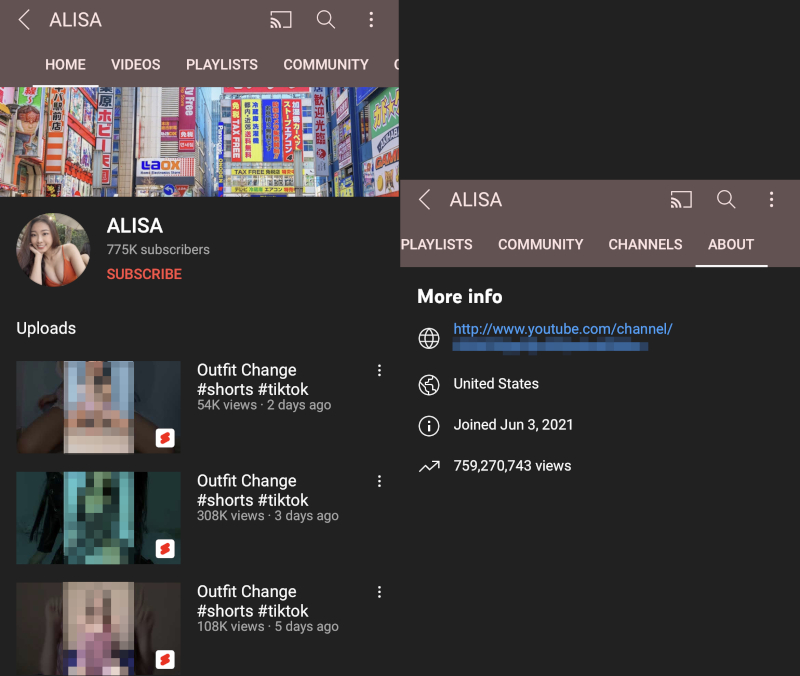 Based on an analysis of 50 YouTube channels that I've encountered, I've determined that the operators of these channels have received 3.2 billion views across at least 38,293 videos. In total, the channels had at least 3 million subscribers at the time this research was conducted.
The following is a sampling of some of the notable channels I've come across in my research and their associated engagement metrics as of December 8, 2021:
Channel Name
Category
Creation Date
Subscribers
Videos
Views
ALISA
Adult Dating
6/3/2021
N/A*
N/A*

759,270,743

KYLIE-LUNA
Adult Dating
5/8/2021
N/A*
78
300,118,427

MAYA

Adult Dating
6/19/2021
203,000
1,275
150,175,940

[REDACTED]

Leggings 2021

Dubious Products
7/30/2021
94,100
549
101,953,680

[REDACTED]

Data

Social Currency
1/6/2021
N/A*
3,328
78,530,840

[REDACTED]

Life

Dubious Products
7/15/2021
55,100
2,767
42,563,808
Please note this is not an exhaustive list, so the figures shared here are likely an undercount of the true numbers of views, videos and subscribers amassed by scammers using stolen content from TikTok.
Source: Tenable, December 2021*Missing data points are due to either the removal of a channel or because a channel has chosen to hide subscriber count data to the public.
Every new service and platform is an opportunity for scammers
Over the last decade, I've watched scammers migrate from platform to platform. It is almost a rite of passage for a new service or platform when scammers find their footing. While the way these scams operate will vary based on each platform and its unique nuances, the types of scams are carried over from platform to platform. Even though YouTube has been around for 16 years, the YouTube Shorts product is essentially a new platform altogether, which is why I am not surprised to see scammers inundating the service in the way that they have.
Scammers won't go away easily. They are determined to capitalize on the massive success of platforms like YouTube Shorts and TikTok. Leveraging existing functionality within YouTube to report these channels is truly the best way for users to help clean up the platform. That is, until the next big social platform emerges and scammers eventually find their way there.
Get more information 
Related Articles
Personal security
Research Reports
Cybersecurity News You Can Use
Enter your email and never miss timely alerts and security guidance from the experts at Tenable.