Piriform CCleaner Remote Backdoor

CCleaner, a popular application used for performing routine maintenance on systems, was recently found to contain a malicious backdoor. This could allow a remote attacker to extract sensitive data from the host, or execute malicious code on the host.
Vulnerability details
A malicious modification of the 32-bit CCleaner.exe binary (CCleaner version 5.33.6162 and CCleaner Cloud version 1.07.3191) contains a two-stage backdoor that allows a remote attacker to execute code on an affected system. The code modification is hidden in CCleaner's initialization code known as CRT (Common Runtime) that is usually inserted at compilation time. The modified code performs various tasks before the application's code is executed, including unpacking and decrypting shellcode. The code then performs the following actions:
Creates the Windows registry key HKLM\SOFTWARE\Piriform\Agomo to store data about the host, including the name of the computer, a list of installed software including Windows updates, a list of running processes, the MAC addresses of the first three network adapters and additional information such as whether the process is running with administrator privileges, whether it is a 64-bit system and more.
Encrypts and encodes all the collected information using base64 with a custom alphabet.
Sends the encoded information via an HTTPS POST request to the external IP address 216[.]126[.]225[.]148 with a hardcoded HTTP Host Header of  "Host: speccy.piriform.com" to make the request look legitimate.
Communicates with the remote IP to download a second stage payload.
If the hardcoded IP address becomes unreachable, the malicious code uses a Domain Generation Algorithm (DGA) to redirect communication to a different location. These generated domains are not under the control of the attacker and do not pose any risk currently.
Tenable coverage
Tenable has released a set of plugins to help you determine if CCleaner is currently installed on your network and whether the installed versions have the backdoor:
| Plugin ID | Name |
| --- | --- |
| 103302 | Piriform CCleaner 5.33.6162 Backdoor |
| 103303 | Piriform CCleaner Cloud 1.07.3191 Backdoor |
| 103304 | Piriform CCleaner Cloud Installed |
| 103305 | Piriform CCleaner Installed |
To find your vulnerable systems, in theTenable.io Vulnerability Workbench, click on "Advanced" and do a search for Plugin Name contains "CCleaner":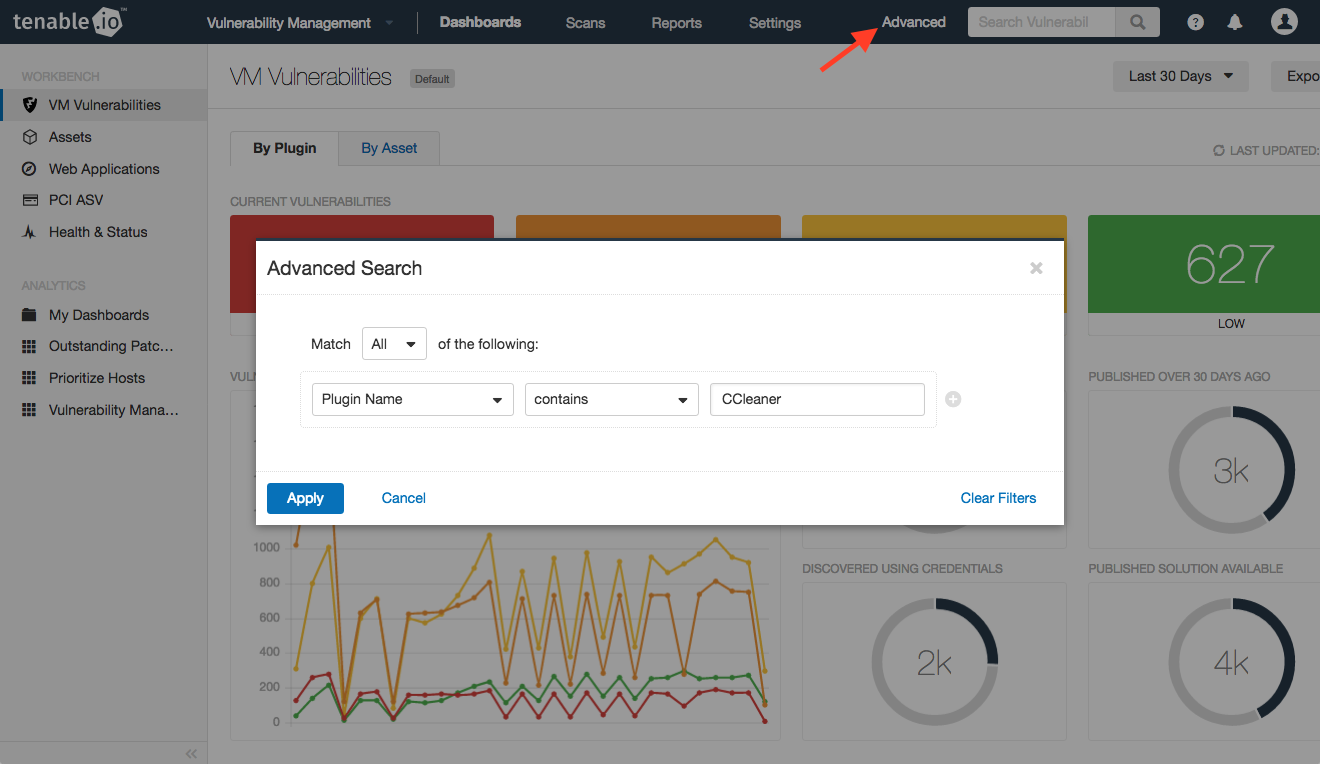 For any malware situation, you should always run a malware scan against your systems, using the predefined Malware Scan template. Plugins such as Plugin 59275, Malicious Process Detection, will report if any systems are infected. For more information on setting up scans, see the Tenable.io Scans Workflow documentation.
We also recommend that you check the output of Plugin 92371, Microsoft Windows DNS Cache, for the following domains to see if any machines have connected to these domains. Hosts that have connected to one or more of these domains have been compromised, meaning that they have the backdoored version of CCleaner installed and have connected back to the attacker.
ab6d54340c1a[.]com
aba9a949bc1d[.]com
ab2da3d400c20[.]com
ab3520430c23[.]com
ab1c403220c27[.]com
ab1abad1d0c2a[.]com
ab8cee60c2d[.]com
ab1145b758c30[.]com
ab890e964c34[.]com
ab3d685a0c37[.]com
ab70a139cc3a[.]com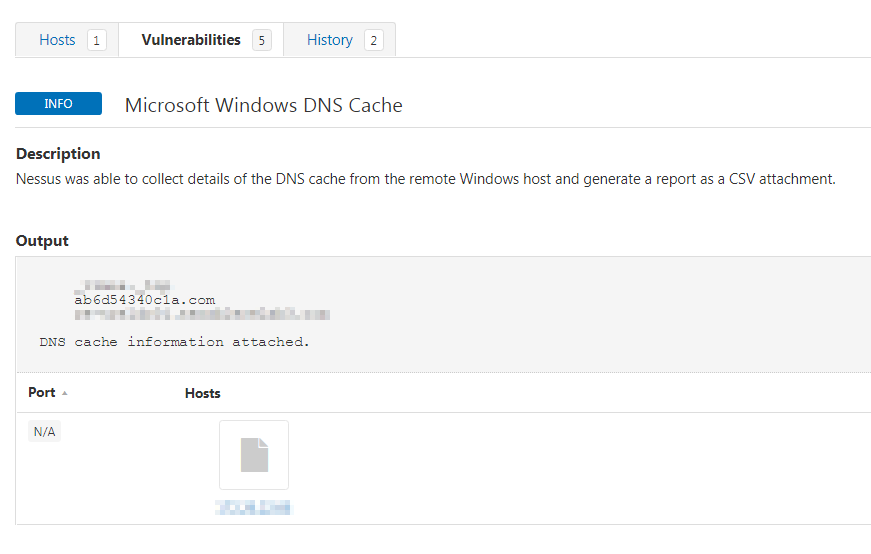 Some additional useful checks include:
You can also use Tenable.io to check previous scans for signs that this backdoor vulnerability has been present on your network longer than you may have realized. If you select a previous scan in Tenable.io, you can search for signs of the DNS domains, processes, or other information mentioned above.
Nessus® Network Monitor (formerly PVS™) has also released a signature that detects if the remote host performs a DNS lookup to a list of known malicious domains.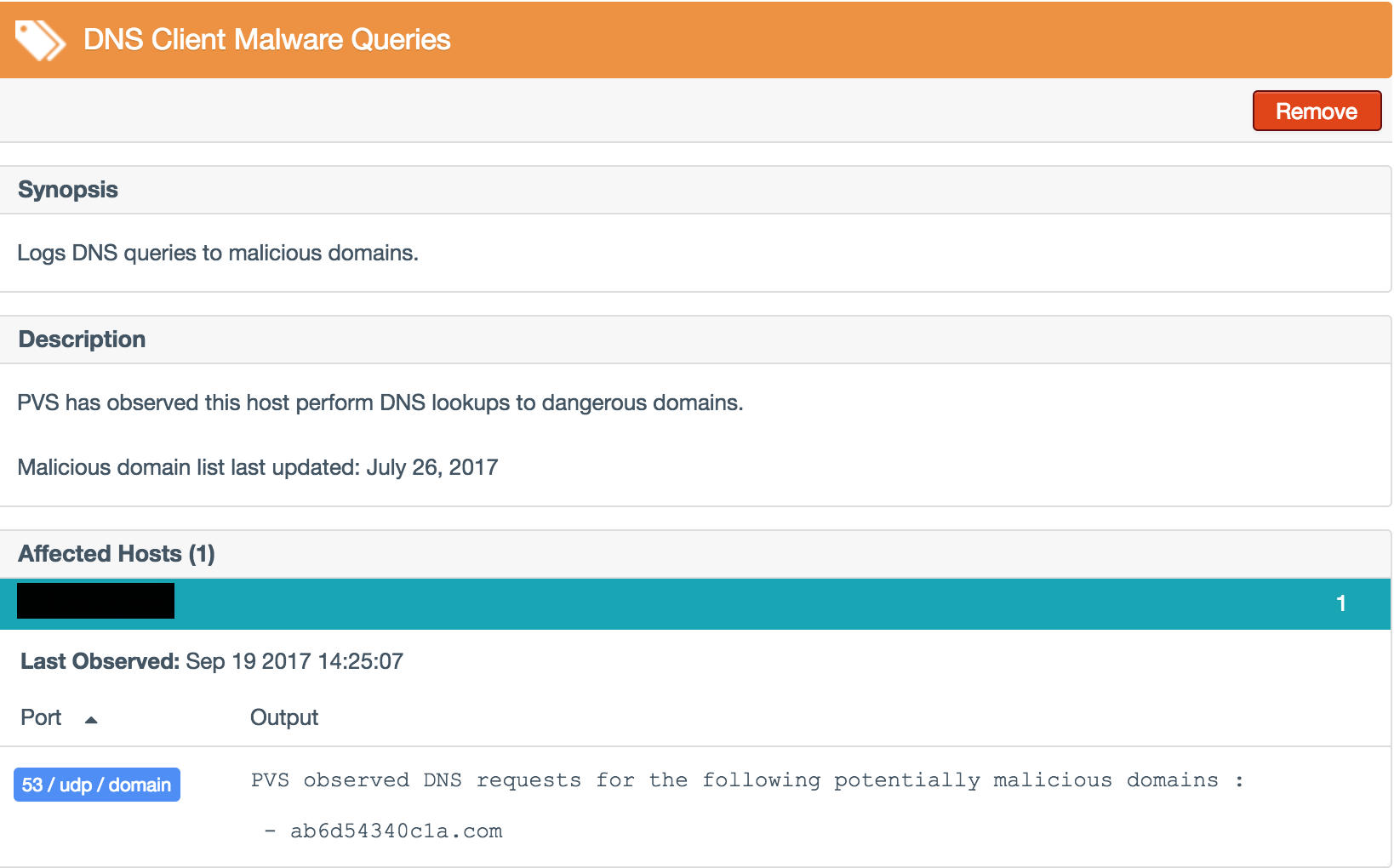 What customers should do
Only users who have installed the 32-bit version of CCleaner for Microsoft Windows are affected by this backdoor vulnerability. Customers who installed CCleaner version 5.33.6162 should upgrade to version 5.34 or later. Customers using CCleaner Cloud version 1.07.3191 have already received an automatic update.
Thanks to Scott Caveza for his contributions to this blog.
Cybersecurity News You Can Use
Enter your email and never miss timely alerts and security guidance from the experts at Tenable.