New Nessus Remediation Report Now Available
The Nessus Suggested Remediations report that can be emailed to specified recipients in the "Scan Summary Email" is now available as a report chapter.
Prioritized Remediation Actions in Nessus Reports
The new Remediation Report now appears as a chapter in the "Export Results" tab inside Nessus, allowing users to generate only the remediation report or add it to other report chapters. Adding this new report as a chapter provides the report reviewer with an actionable list to help with remediation efforts.
Systems administrators and management can easily be overwhelmed with vulnerability data, but Nessus can help consolidate and prioritize remediation actions. At the top of the remediation report, Nessus summarizes the actions to take to remediate the largest quantity of vulnerabilities on the network: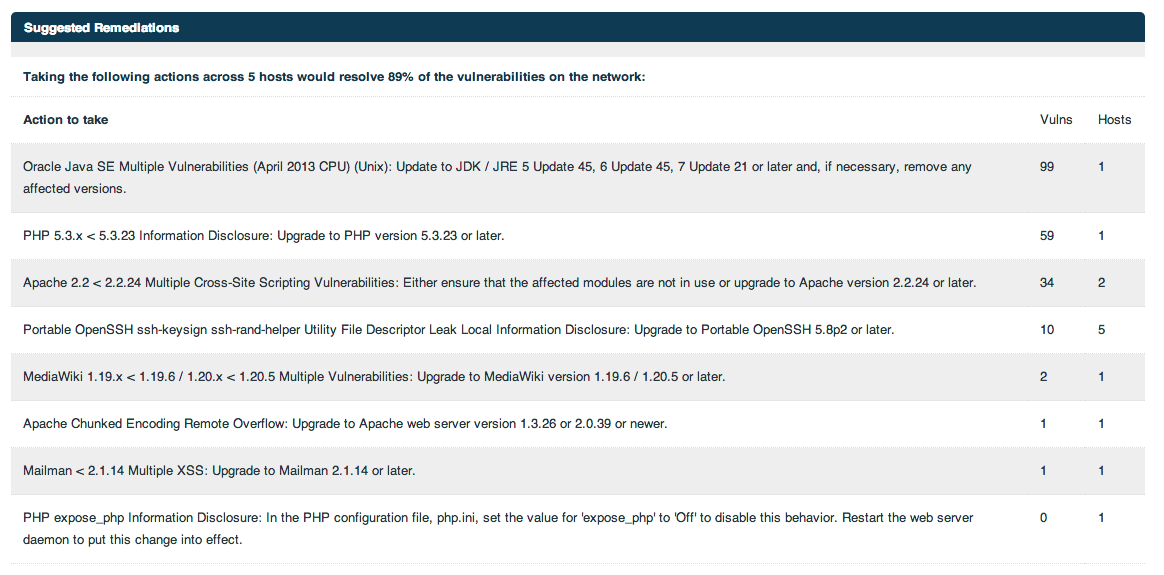 The above Nessus report is an excerpt from an HTML-formatted export. As with all exported reports, you can apply filters to the results. I created a report filter that only shows exploitable vulnerabilities. This type of report applied to perimeter scanning, such as the scans generated using the Nessus Perimeter Service, will save time when remediating critical vulnerabilities on Internet-facing systems.
For More Information
The remediation report will appear as an update in the Nessus plugin feed, and the option to add this report will be available in previously-run scan results.
For more details on the information described in this report, please see the "New Nessus Targeted Email Notifications and Monitoring" blog post.
Are You Vulnerable to the Latest Exploits?
Enter your email to receive the latest cyber exposure alerts in your inbox.