Analyst Research
Unlock Proactive Cyber Defence for Your U.K. Business
Tenable One
Tenable Vulnerability Management
Make the Move to Preventive Security With Insights From our Latest Study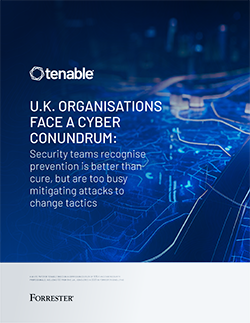 U.K. organisations face a cyber conundrum — while reducing their cyber risks would appear a no-brainer priority, they struggle to find the time and resources to make this a reality due to the sheer volume of attacks security teams have to react to. As the attack surface becomes ever more complex, this imbalance will only worsen.
Our latest study, "U.K. Organisations Face a Cyber Conundrum: Prevention is better than cure but Security Teams are too busy mitigating attacks to change tactics", based on a commissioned survey conducted in 2023 by Forrester Consulting on behalf of Tenable, sheds light on the obstacles preventing U.K. businesses from practising preventive cybersecurity. With insights from 825 IT and cybersecurity professionals, including 100 U.K. respondents, this study paints a clear picture of the hurdles that need to be overcome.
What's more, the findings indicate that significant challenges arise not just from external threats, but also from inherent issues within the organisation's own structure and operations.
Challenges at a Glance
The Focus Dilemma: The cybersecurity team is too busy fighting critical incidents to take a preventive approach to reducing their organisation's exposure.
The Complexity Conundrum: IT infrastructure — with its reliance on multi-cloud systems, numerous identity and privilege management tools and multiple web-facing assets — introduces various opportunities for misconfigurations and overlooked assets.
Conflicting Interests and Goals: Internal processes and attitudes can create conflicts that end up derailing efforts to implement preventive cybersecurity strategies.
Take Control of Your Cyber Future
The good news is that U.K. organisations can begin to reduce risk by taking steps to address the challenges standing in their way.
Download the U.K. edition of our report