How Secure Are We?
Only the business-aligned cybersecurity leader can answer with confidence
Business leaders want a clear picture of their organizations' cybersecurity posture — "How secure, or at risk, are we?" — but many security leaders struggle to answer that question, let alone accurately communicate this information. Tenable commissioned Forrester Consulting to conduct a global independent study to find out why — and what you can do about it.
Download the Report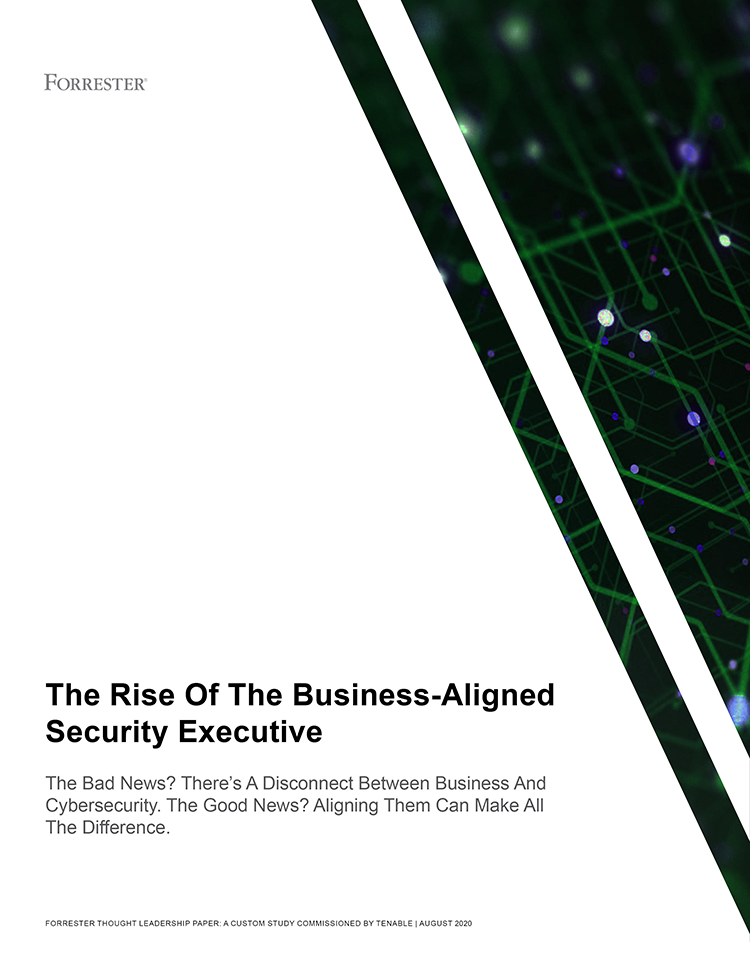 Only Four Out of 10 Security Leaders Say They Can Confidently Answer The Question, "How Secure, or At Risk, Are We?"
A commissioned study of more than 800 business and cybersecurity leaders worldwide conducted by Forrester Consulting on behalf of Tenable reveals:

Business and cybersecurity strategies are seldom on the same page.
Fewer than half of respondents regularly consult their executive counterparts when developing business or cybersecurity strategies, a disconnect that persists even during concerted efforts such as an official COVID-19 response plan.

Security leaders have an incomplete picture of their attack surface.
With the rise of distributed work, and the growing adoption of cloud, mobile and IoT devices, security organizations require new tools and processes to comprehensively assess cyber risk beyond the traditional IT perimeter.
Cybersecurity metrics often lack business-risk context.
Few security organizations use threat metrics that speak to business risk, exposing a need for new reporting practices that can better align cybersecurity programs with business objectives and industry benchmarks.
Today's digital business requires a new security approach focused on both understanding the current risk posture and predicting the greatest threats to the business.
There are two languages getting spoken. Business leaders want to know, 'What's the cause, what's the headline, what's the risk?' The language barrier between [business and security leaders] is a chasm." Source: Business Information Security Officer, Financial Services
The Future Belongs to the Business-Aligned Cybersecurity Leader
The security leaders of tomorrow will be the ones who start playing offense today. This means evolving from the old, reactive and siloed approach of "detect, protect and defend" to a new strategy of "see, predict and act" that can mitigate critical threats affecting teams across the organization.
When security and business are aligned, the results are significant. Business-aligned cybersecurity leaders are:
3x
more likely to have a holistic understanding and assessment of their organization's entire attack surface.
See
Everything.
3x
more likely to use a combination of asset criticality and threat intelligence when prioritizing remediation efforts
Predict
What Matters.
8x
more likely to be highly confident in their ability to answer the question, "How secure, or at risk, are we?"
Act
To Address Risk.
In order to achieve alignment, CISOs and other security leaders need the right combination of technology, data, processes and people to empower them to see, predict and act to reduce business risk.
Download the report today and learn how you can become a business-aligned cybersecurity leader.
Source: All of the above data is drawn from a commissioned study of more than 416 security and 425 business executives worldwide conducted in April 2020 by Forrester Consulting on behalf of Tenable.