The latest version, Nessus v6, enables you to reduce your attack surface by enforcing compliance and system hardening policies. Nessus users will more easily be able to create and customize compliance and security policies while also being able to manage scan results, schedules, and policies.
Keeping Nessus v6 up-to-date is now an automated process and provides you with more control over the update process.
Easily integrate Nessus into your existing security processes with a new API, which is fully documented and accessible from within the Nessus UI.
A complete listing of the new features can be found below:
Compliance and System Hardening Policies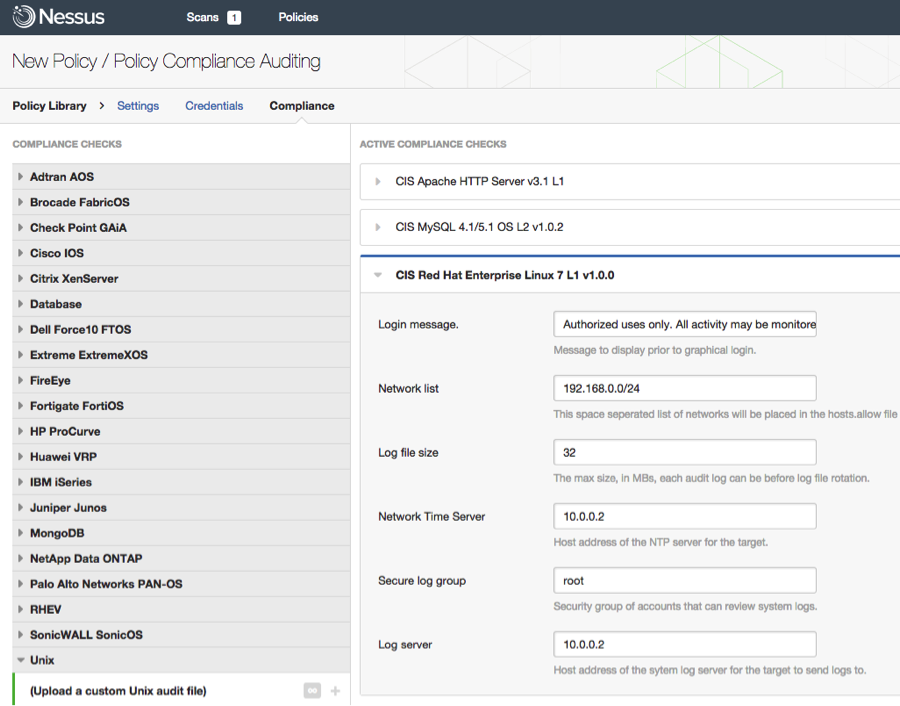 Hundreds of compliance and system hardening policies ("audit" files) are now available directly from the Nessus UI via the plugin feed. Nessus users can access out-of-the-box policies for network gear, firewalls, storage devices, virtualization and cloud platforms, and a wide variety of major operating system platforms (including UNIX, Linux and Windows), and much more!
Compliance and System Hardening Policy Editor
Nessus v6 simplifies the customization of policies, enabling the user to tune various compliance and system hardening policy settings from within the Nessus UI.
Automatic Updating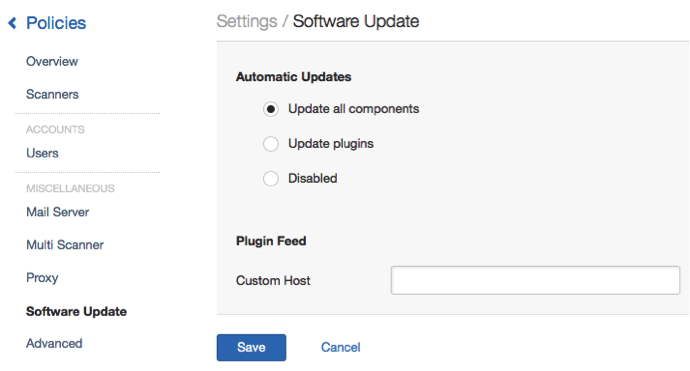 The Nessus engine and UI can now be updated automatically, allowing you to deploy more Nessus scanners with less maintenance. Users can choose to enable complete automatic updates (Nessus engine, UI and plugins) or select to only receive plugin updates until such time an upgrade is desired.
Nessus RESTful API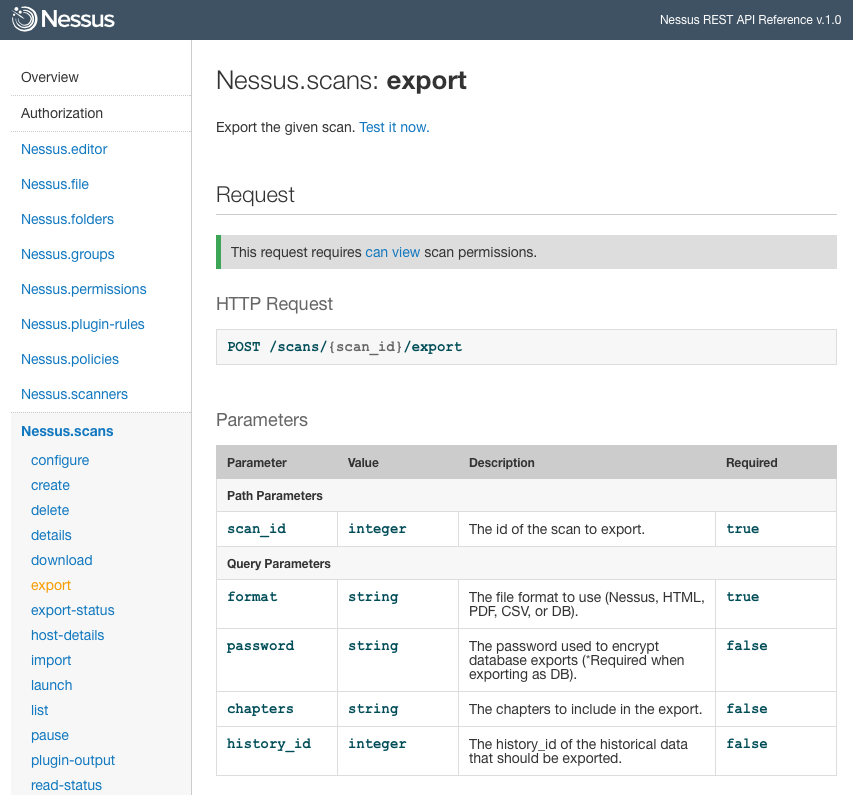 Nessus v6 provides a standard and supported API for integrating Nessus into your vulnerability management workflow. The XMLRPC API has been replaced with a simpler RESTful API, complete with documentation and examples available from the Nessus UI.
New Policy Editor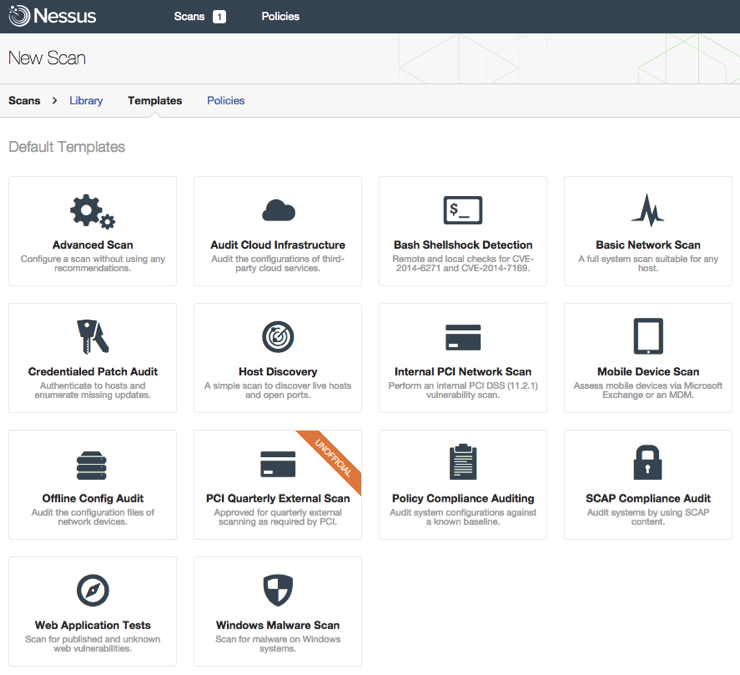 Nessus v6 simplifies editing scan policies. Plugin preferences and policy settings have been reorganized to improve navigation and discoverability, allowing you to more easily define how Nessus will scan your assets!
Other Features & Enhancements
Simplify creating and managing scans. Remove scan and schedule views and replace with a single view. Scans can be controlled from the scan listing. A new "History" tab shows previous results, and changes can be made via a "Configure" button in Scan Detail view.
Nessus v6 adds support for hardening policies which include Salesforce and MongoDB.
Nessus v6 now supports Red Hat Enterprise Linux 7 as an installation platform.
Changelog
Registration does not go through Proxy server
Slow Nessus 6 UI
Designate hosts by their DNS name is sometimes not working, in cases where it did in 5.2.x
Nessus 6 - text field size limitation (port scan range)
Nessus scanners managed by SecurityCenter shows up as Nessus Home in overview
Disable SSLv3 in Web Server (TNS-2014-09)
Safari 7.1 hangs during policy creation in Nessus 6
Mac OS X Preferences panel: When nessus is stopped, the status text has the word vulnerabilities misspelled as vulnerabilites
Username and Password fields are displayed when Auth Method is set to None.
SSH Netstat portscan not reporting port 22 - Plugin 14272
Nessus 5.2.6 can't handle SSL tunnels
Email Filters after saving and returning, Any Changes back to All
Error Message in UI is Spelled Incorrectly
Description in schedule scans cannot be removed
The NASL VM fails to receive data on SSL socket under certain conditions
Stuck in Please wait during login.
Nessus Enterprise users last login show NA
Saving users in NEC is posting regardless of form errors
After importing nessusdb or .nessus scan results, the first .nessus scan export always fails
/scan/reset api for SC does not stop the associated scans
Information at Settings / Scanners / Local Scanner out of sync
HTML export takes forever when the scan result contain multiple host/vuln/outputs
No PDF option on Nessus MAC
Add bulk modification to scan results
Reducing Your Attack Surface Using Nessus v6 Webcast
Register for this webcast and learn about Nessus v6. Paul Asadoorian, Product Marketing Manager for Nessus, will show you how Nessus v6 helps you simplify the ability to keep your systems hardened against attacks, eases maintenance of multiple scanners, and allows you to extend and integrate Nessus in your environment.