SANS 6 Categories of Critical Log Information
New Dashboard – SANS 6 Categories of Critical Log Information
The SANS Critical Controls are guidelines for strengthening an organization's security defenses through continuous and automated monitoring. The SANS guidelines continue to gain traction across all types of organizations and have demonstrated measureable reduction in security risk.
Tenable has added a new dashboard that covers the SANS 6 Categories of Critical Log Information to identify unauthorized changes to information systems that can allow an attacker to infiltrate and modify systems to enable future access. Unlike other solutions, this SecurityCenter dashboard makes it possible to see all 6 categories at once and allows organizations to easily monitor and trend the data without generating multiple reports. The dashboard parses log events using Tenable's Log Correction Engine (LCE) and Passive Vulnerability Scanner (PVS). The SANS 6 is available to SecurityCenter Continuous View (CV) customers without cost as part of the free Security "app store". For more details, click here.
Note: Passive Vulnerability Scanner (PVS) is now Nessus Network Monitor. To learn more about this application and its latest capabilities, visit the Nessus Network Monitor web page.

In addition, Tenable's solutions offer continuous monitoring and real-time vulnerability management to meet the SANS 20 Critical Security Controls. SecurityCenter provides an integrated dashboard of the 20 Critical Controls with 15 individual components that provide insight to nearly 50 items that directly correlate to the SANS Top 20 Critical Controls. To find out more about the 20 Critical Controls dashboard in SecurityCenter, click here.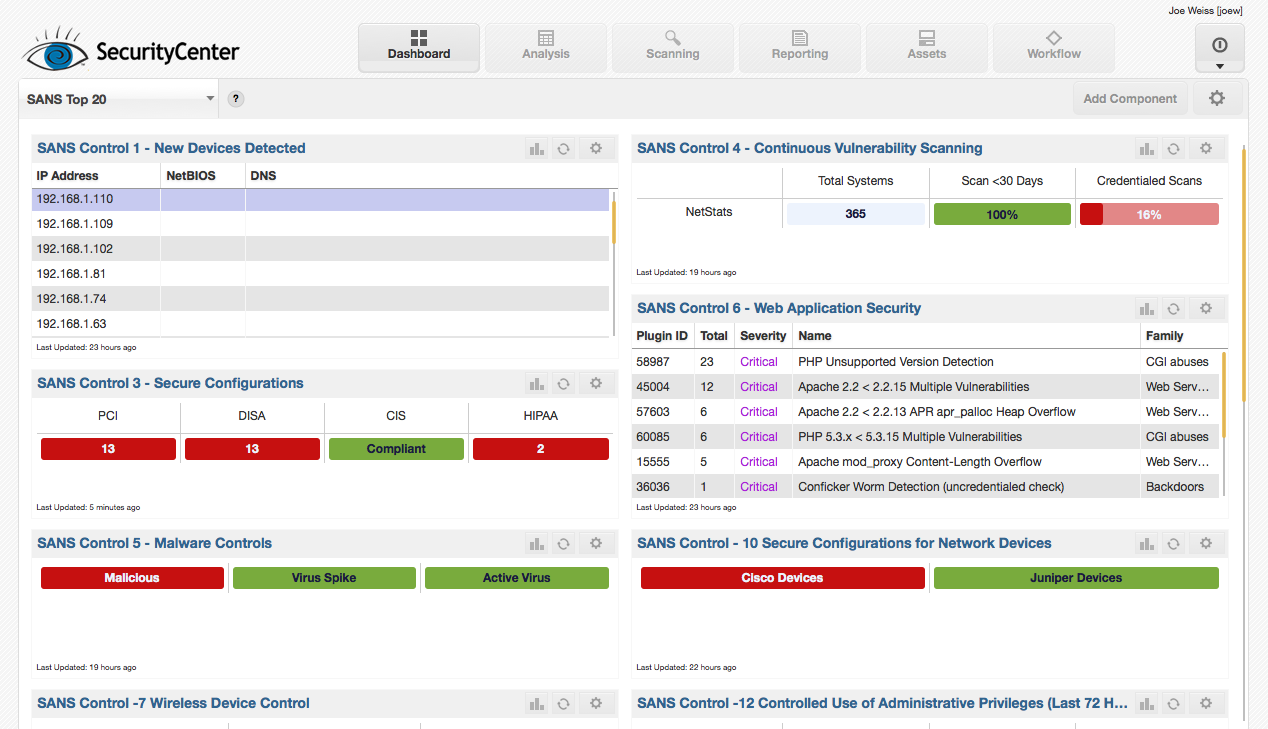 Remember, that any dashboard that is loaded in SecurityCenter can just as easily be converted into a report template. SecurityCenter provides further customization to meet specific deployment requirements. For more information on the SANS 20 Critical Security Controls, visit the Tenable solutions website.