Microsoft's October 2022 Patch Tuesday Addresses 84 CVEs (CVE-2022-41033)

Microsoft addresses 84 CVEs in its October 2022 Patch Tuesday release, including 13 critical flaws.
13

Critical

71

Important

0

Moderate

0

Low
Microsoft patched 84 CVEs in its October 2022 Patch Tuesday release, with 13 rated as critical and 71 rated as important.
This month's update includes patches for:
Active Directory Domain Services
Azure
Azure Arc
Client Server Run-time Subsystem (CSRSS)
Microsoft Edge (Chromium-based)
Microsoft Graphics Component
Microsoft Office
Microsoft Office SharePoint
Microsoft Office Word
Microsoft WDAC OLE DB provider for SQL
NuGet Client
Remote Access Service Point-to-Point Tunneling Protocol
Role: Windows Hyper-V
Service Fabric
Visual Studio Code
Windows Active Directory Certificate Services
Windows ALPC
Windows CD-ROM Driver
Windows COM+ Event System Service
Windows Connected User Experiences and Telemetry
Windows CryptoAPI
Windows Defender
Windows DHCP Client
Windows Distributed File System (DFS)
Windows DWM Core Library
Windows Event Logging Service
Windows Group Policy
Windows Group Policy Preference Client
Windows Internet Key Exchange (IKE) Protocol
Windows Kernel
Windows Local Security Authority (LSA)
Windows Local Security Authority Subsystem Service (LSASS)
Windows Local Session Manager (LSM)
Windows NTFS
Windows NTLM
Windows ODBC Driver
Windows Perception Simulation Service
Windows Point-to-Point Tunneling Protocol
Windows Portable Device Enumerator Service
Windows Print Spooler Components
Windows Resilient File System (ReFS)
Windows Secure Channel
Windows Security Support Provider Interface
Windows Server Remotely Accessible Registry Keys
Windows Server Service
Windows Storage
Windows TCP/IP
Windows USB Serial Driver
Windows Web Account Manager
Windows Win32K
Windows WLAN Service
Windows Workstation Service
Elevation of privilege (EoP) accounted for 46.4% of the vulnerabilities patched this month, followed by remote code execution (RCE) vulnerabilities at 23.8%.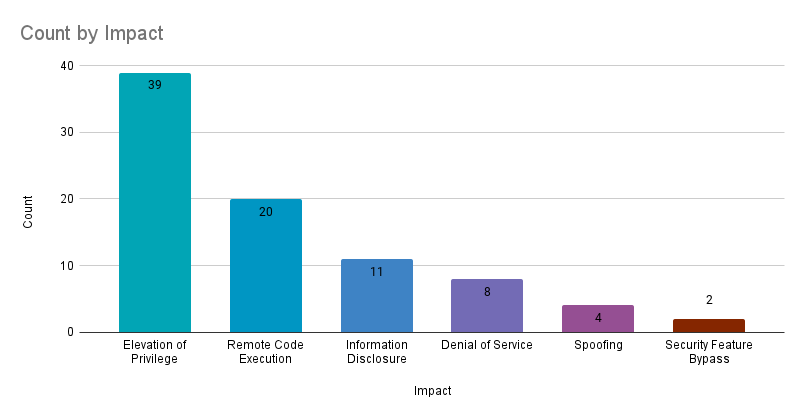 Note: Microsoft has not included patches for the two zero-day vulnerabilities in Microsoft Exchange, CVE-2022-41040 and CVE-2022-41082, that were disclosed on September 28 in this release.
CVE-2022-41033 | Windows COM+ Event System Service elevation of privilege vulnerability
CVE-2022-41033 is an EoP vulnerability in the Windows COM+ Event System Service, which enables system event notifications for COM+ component services. It received a CVSSv3 score of 7.8. An authenticated attacker could exploit this vulnerability to elevate privileges on a vulnerable system and gain SYSTEM privileges.
Microsoft says that this vulnerability has been exploited in the wild, though no additional information was shared.
Tenable Solutions
Users can create scans that focus specifically on our Patch Tuesday plugins. From a new advanced scan, in the plugins tab, set an advanced filter for Plugin Name contains October 2022.

With that filter set, click the plugin families to the left and enable each plugin that appears on the right side. Note: If your families on the left say Enabled, then all the plugins in that family are set. Disable the whole family before selecting the individual plugins for this scan. Here's an example from Tenable.io: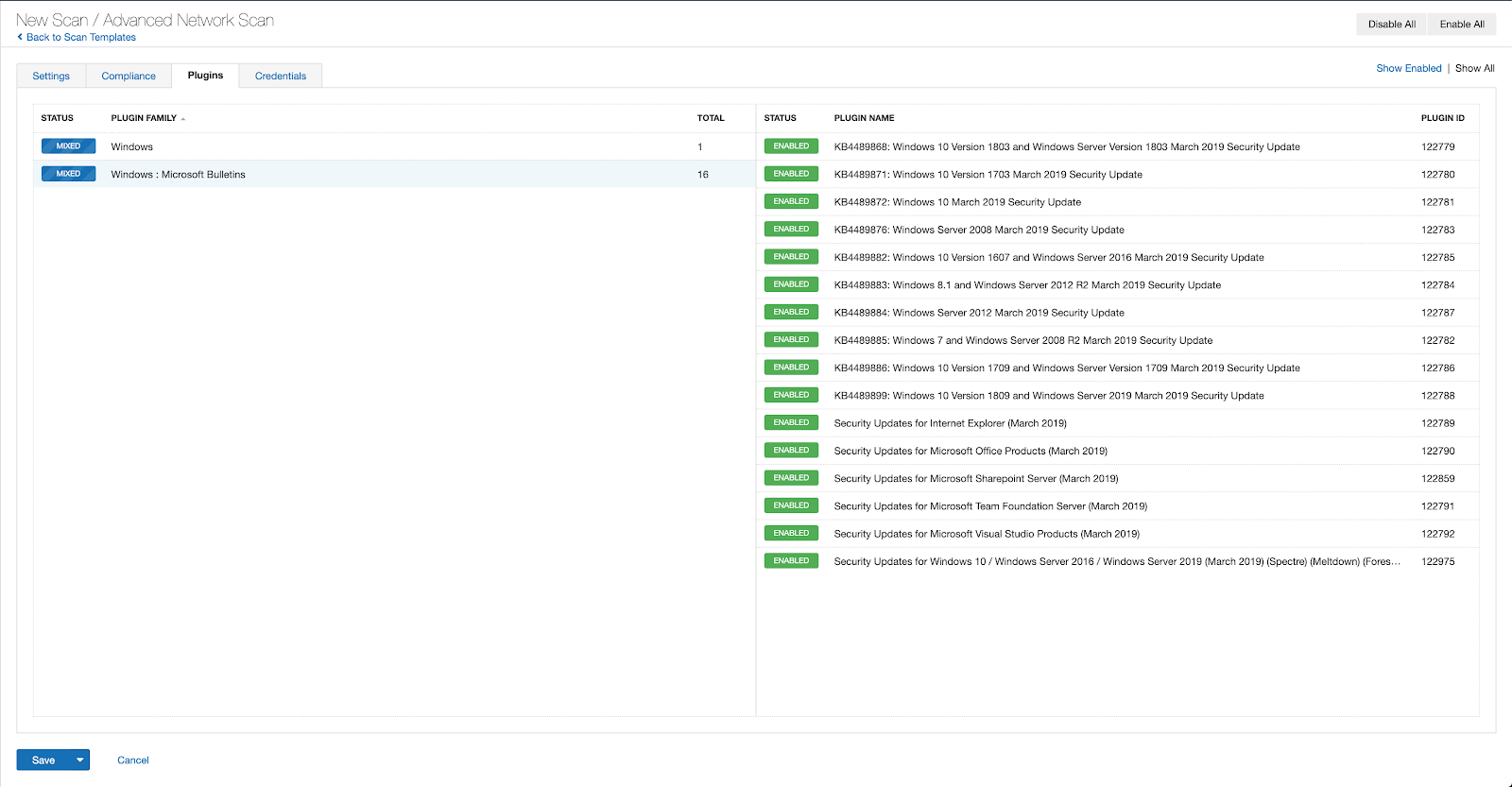 A list of all the plugins released for Tenable's October 2022 Patch Tuesday update can be found here. As always, we recommend patching systems as soon as possible and regularly scanning your environment to identify those systems yet to be patched.
Get more information
Join Tenable's Security Response Team on the Tenable Community.
Learn more about Tenable, the first Cyber Exposure platform for holistic management of your modern attack surface.
Get a free 30-day trial of Tenable.io Vulnerability Management.
Related Articles
Exposure Management
Vulnerability Management
Cybersecurity News You Can Use
Enter your email and never miss timely alerts and security guidance from the experts at Tenable.