Analyst Research
Frost & Sullivan: Global Vulnerability Management Market, 2021
Tenable One
Tenable Vulnerability Management
Tenable Security Center
Tenable Lumin
Looking for a vulnerability management solution? Learn about the industry leaders for growth and innovation.
The Frost Radar empowers your company to make superior decisions regarding which vulnerability management solutions deliver the best overall value and make the wisest investment, based on the company's demonstrated growth and innovation.
The Frost Radar rates these leaders based on their:
Growth Index: an assessment of the organization's market share and revenue growth over the past three years, as well as how well its vision and strategy are aligned to effectively set the tone for the future of the industry.

Innovation: an assessment of the organization's global scalability, efficacy of its research and development, and how well its vision, strategy and evolution of its solution portfolio align with the current and future needs of the market.
Regardless of your specific goals, the Frost Radar delivers a powerful analytical framework to help you identify valuable partners with long-term solutions to maximize the efficacy of your security program.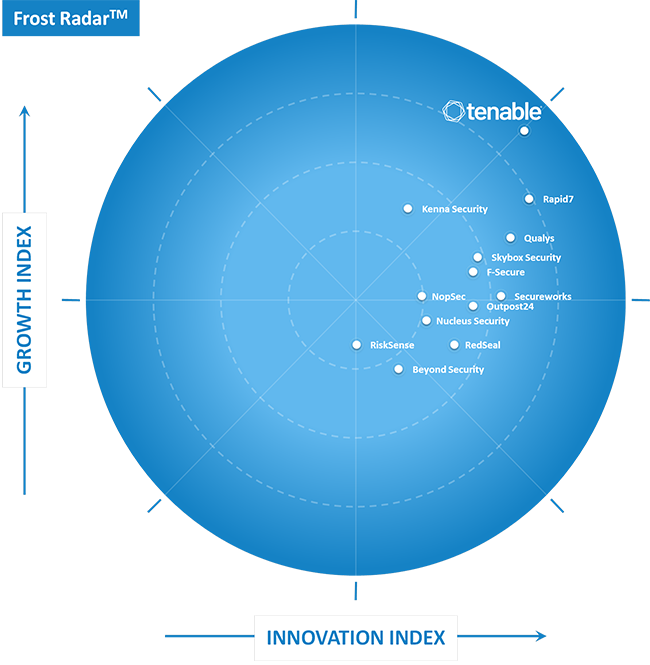 "Companies plotted on the Frost Radar™ are the leaders in the industry for growth, innovation, or both. They are instrumental in advancing the industry into the future." – Frost & Sullivan: Global Vulnerability Management Market, 2021
Get your copy now.