What's in Your Attack Surface?
Remote work is transforming the way business gets done. Is your cybersecurity organization ready?
Download the Study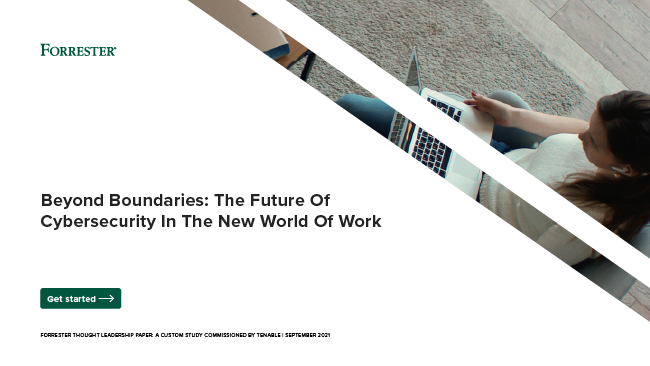 Welcome to the New World of Risk
Tenable commissioned Forrester Consulting to conduct a global independent study into cyber risk in the new world of work. Download your copy now.
Remote work will be permanent for ninety-two percent of organizations in the next two years.
Sixty-seven percent of business-impacting* cyberattacks targeted remote workers
The average home network has eight devices connecting to it.
Ninety-eight percent of remote workers use a personal device for work every day
*A business-impacting cyberattack results in one or more of the following outcomes: loss of customer, employee, or other confidential data; interruption of day-to-day operations; ransomware payout; financial loss or theft; and/or theft of intellectual property.
The attack surface becomes every home network, which we have zero control over." Source: VP and chief information security officer, business process outsourcing and human capital management
You Can't Secure What You Can't Trust
The study, Beyond Boundaries: Cybersecurity in the New World of Work, surveyed more than 1,300 security leaders, business executives and remote workers** to explore how operational shifts made in response to the pandemic will continue transforming the way cyber risk is managed for the foreseeable future.
Security leaders report increased risk due to:
80%
Enabling a


Remote Workforce
80%
Moving Business-Critical Functions to the

Cloud
61%
Expanding the Software

Supply Chain
**For the purposes of this study, remote workers are defined as full-time employees working three or more days from home.