Whitepaper
What It Takes to Be a Business-Aligned Security Leader
Business leaders want a clear picture of how at risk they are and how that risk is changing for better or worse as they plan and execute business strategies. But their security counterparts struggle to provide an answer.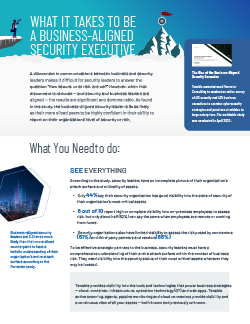 According to the Tenable commissioned Forrester Consulting study, The Rise of the Business-Aligned Security Executive, just four out of 10 of security leaders say they can answer the question, "How secure, or at risk, are we?" with a high level of confidence*. 

And a whopping 66% of business leaders are – at most – only somewhat confident in their security team's ability to quantify their organization's level of risk or security*. 
Without a common language, security leaders are unable to provide the clear, authoritative answers demanded of them by business leaders.
Tenable gives you the tools to see everything, predict what matters, and act to address risk across your entire attack surface. Being able to clearly, concisely and authoritatively answer the essential question "How secure, or at risk, are we?" is central to getting through a "day in the life" of a business-aligned security leader.
Read the brief, What It Takes to Be a Business-Aligned Security Leader, to get started.
*Base: 416 security leaders with responsibility over cybersecurity/security strategies and budgets
Source: A commissioned study conducted by Forrester Consulting on behalf of Tenable, April 2020
Exposure Management
Risk-based Vulnerability Management
Tenable Vulnerability Management
Tenable Security Center
Tenable Security Center Plus
Tenable Lumin