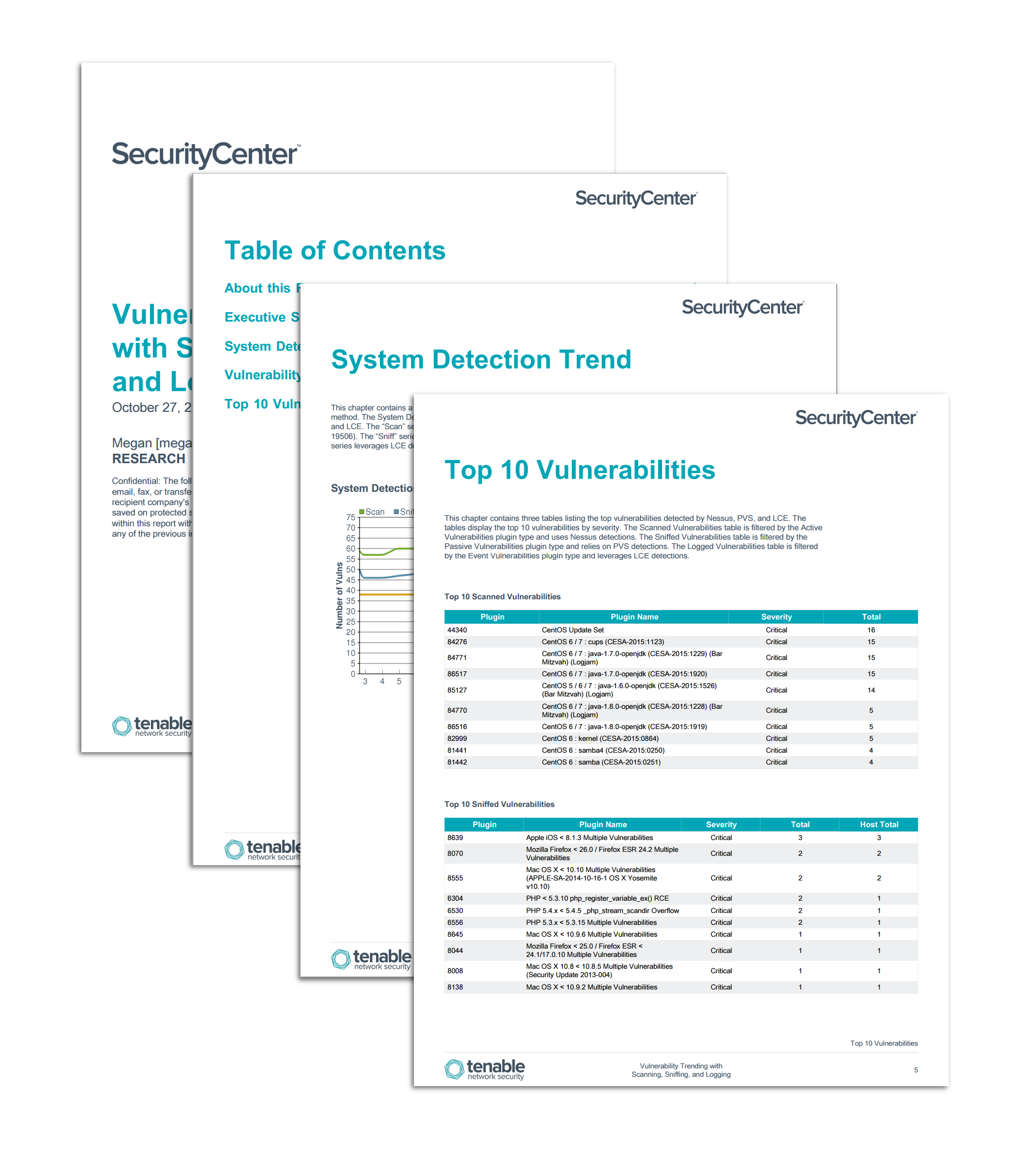 Implementing network security tools is only the first step in securing an organization. Tools that are not implemented properly or utilized effectively are a waste of time, money, and network resources. Determining whether tools are performing their expected functions is key to understanding whether a network is effectively secured. By leveraging the capabilities of Tenable.sc, Nessus, the Nessus Network Monitor (NNM), and the Log Correlation Engine (LCE), security teams can more easily monitor the effectiveness of their Tenable products.
The Vulnerability Trending with Scanning, Sniffing, and Logging report provides high-level information about the detection rates of an organization's Tenable products. The report is focused on the detection trends of three plugin types: Active, Passive, and Event Vulnerabilities. These plugin types are referred to in this report as scan, sniff, and log, respectively. Detections of systems and vulnerabilities are analyzed for each type. Additionally, this report contains information about the top severity vulnerabilities for each detection type.
The chapters in this report provide information about the trends of detections by type, as well as a brief summary of the top vulnerabilities for each type. Each chapter focuses on a specific topic: system detections, vulnerability detections, or top vulnerabilities. In the detections chapters, specific plugins and plugin types are used to filter results from Nessus, NNM, and LCE. Trend data for each detection method is charted over 25 days and can be used to monitor the functionality of each tool. Tables listing the top 10 vulnerabilities by severity detected by each type are also included, providing an overview of the vulnerability status of the network. Security teams can use these chapters to better understand the effectiveness of and justification for their Tenable products.
The report is available in the Tenable.sc Feed, a comprehensive collection of dashboards, reports, assurance report cards and assets. The report can be easily located in the Tenable.sc Feed under the category Monitoring. The report requirements are:
Tenable.sc 4.8.2
Nessus 8.4.0
NNM 5.9.0
LCE 6.0.0
Tenable's Tenable.sc Continuous View (CV) provides continuous network monitoring, vulnerability identification, risk reduction, and compliance monitoring. Nessus is continuously updated with information about advanced threats and zero-day vulnerabilities, and new types of regulatory compliance configuration audits. The Nessus Network Monitor (NNM) performs deep packet inspection to enable discovery and assessment of operating systems, network devices, hypervisors, databases, tablets, phones, web servers, cloud applications, and critical infrastructure. The Log Correlation Engine (LCE) performs deep log analysis and correlation to continuously discover and track systems, applications, cloud infrastructure, trust relationships, and vulnerabilities. By integrating with Nessus, NNM, and LCE, Tenable.sc CV's continuous network monitoring is able to detect systems and vulnerabilities across the enterprise.
This report contains the following chapters:
Executive Summary: This chapter provides an overview of the system and vulnerability detections from the past 30 days.
System Detection Trend: This chapter contains a trend chart showing the rates of systems discovered over time based on detection method.
Vulnerability Detection Trend: This chapter contains a trend chart showing the rates of vulnerabilities discovered over time based on detection method.
Top 10 Vulnerabilities: This chapter contains three tables listing the top vulnerabilities detected by Nessus, NNM, and LCE.