Microsoft's May 2022 Patch Tuesday Addresses 73 CVEs (CVE-2022-26925)

Microsoft addresses 73 CVEs in its May 2022 Patch Tuesday release, including two zero-day vulnerabilities, one of which was exploited in the wild.
6

Critical

66

Important

0

Moderate

1

Low
Update May 12: This blog has been updated to include information on an out-of-band advisory for CVE-2022-30138, which was patched as part of Patch Tuesday but was not publicized until today.
Microsoft patched 73 CVEs in its May 2022 Patch Tuesday release, with six rated as critical, 66 rated as important and one rated as low.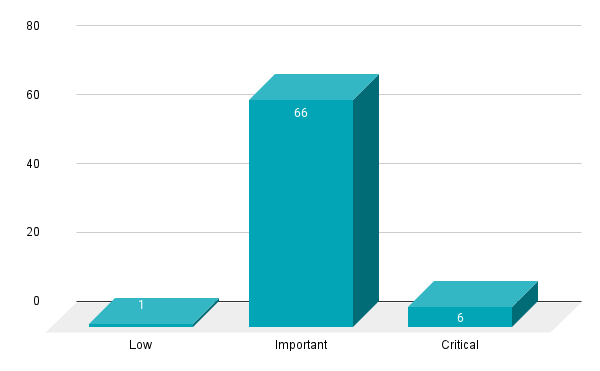 This month's update includes patches for:
.NET and Visual Studio
Microsoft Exchange Server
Microsoft Graphics Component
Microsoft Local Security Authority Server (lsasrv)
Microsoft Office
Microsoft Office Excel
Microsoft Office SharePoint
Microsoft Windows ALPC
Remote Desktop Client
Role: Windows Fax Service
Role: Windows Hyper-V
Self-hosted Integration Runtime
Tablet Windows User Interface
Visual Studio
Visual Studio Code
Windows Active Directory
Windows Address Book
Windows Authentication Methods
Windows BitLocker
Windows Cluster Shared Volume (CSV)
Windows Failover Cluster Automation Server
Windows Kerberos
Windows Kernel
Windows LDAP - Lightweight Directory Access Protocol
Windows Media
Windows Network File System
Windows NTFS
Windows Point-to-Point Tunneling Protocol
Windows Print Spooler Components
Windows Push Notifications
Windows Remote Access Connection Manager
Windows Remote Desktop
Windows Remote Procedure Call Runtime
Windows Server Service
Windows Storage Spaces Controller
Windows WLAN Auto Config Service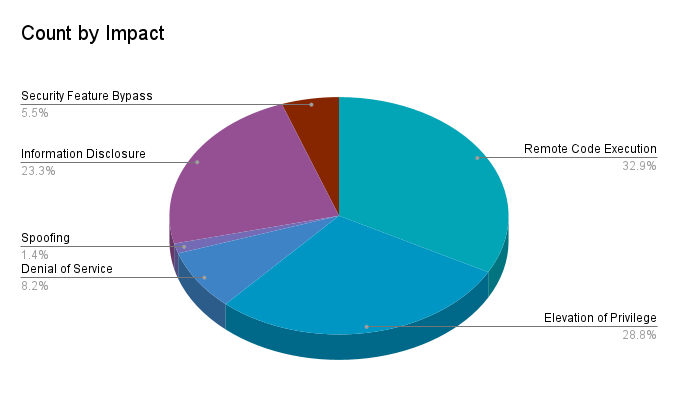 Remote code execution (RCE) vulnerabilities accounted for 32.9% of the vulnerabilities patched this month, followed by elevation of privilege (EoP) vulnerabilities at 28.8%.
CVE-2022-26925 | Windows LSA Spoofing Vulnerability
CVE-2022-26925 is a spoofing vulnerability in the Windows Local Security Authority (LSA) that received a CVSSv3 score of 8.1. However, when chained with a new technology LAN manager (NTLM) relay attack, the combined CVSSv3 score for the attack chain is 9.8. According to the advisory from Microsoft, it has been exploited in the wild as a zero-day. An unauthenticated attacker could coerce domain controllers to authenticate to an attacker-controller server using NTLM. Microsoft provides two pieces of documentation for further protecting systems against these attacks. Microsoft recommends that organizations prioritize patching domain controllers for this vulnerability.
This vulnerability is similar to CVE-2021-36942, which is part of the PetitPotam attack chain.
CVE-2022-26937 | Windows Network File System Remote Code Execution Vulnerability
CVE-2022-26937 is a RCE vulnerability impacting the Windows Network File System (NFS) which can be exploited by a remote, unauthenticated attacker using a specially crafted call to a NFS service to achieve code execution. Microsoft assigned a 9.8 CVSSv3 score and rated this as "Exploitation More Likely" according to Microsoft's Exploitability Index. NFS version 4.1 is not impacted by this vulnerability and Microsoft provides the recommended workaround of disabling NFS versions 2 and 3 for those users who are not able to immediately apply the patch. However the workaround does warn that it may "adversely affect your ecosystem" and is only a temporary measure until patching can be completed.
10 Remote Code Execution Vulnerabilities in Windows Lightweight Directory Access Protocol (LDAP)
This month Microsoft patched 10 vulnerabilities in Windows LDAP.
Two of the CVEs, CVE-2022-29130 and CVE-2022-22012 received CVSSv3 scores of 9.8 and the remainder of the flaws each were scored at 8.8. Microsoft has rated all of these vulnerabilities as "Exploitation Less Likely." While both CVE-2022-29130 and CVE-2022-22012 received higher CVSS scores, both vulnerability descriptions provide the same caveat that the vulnerability only exists if the "MaxReceiveBuffer" LDAP policy is configured to a higher value than the default value (i.e. a higher maximum number of threads LDAP requests can contain per processor). A system with the default value for the policy would not be affected. With the exception of CVE-2022-29130, CVE-2022-22012 and CVE-2022-29139, the vulnerabilities each require authentication in order to exploit. Exploitation of CVE-2022-29139 requires an attacker to convince a vulnerable LDAP client machine to connect to a malicious LDAP server.
CVE-2022-22713 | Windows Hyper-V Denial of Service Vulnerability
CVE-2022-22713 is a DoS vulnerability impacting Windows Hyper-V. According to Microsoft's description, exploitation of the vulnerability requires an attacker to win a race condition giving it a high complexity rating and a CVSSv3 score of 5.6. While it's extremely unlikely that this vulnerability will see exploitation in the wild, Microsoft does note that the vulnerability was publicly disclosed. It is credited to Joe Bialek on Microsoft Security Response Center's Vulnerabilities and Mitigations Team.
CVE-2022-21978 | Microsoft Exchange Server Elevation of Privilege Vulnerability
CVE-2022-21978 is an EoP vulnerability in Exchange Server that received a CVSSv3 score of 8.2 and was rated "Exploitation Less Likely." CVE-2022-21978 was discovered by Joonas Tuomisto of Fujitsu Finland. An attacker must already be authenticated to a vulnerable Exchange Server "as a member of a high privileged group" to exploit this vulnerability but could use it to elevate themselves to domain administrator access. While these prerequisites might make it less likely for attackers to adopt this vulnerability, Exchange Server vulnerabilities have been prime targets for attackers. Vulnerabilities that can give attackers domain administrator permissions are particularly valuable.
CVE-2022-29132 and CVE-2022-29104 | Windows Print Spooler Elevation of Privilege Vulnerabilities
CVE-2022-29132 and CVE-2022-29104 are EoP vulnerabilities in Windows Print Spooler that received a CVSSv3 score of 7.8 and were rated "Exploitation More Likely." CVE-2022-29132 was disclosed by g0st1 and CVE-2022-29104 by Oliver Lyak from the Institut for Cyber Risk on behalf of Trend Micro Zero Day Initiative. These are just the latest in a long line of EoP vulnerabilities Microsoft has addressed in Print Spooler over the last year, several of which have been exploited in attacks.
In addition to the two EoP vulnerabilities, Microsoft also patched two information disclosure vulnerabilities in Print Spooler this month: CVE-2022-29140 and CVE-2022-29114.
CVE-2022-30138 | Windows Print Spooler Elevation of Privilege Vulnerability
CVE-2022-30138 is another EoP vulnerability in the Windows Print Spooler. This vulnerability was patched as part of Patch Tuesday on May 10. However, information about this flaw was not made public until May 12. Similar to CVE-2022-29132 and CVE-2022-29104, it received a CVSSv3 score of 7.8. However, Microsoft rates this vulnerability as "Exploitation Less Likely" compared to the previous two EoP flaws in Print Spooler. While the publication of this CVE was made on May 12, customers that have already applied the Patch Tuesday updates do not need to take any additional steps to address this vulnerability.
Windows 10 End of Servicing
Today, Windows 10 version 20H2 has reached the end of servicing and will no longer receive security updates. Users are urged to update to more recent versions to ensure they continue receiving important security updates.
Tenable Solutions
Users can create scans that focus specifically on our Patch Tuesday plugins. From a new advanced scan, in the plugins tab, set an advanced filter for Plugin Name contains May 2022.

With that filter set, click the plugin families to the left and enable each plugin that appears on the right side. Note: If your families on the left say Enabled, then all the plugins in that family are set. Disable the whole family before selecting the individual plugins for this scan. Here's an example from Tenable.io: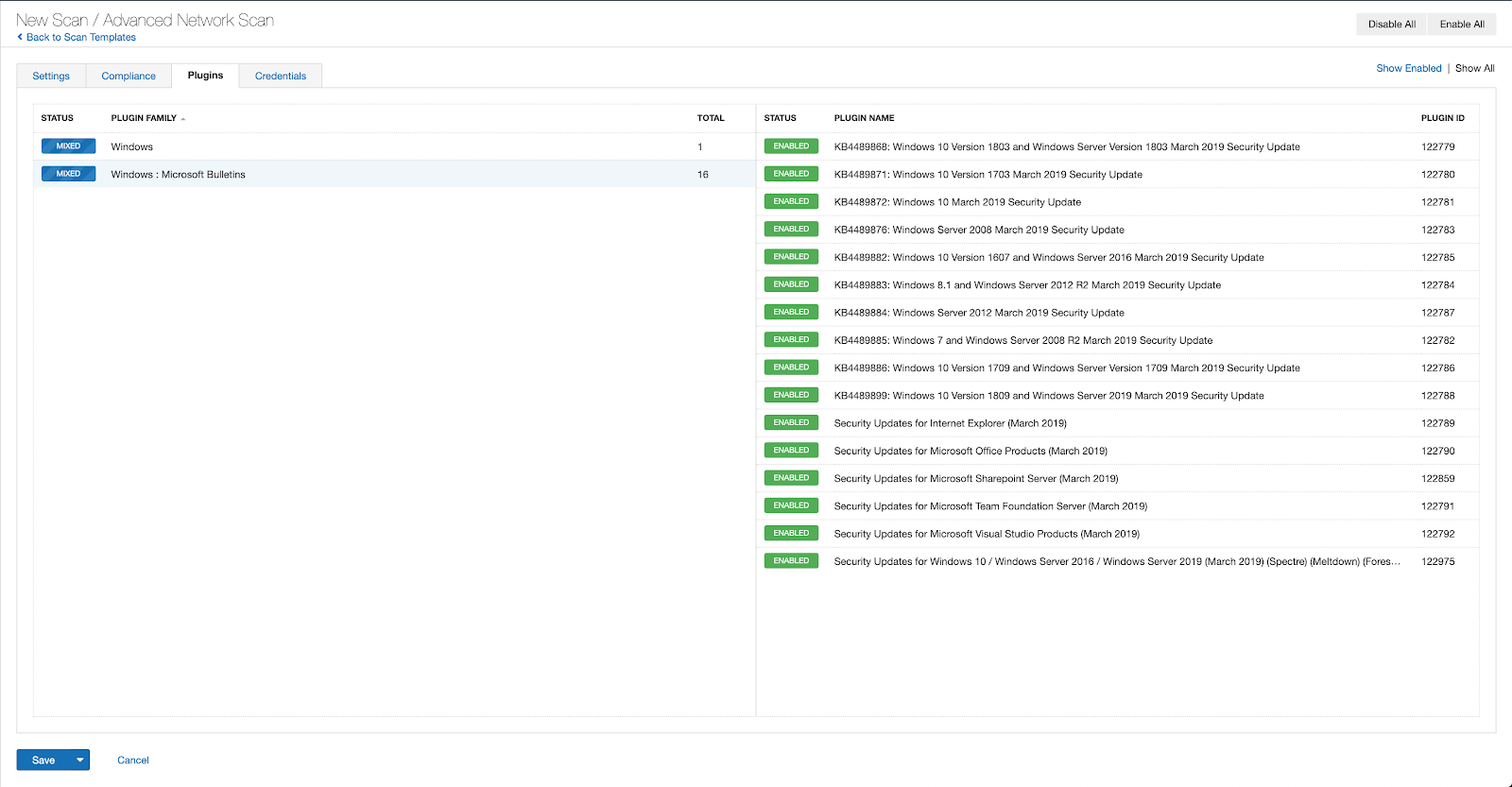 A list of all the plugins released for Tenable's May 2022 Patch Tuesday update can be found here. As always, we recommend patching systems as soon as possible and regularly scanning your environment to identify those systems yet to be patched.
Get more information
Join Tenable's Security Response Team on the Tenable Community.
Learn more about Tenable, the first Cyber Exposure platform for holistic management of your modern attack surface.
Get a free 30-day trial of Tenable.io Vulnerability Management.
Change Log
Update May 12:This blog has been updated to include information on an out-of-band advisory for CVE-2022-30138, which was patched as part of Patch Tuesday but was not publicized until today.
Are You Vulnerable to the Latest Exploits?
Enter your email to receive the latest cyber exposure alerts in your inbox.