Whitepaper
Survey Report: Opportunities for Improving Cybersecurity Visibility at State & Local Government Agencies
Research from CyberScoop highlights security gaps in state and local government networks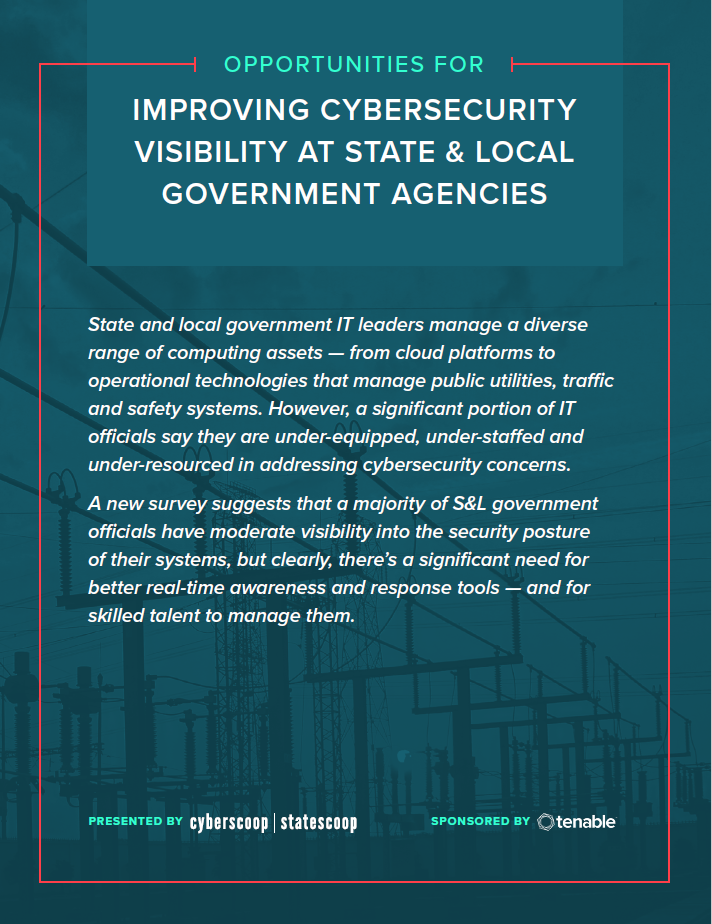 As organizations embrace new computing platforms and development shifts such as cloud, mobile, SaaS, IoT, OT, and DevOps, many lack the visibility and insight needed to effectively secure the expanding attack surface. To learn how this transformation is impacting state and local (S&L) governments, Tenable sponsored a CyberScoop survey of 125 US-based S&L government IT, cybersecurity, and program executives.
Results from the survey have been compiled into a report featuring a series of infographics that explore key topics, including:
The extent to which state and local (S&L) government organizations are using – and have security visibility into – an expanded range of modern computing assets.
How that visibility varies between assets, including: cloud applications/platforms, mobile endpoints, web applications, containerized services, internet-enabled devices (IoT) and operational technologies (such as industrial controls systems).
The visibility and control S&L organizations have over systems and devices operated by third-party contractors.
The key challenges, gaps and opportunities S&L government leaders face in identifying and responding to cybersecurity threats.
Opportunities for Improving Cybersecurity Visibility at State & Local Government Agencies, is a must-read report for InfoSec, IT and program executives responsible for ensuring the security and integrity of S&L government citizen-facing and administrative computing platforms.